The parent company of HostingPlus, Pluschile Internet Limitada, was founded back in 2004, giving them a wealth of experience and time to improve their hosting products. Their goal is to provide customers in Chile and the rest of Latin America with a trustworthy, affordable, and high-performance hosting option.
They're proud to offer customized and skilled technical support to their customers, with a staff composed of graphic designers, network engineers, and technicians.
Services are provided in Spanish. They currently serve over 22,000 customers.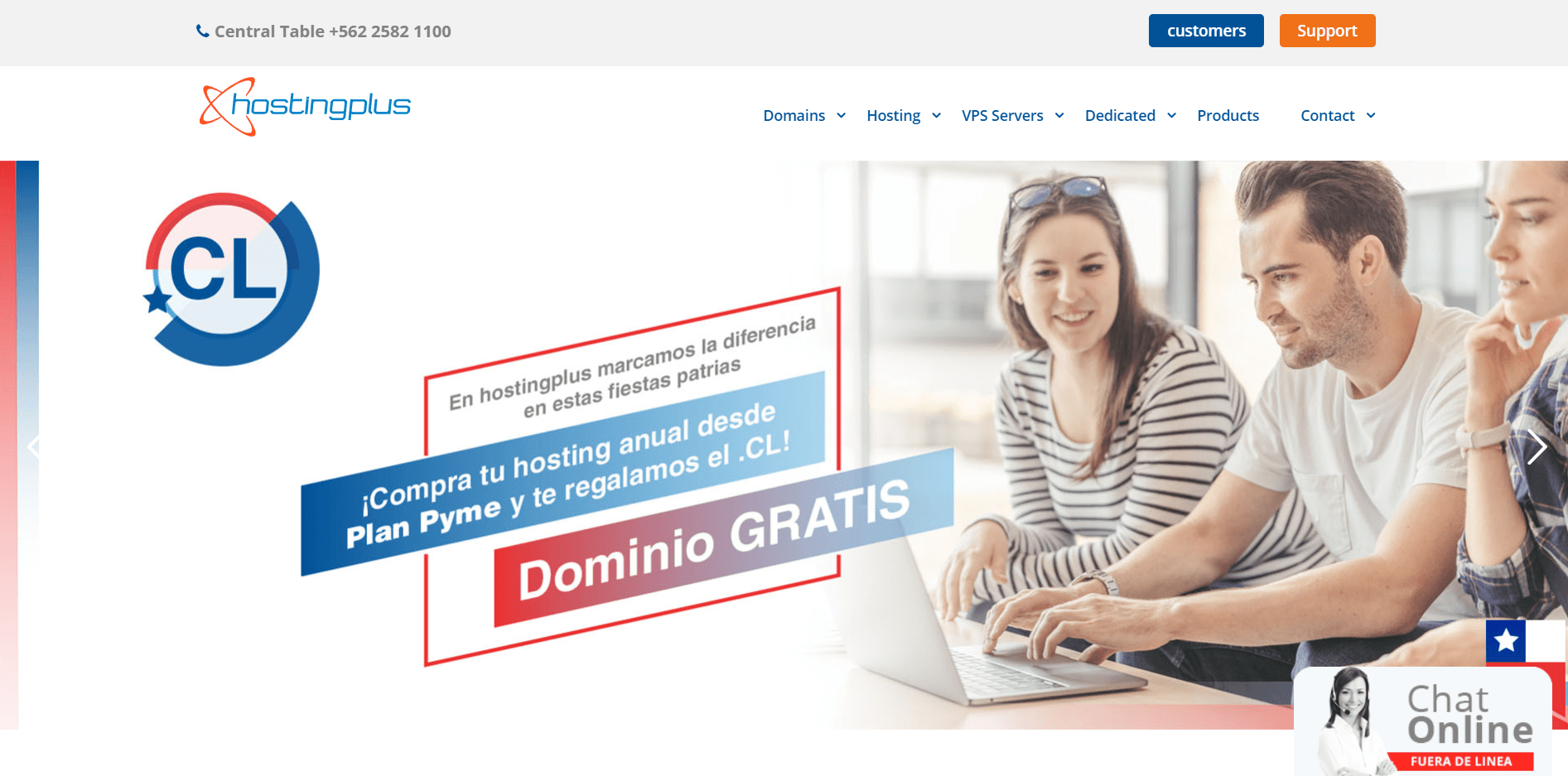 Features and Ease of Use
Although you might need to pay for some of their value-added features, it's still a plus that they offer all the essentials, such as:
Free SSL certificates
Free domain registration with minimum annual hosting contract
Backups and data recovery
Anti-DDoS attack protection
Website migration service
99.9% uptime guarantee with shared hosting
Their hosting plans also come with a number of features built in that will make them appealing to anyone:
100% Scalable Infrastructure: Your resources are able to scale with your needs and can be upgraded at any time within minutes. The transfer process is smooth, ensuring minimal downtime for your website.
cPanel and Softaculous: cPanel and Softaculous are two of the best hosting programs for managing your account and installing scripts or third-party apps respectively. These are included with all plans.
Website builder: Hosting Plus includes a simple drag-and-drop website builder with all SSD shared hosting plans.
SSD Storage: Their services are built on pure SSDs with RAID 10 arrays to ensure your data is redundant and always available.
HostingPlus.cl makes the extra effort to provide their customers with a convenient, hassle-free hosting experience by using only the best software, such as cPanel, Softaculous, and the most popular CMSes on the market.
Alternatively, if you have a website that requires more operational control, going for their dedicated or VPS server hosting affords you full root access. Once you purchase a dedicated server, they'll customize and configure it according to your requirements. Thereafter, their SLA guarantees the availability and uptime of your server, so you can focus on maintaining your website and leave the backend management to them.
Pricing and Support
With only shared web hosting, VPS, and dedicated server solutions available, the pricing on HostingPlus is quite straightforward. A great plus is that they provide 10-day trial periods to test out their plans.
Shared SSD Hosting: All their shared hosting plans come with a 30-day money back guarantee and run on SSD disks.

Standard Hosting Offer: 2 GB storage, 1 database, 10 emails accounts, free migration with monthly, yearly, or biennial billing.
SME (PYME) Offer: 6 GB storage, 3 databases, and 20 email accounts, free migration with monthly, yearly, or biennial billing.
WordPress Hosting: 10 GB storage, 10 databases, and 30 email accounts with monthly, biannual, yearly, and biennial billing.
E-commerce Hosting: 15 GB storage, 15 databases, and 50 email accounts with yearly billing.
Enterprise Hosting: 20 GB storage, 20 databases, and 80 email accounts, free migration with monthly, quarterly, biannual, yearly, biennial, and triennial billing.
Premium Hosting: 60 GB storage, unlimited databases, and unlimited email accounts, free migration with monthly, quarterly, biannual, yearly, biennial, and triennial billing.

Dedicated Server: All dedicated server products run on high-end Xeon technology and are billed monthly.

Standard VPS Offer: 1 CPU core, 1 GB of RAM, 60 GB storage, and optional cPanel.
Average VPS Server: 2 CPU cores, 2 GB of RAM, 100 GB storage, and a dedicated IP.
Gold VPS Server: 3 CPU cores, 3 GB RAM, 100 GB storage, and 2 dedicated IPs.
Premium VPS Server: 4 CPU cores, 4 GB RAM, 100 GB storage, and 3 dedicated IPs.
All plans come with 24/7 monitoring of their respective servers as well as 24/7 technical support for their customers. Support is provided through ticket, live chat, and phone whilst only ticket support is 24/7 and phone support is limited to office hours (08:30 to 19:00 Chile time). Overall, their support staff excels in their treatment of customers and their ability to solve technical issues. They provide a good number of video and written tutorials that you can refer to for self-help as well.