Established in 2004, HostEasier is an American web hosting company based out of offices in Illinois. They don't provide specific details on the number of websites they host, but the number of industry awards they've accumulated stands as a testament to the many webmasters benefiting from their extremely low-cost services.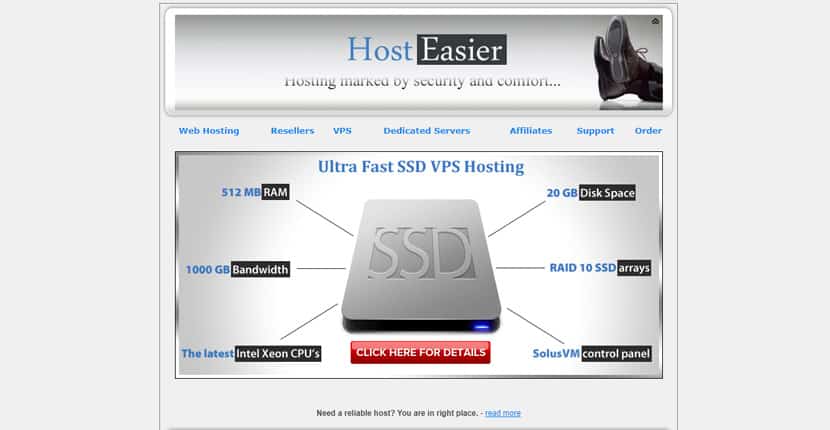 Features and Ease of Use
HostEasier has one of the most basic ranges of web hosting plans available. While generally beginner-friendly, their plans do sacrifice a bit in the area of speed and performance.
Shared web hosting plans offer unlimited storage and bandwidth (provided users abide by their Terms of Use, of course) as well as:
cPanel
Daily backups
MySQL 4 & 5 support
PHP 4 & 5 support
Shopping cart functionality
Real-time spam blacklists
Free website builder
Softaculous app installer
Free website migration (from cPanel-based host only)
While their inclusion of the RVsitebuilder tool on top of Softaculous was a nice touch, you'll notice that they only offer a 99.5% uptime guarantee and support for up to PHP 5. This potentially means significantly more downtime than the industry norm and half the PHP script processing speeds than if they offered support for PHP 7 at minimum.
On the upside, they do offer shared SSL certificates with the option of purchasing more premium certificates in addition to a dedicated IP address. They also support more advanced scripting languages such as Python and Ruby on Rails, though strangely enough they still support the rather outdated Microsoft FrontPage extensions.
Pricing and Support
HostEasier offers some of the cheapest web hosting prices you will find on the internet. Their shared hosting plans are cheaper than similar offerings from almost any other competitor. In addition, their entry-level VPS plans are on par with those of their competitors, while their higher-end plans provide equal increases in price and functionality. Moreover, discounts are available if you purchase an annual package.
Overall, HostEasier's price list is geared towards smaller businesses and new companies looking to get good web hosting for very little cost. It does sacrifice a little in terms of speed and uptime, but most beginning webmasters will find that HostEasier's plans are adequate for their needs.
For larger companies, the dedicated server plans provide a surprising amount of value for a company with such a strong emphasis on keeping costs down. While the HDD storage is definitely a performance compromise from the SSD you'll find elsewhere to handle large volumes of data, the 32GB of RAM and 2×1000 GB drives still provide a lot of power for a reasonable price. You also get access to all the integrations in Softaculous.
HostEasier falls short in terms of customer support. I tried accessing their English live chat option from multiple browsers, but unfortunately, it didn't work. Moreover, they don't provide a phone number to call, leaving only email as the available option. The downside is that it took several days to receive a response via email.