HostDL is a Persian-language web hosting company founded in 1999 and based in Iran. They currently host approximately 1,000 domains, but claim to be the largest provider of web hosting services for mid-sized websites in the Middle East. Their client base is mostly Iranian, but they do offer web hosting from Canadian-based servers.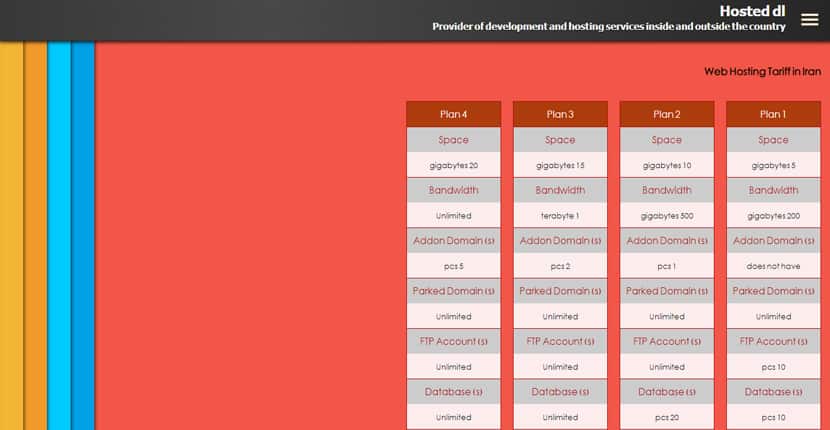 Features and Ease of Use
HostDL's standard web hosting service doesn't offer native integration with some of the more popular platforms such as Magento, Joomla, or Drupal. In addition, there are no integrations or extensions with WordPress, but they do offer value-added WordPress add-on services, including template and plugin design. In addition, you can also take advantage of their web design and SEO services.
They don't state any SLA-backed uptimes, but according to my tests, these generally run above 99.9%. In addition, all user websites are hosted on RAID-based storage drives, the newest Intel high-end processors, PHP and MySQL support, cPanel, and website backups. There are no SSL certificates or additional security features offered.
In terms of speed and power, there's no difference between the plans for hosting on their Canadian or Iranian servers. The plans begin with a storage capacity of 5GB and a bandwidth of 200GB, and you have the option to increase those limits to 20GB of memory and unlimited bandwidth.
Pricing and Support
HostDL's pricing for web hosting on servers within Iran is excellent for anyone looking to sell within Iran itself, or within the Middle Eastern market. Although the entry-level plan is a little expensive considering the features and speeds you get, if you're doing business in the area, having a locally-based server to increase the speed of your website justifies the cost.
Something that's advantageous for webmasters running medium-sized websites is that the highest-tier plan comes with a fourfold increase in storage and over a fivefold increase in bandwidth — for less than double the price of the entry-level plan. However, this also seriously undermines the value of purchasing an entry-level plan, since you can get so much more power for so little extra cost. It's a non-standard pricing model, and indicates that HostDL is much more interested in attracting medium to large-sized customers than entry-level ones.
The same pricing model applies to HostDL's web hosting plans for servers located within Canada. The absolute price is such that if you're a webmaster running a large website with a significant Canadian presence — and willing to overlook the lack of features — you can definitely find decent value for your money. However, smaller websites can definitely do better elsewhere.
HostDL doesn't have a robust support section, and I was very disappointed with their overall service. There is no self-help knowledge base, live chat, or phone number available. You're only able to submit a question via their ticketing service, through which it can take several days to get a response. Furthermore, the only way to purchase a hosting package from them is to submit a ticket request to their finance and sales department -not at all user-friendly and rather indicative of a web host that's running on dated technology, strangely.