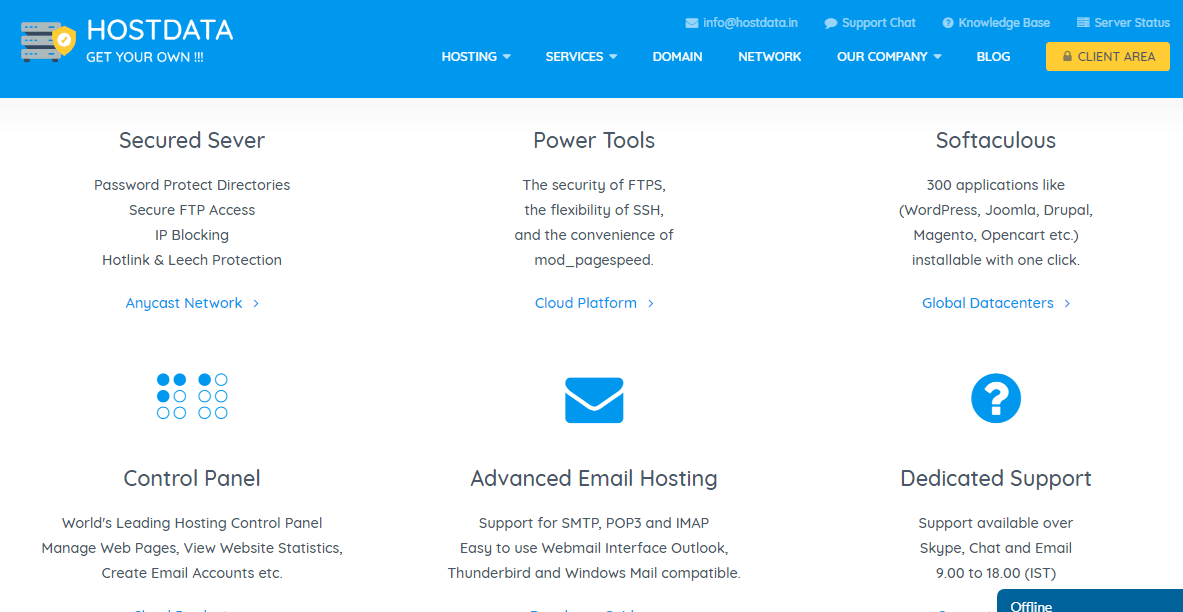 Hostdata is an India-based web hosting company that offers an array of hosting services to its customers worldwide. The vendor has server locations in almost every country in the world. Its offerings include shared web hosting, reseller plans, dedicated servers, VPS servers, and domain name registration services.
Other internet services offered by Hostdata are website development, SEO services, E-commerce services, media and advertising, and responsive web design services.
Features and Ease of Use
Hostdata has dedicated itself to providing reliable and secure web hosting services to individuals and business organizations. Powered by CloudLinux platforms, its web hosting solutions include the following standard features:
cPanel control panel

99.95% uptime guarantee 

PHP version 4.4 to 7.2

Shared SSL certificates (HTTPS)

Unlimited disk storage

Unlimited monthly bandwidth

300+ app installer

DDoS protection
Hostdata offers a low latency worldwide network with up to 100 Gbit internet cables connected to multiple backbones across the globe. This enables the vendor to have wide network coverage in close proximity to its customer's locations for high performance of its services.
Its VPS servers are distributed in multiple countries across all continents worldwide so that whenever customers require server services, all they have to do is ask and their hosting infrastructure will be hosted in a data center that is nearest to their location.
When you choose Hostdata, you get to host your website on cloud-based hosting platforms with either HDD or SATA disk storage. Its hosting solutions run on LiteSpeed web servers that are optimized to enhance performance, security, and reliability.
The vendor's shared hosting solutions are divided into three packages: Starter package, Business package, and Enterprise package. The Business package is the most popular shared plan and it includes 50GB disk space, 200GB monthly bandwidth, unlimited email accounts, and free SSL certificates.
This hosting provider offers weekly backups using cPremote backup management tool. However, the backup services are exclusive to reseller accounts. For the other hosting accounts, the vendor offers backup tools where clients can perform backup services of their website's data.
Pricing and Support
Hostdata website services are pretty cheap. Nonetheless, the contract bar for some of its services such as shared hosting and reseller plans returns a "Product group does not contain any visible products" message, an indication that the hosting plans (at the time of writing) might be out of stock. The hosting packages come with monthly and annual payment plans. Prices are listed in U.S. dollars and Indian rupees.
Hostdata guarantees a 99.95% uptime availability of its hosting services, and its hosting services come with a 30-day money-back guarantee, but the refund policy excludes all VPS and dedicated server solutions.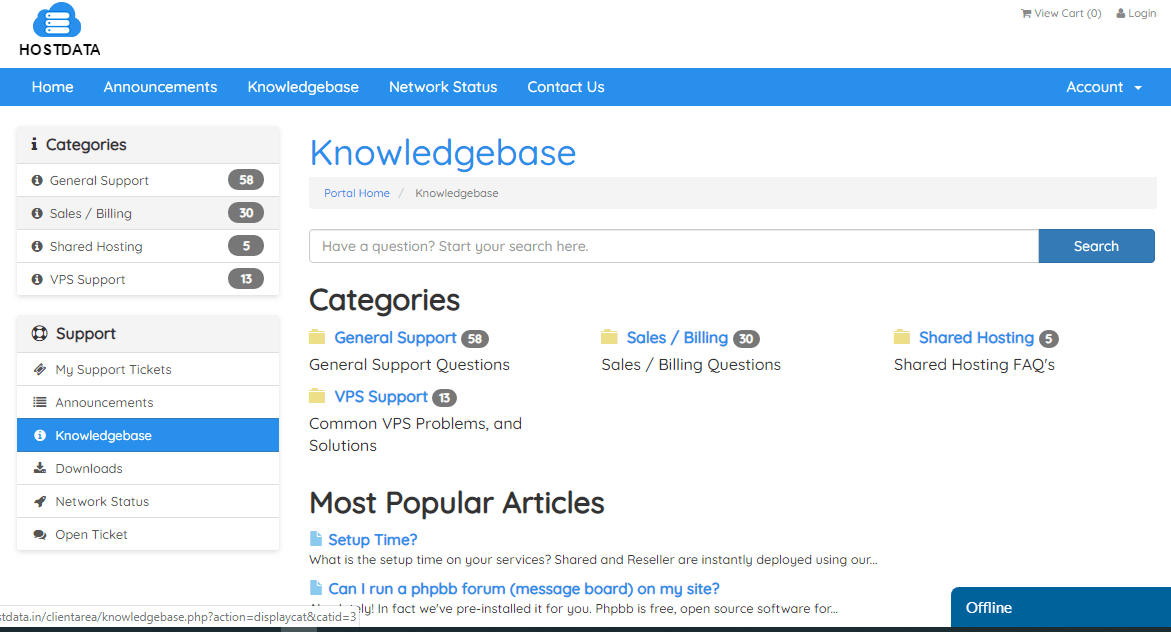 Customers can contact the Hostdata support desk via telephone, email, or ticketing system. Although the hosting firm had a live chat it is now permanently offline, stating the reason as getting too many inquiries, .
Alternatively, to complement its support system, Hostdata has a fairly detailed knowledge base.