Founded in 2002, South Korean company HostCenter currently has thousands of servers in operation. Since they are located in South Korea, and their website and support are in the Korean language only, it is probably safe to assume that their customer base is located primarily in South Korea.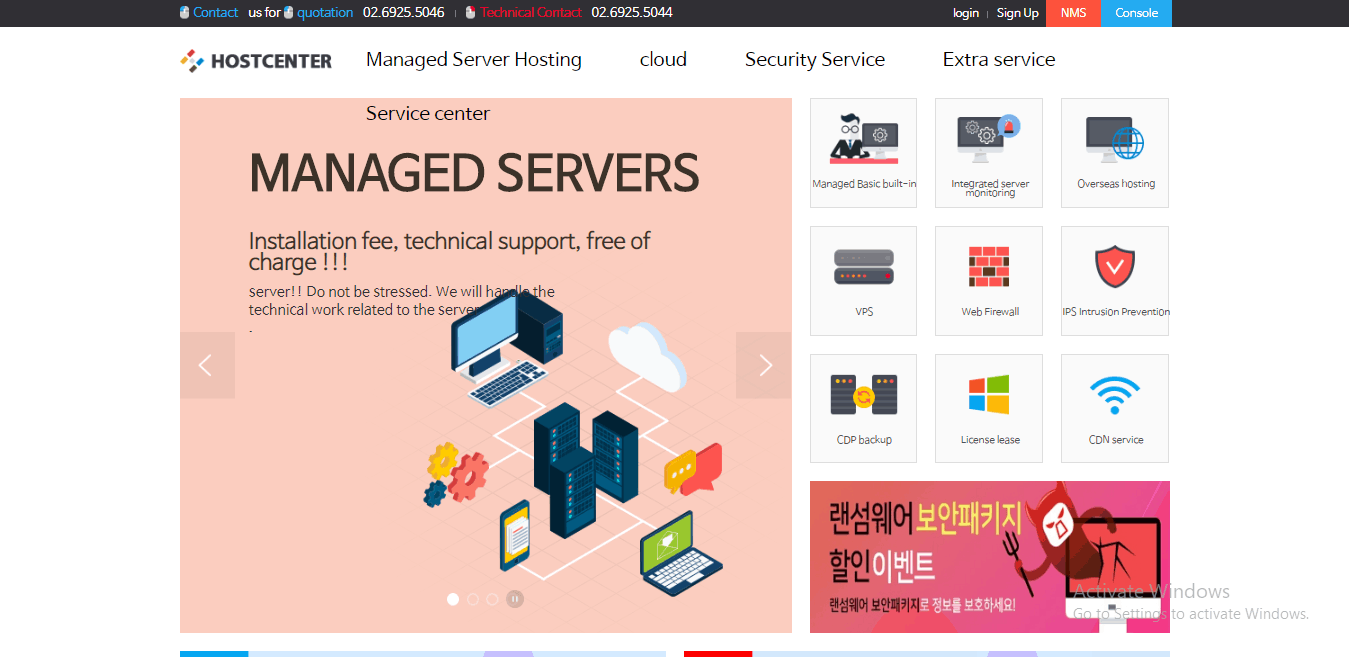 Features and Ease of Use
HostCenter does not do shared hosting; they specialize in enterprise-level services such as managed hosting, dedicated server rental, and cloud hosting.
Their dedicated hosting plans include the following core features as standard:
Choice of server brand: Dell, HP, Lenovo, Fujitsu, and VPS
24/7/365 network monitoring
Free setup and installation
Continuous Data Protection (CDP) backups available at additional cost
SSL certificates available at additional cost
HostCenter offers managed server rentals, which means customers enjoy 24/7/365 management and monitoring of their servers. They currently manage 6500 servers and handle 100 to 200 technical queries daily. Their statistics show that they're a big company and are well versed in dealing with the day-to-day management of dedicated servers.
Whilst they don't advertise their uptime or specifics about their datacenter, they do give some useful information about the quality of their infrastructure that has an uninterruptible power supply and dual power system. They also have advanced disaster prevention equipment and quadruple security management, plus network redundancy and an ISP and broadband interworking network.
HostCenter offers a variety of base packages that can be customized at the checkout by increasing or decreasing the amounts of RAM, choice of HDD or SSD, a selection of operating systems, and much more. The add-ons and customizations do come with additional costs, but they offer a really flexible way to build your own server package.
Most new website owners, regardless of language, find the complexity of the language too high. However, advanced users and enterprise-level website owners will appreciate the flexibility it offers.
Pricing and Support
Unusually for dedicated server rental companies, HostCenter advertises its prices online, and those prices are very affordable when compared with both local and international competitors. You can also customize your plan to match your budget to your requirements.
Payment terms are limited. They offer only monthly contracts, which at least limits your risk of making the wrong long-term commitment. That's good because there is no free trial and no money-back guarantee.
Customer service is a little sparse. They offer telephone and email support for both technical and sales queries, but it bugs me that they don't display their business hours nor advise on the average time it takes to resolve issues. They also don't offer a publicly available knowledge base (but there could be one for paying clients for all I know).