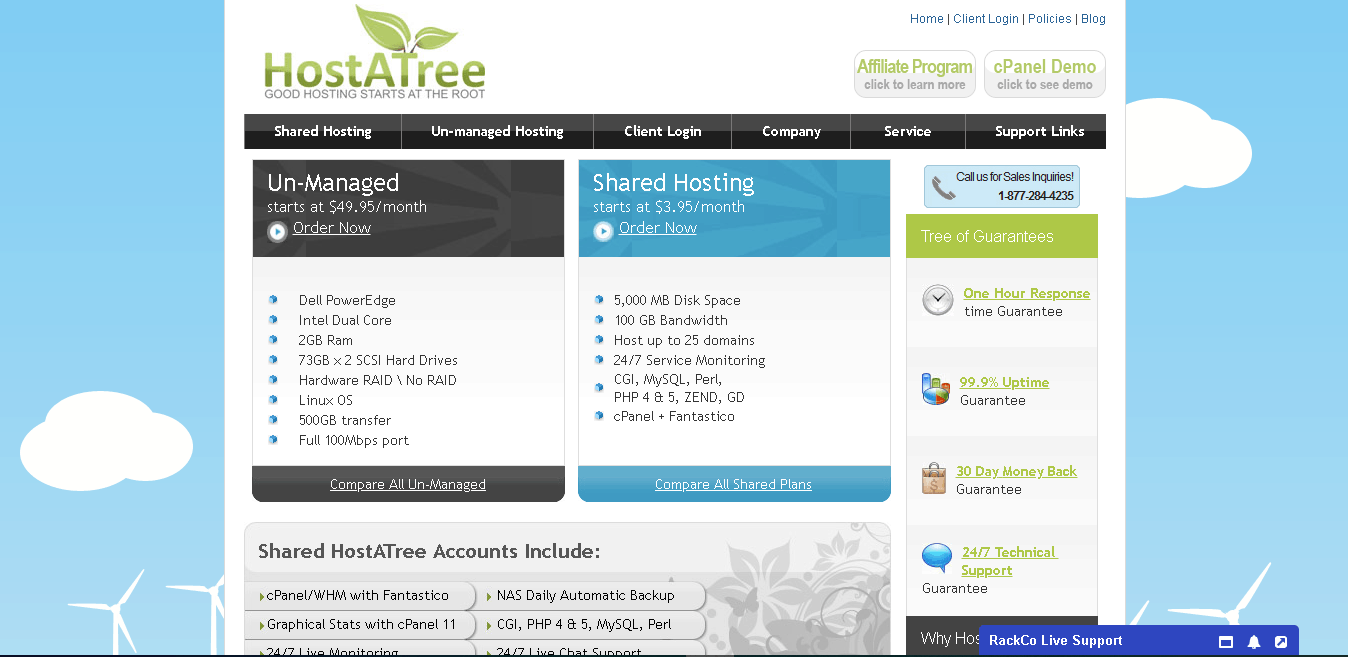 HostATree is a Green Certified Company that started its journey in 2007. The company provides its customers with affordable and dependable shared hosting plans to begin with. Once their websites have outgrown these shared servers, customers can then move to HostATree's dedicated servers. The company also offers domain solutions, SSL certificates, and an array of additional services to meet the IT needs of its customers. HostATree's website is in English but its Client Area supports 25 additional languages.
Features and Ease of Use
HostATree features four shared hosting plans, each named after a plant: Walnut, Dandelion, Hemlock, and Spruce. All plans come with instant activation and are backed by a 99.9% uptime guarantee. The plans also come with these features as standard:
cPanel with Fantastico app installer
Free setup
Free website transfer
Real-time backups and archives
Custom cron jobs
Password protected directories
Hotlink and leech protection
One thing I liked about HostATree is that the company includes RVsitebuilder Pro free with its shared hosting packages. This includes more than 400 templates and an advanced WYSIWYG editor, which will help beginners to get their websites up and running within minutes. If you'd rather not go with a website builder and instead prefer the use of a CMS like WordPress, you can install this easily using the Fantastico app installer.
One glaring flaw I noticed with HostATree, however, is that it only supports up to PHP 5. Since the latest versions of PHP are up to 400% faster than this outdated version, it leaves me wondering how else HostATree has failed to keep its hosting technologies up to date.
Also, you won't get SSL certificates for free with this company. The option is available to you, but only if you purchase a dedicated IP address first — and neither the cert nor the IP address are cheap.
On the upside, the company hosts all its customers on Quad Core 2 Duo Processors with 4GB RAM (at the minimum) and RAID 1 disk arrays. Thanks to its RAID setup, the company can exchange a bad hard drive in the rare event of any hardware failure, thus ensuring no downtime for your website.
Pricing and Support
HostATree's plans are priced competitively, but there is a caveat here. Firstly, as previously mentioned, SSL certificates come at an additional (and rather steep) cost. Secondly, even though you get a free domain with a one-year contract of the Walnut plan, this does not extend to any of the company's other shared hosting plans.
You can pay for your plan in USD via PayPal or credit card on a monthly, quarterly, semi-annual, or annual basis.
The company offers a 30-day money-back guarantee on its web hosting plans (but not on dedicated server plans). You'll get a full refund (minus the setup fees and usage-based charges) of the contract amount if you request for the cancellation in writing within the first 30 days of your contract.
You can reach HostATree's customer support 24/7 via phone, support ticket, and live support. I tried their live support and got a lightning fast reply.
HostATree has an extensive knowledge base where you'll find answers to several common questions along with useful tutorials and articles. The company also has a download library that offers limited help. Customers may even check HostATree's Network Issues page to find out about scheduled network outages, if any. The company has a Server Status page as well, where it gives real-time updates on its servers.