Host1 is a Norwegian website hosting company that was founded in 2009. They provide shared website hosting, cloud hosting, and virtual private servers to customers who put a premium on privacy. This company describes itself as one of the biggest hosts in Norway, with a large number of clients at home and abroad including WikiLeaks and Sensorlink. In addition to Oslo, they have offices (but no infrastructure) in Mexico City and Cebu (Philippines). Their website can be switched between the Norwegian and English languages.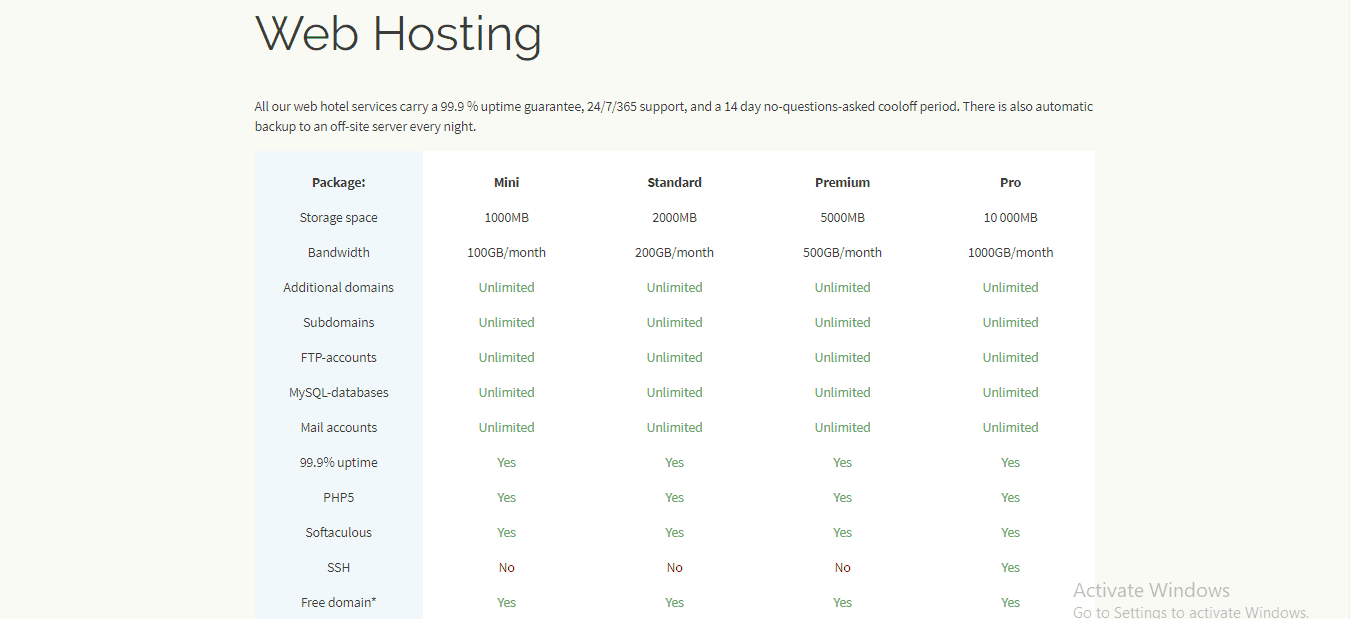 Features and Ease of Use  
Host1 offers a good selection of hosting services. As standard, their shared hosting plans include the following core features:
99.9% uptime guarantee

 

Backups to an off-site server every night

 

Free domain registration with every plan

 

Unlimited add-on domains

 

SSL certificates available at additional cost

 

From 1000 MB to 10,000 MB disk space

 
Host1 has IPv6-ready servers with full redundancy colocated in two Norwegian data centers. Since they don't own their own data center, this could mean slower response times to technical issues and slower website load speeds. They advertise a 99.9% uptime guarantee, but this doesn't seem to be backed by a service level agreement.
Beginners might be attracted by Host1's Softaculous one-click installer, although the company doesn't say how many apps you can install with it. In terms of value-adds for experts, Host1 supports the slower PHP 5 rather than the faster PHP 7.2 that is supported by many other website hosts. There is no support for other advanced coding languages like Ruby, Rails, or Python.
It's interesting that Host1 counts WikiLeaks among its customers, and its primary selling point may well be its assertion to being "regulated by strong privacy-conscious Norwegian laws." 
Pricing and Support  
Whilst I was expecting expensive Scandinavian pricing, I was pleasantly surprised by Host1's prices that seem to be in line with other local and international competitors. So for someone looking for servers located in Norway, these are fairly priced plans. Domain registration is included whereas SSL certificates cost extra.
You can purchase plans for three, six, twelve, and twenty-four-month terms, but there is no discount for opting for a longer-term plan. Unfortunately, they don't offer a free trial, but they do provide a "14-day no-questions-asked cool-off period" where you can effectively test their services without any obligations.
Host1 has a support email address, and when you click their website's 'Support' button you are invited to log in, which suggests that some kind of ticket system lies behind. Their support is advertised as being 24/7/365, and they have responded quickly and helpfully whenever I have contacted them. 
How much does Host1.no cost?
Host1.no offers multiple plans priced highest to lowest. The price depends on which type of hosting plan you choose. You can see the updated pricing table (updated weekly) below.

Which Host1.no plan should I get?
My recommendation is to start with a cheaper plan. You can always upgrade later on. Host1.no can help you with the migration to a more expensive plan. The increase in visitors many times takes longer than expected and you shouldn't pay a lot of money until the need arises. Of course, your needs may vary, and you can consult with a hosting expert from Host1.no here.

How good is Host1.no's customer support?
Host1.no is not ranked as one of our top web hosts. But that can also be a result of Host1.no being a small, under the radar, hosting provider. There are advantages to a small hosting company – as a customer, you are more important to them. You can also check out our comparison of the most popular web hosting services here.