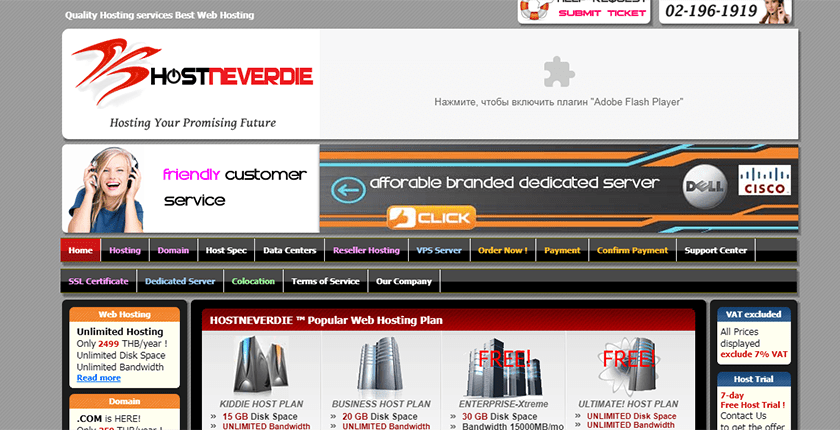 Hostneverdie is a Thailand-based host that's offered hosting services since 2009. Their focus is on providing high-powered, yet affordable web solutions for personal and business websites. With seven plans to choose from, they offer flexible solutions that truly can work for most websites.
Features and Ease of Use
Hostneverdie offers flexible hosting solutions with plans with features appropriate for websites of all sizes. Their basic features include the following:
The latest version of DirectAdmin cPanel
Cisco UCS Servers with gigabit uplink from CAT-IDC
Unlimited POP3 email accounts and webmail access
Instant installation for blog software, shopping cart software, and more
99.9% uptime
While they don't offer a website builder, you can set up your site using WordPress or any other CMS. If you are building a webstore, you can setup woo-commerce, shopping cart software, payment processing software, or anything you need to get your business up and running.
Beyond the basic features, the following help to set Hostneverdie apart from similar hosting services:
Daily backups
Unlimited autoresponders, mail forwarders, email aliases and mailing lists
Supports PHP, DHTML, Javascript, Flash, Shockwave
IonCube PHP Loader support
Free migrations
For those that are looking for more control over their site, you have the option of programming in PHP, Javascript, and other languages. However, it does appear that they don't support Ruby on Rails or more robust solutions presently.
I do like that they offer free migrations. If you're already using another host, you can bring your site over without having to rebuild it. The only concern here is for sites that are coded in languages and software that aren't listed as supported. There could be compatibility issues. Contact support for more information on migrations.
With the latest version of DirectAdmin cPanel and their instant installation apps, you should have few problems setting up your website. Of course, you can always contact customer support if issues arise.
Pricing and Support
Hostneverdie offers seven different shared hosting plans. The differences between each plan are listed below:
| | | | | | | | |
| --- | --- | --- | --- | --- | --- | --- | --- |
| | Baby | Kiddie | Business | Business-Pro | Enterprise | Enterprise-Xtreme | Ultimate! |
| Storage | 10GB | 15GB | 20GB | 20GB | 30GB | 30GB | Unlimited |
| Bandwidth | 2GB | Unlimited | Unlimited | 5GB | Unlimited | 15GB | Unlimited |
| Domains | 1 | 1 | 2 | Unlimited | 5 | Unlimited | Unlimited |
| Databases | 3 | 7 | Unlimited | 10 | Unlimited | 15 | Unlimited |
| Free Domain? | No | No | No | No | Yes | Yes | Yes |
A few things are noticeable on this host. First, the configurations of some programs don't make sense. Why offer unlimited bandwidth on Business but not Business-Pro? Why limit the bandwidth on Enterprise-Xtreme?
Storage is also a bit strange. It's adequate for Baby through Business, but the higher plans other than Ultimate are lacking. The database limitations are also a bit odd on Business Pro and Enterprise-Xtreme.
One thing I don't like here is that domains are not free for all paid accounts, even for one year. With that said, the domain for Enterprise and above are free for the life of your plan. You won't have to renew annually as the domain is included in the cost of the hosting. Also, if you purchase a paid hosting plan, they offer a 15-day money back guarantee. This would be better as a 30-day guarantee.
Hostneverdie's support is fair but a bit lacking. While they do offer telephone support, it is only available Monday through Friday from 9 am to 5:30 pm Thailand time. They don't provide any form of live chat support. There is a knowledge base and Flash tutorial available, but only hosting customers are given access.
Your only other options of support are email support or fax support.  When is the last time you sent a fax? They should consider upgrading to the 2000's and install live chat support.