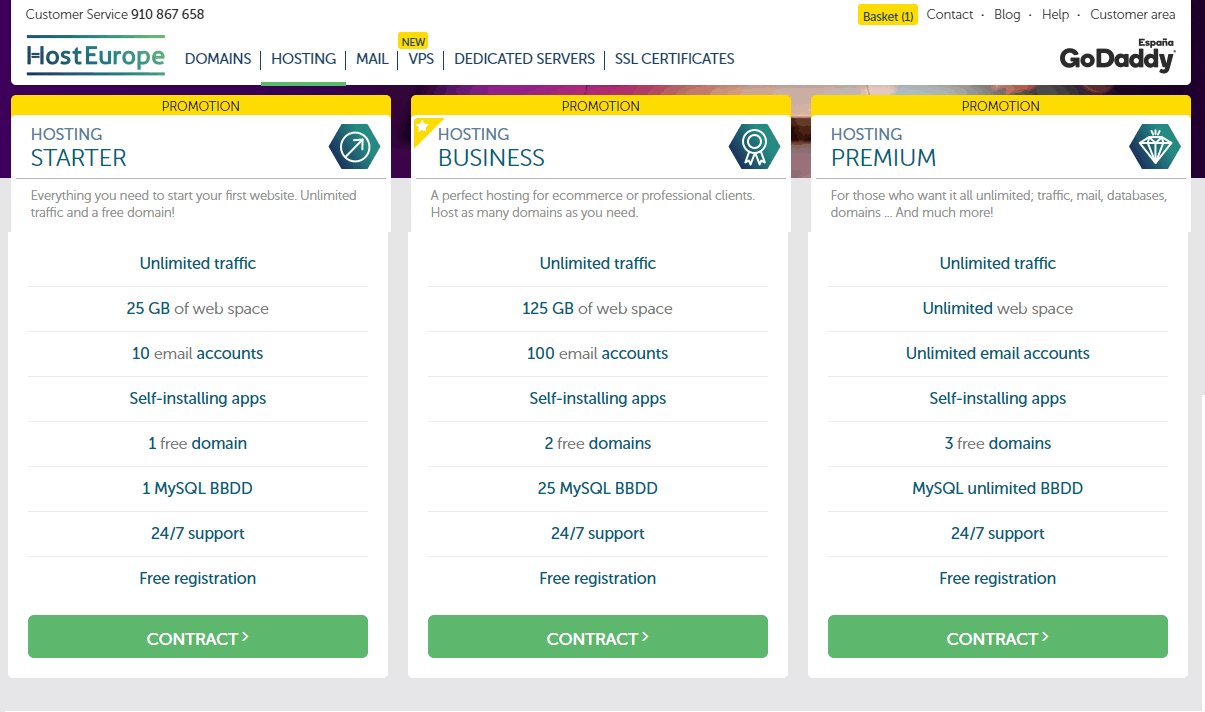 Host Europe has been providing web hosting services since 1997 and over the years grew to be a full-service hosting company. GoDaddy purchased them in 2016 and the company continues to deliver solid solutions for website hosting. Host Europe
has data centers in Spain, Germany, and the United Kingdom and serves nearly two million customers.
Features and Ease of Use
Host Europe offers shared web hosting, VPS hosting, and dedicated hosting. All shared hosting plans offer the following features:
Minimum of 25GB storage
Unlimited subdomains
Unlimited bandwidth
99.9% uptime SLA
Supports email lists
If you purchase Business or Premium hosting, you can host multiple websites. Premium even offers three free domain registrations. All plans support PHP 7, Ruby, Python, CGI, and Perl. You also get ten or more email accounts with 2 GB of storage with each account. Additionally, Host Europe's email system supports mailing lists, which is something many hosts don't allow.
Host Europe is relatively easy to use, but keep in mind that its cPanel and systems are in Spanish. If you speak the language, there shouldn't be any problem — otherwise, however, it may be best to look elsewhere. The company recommends that you have at least basic hosting knowledge, but it does offer auto-installers for WordPress and other programs. For everyone else, cPanel is available, albeit in Spanish.
Pricing and Support
Host Europe offers very affordable service plans. Whether you pick Starter, Business, or Premium, you'll find its prices lower than comparable offerings from other hosts. However, pay close attention to the terms of service.
First, the Starter plan only offers terms of one, two, or five years. Other plans offer monthly and quarterly billing. Also, be careful about the "free domain" listed in the features. To get a free domain, you must already have a domain and associate it with your account. Only afterward can you use your coupons to redeem additional free domains. If you don't already have a domain, you must purchase a domain registration when signing up.
Host Europe offers strong support with 24/7 phone support along with live chat support and email support. It also has an extensive help section covering everything from domain setup to managing WordPress apps and more.
I contacted support on a couple of different occasions with different results. Chat support is not 24/7. The first time I contacted them, I was forced to send an email, and while the reply was prompt, it seems that the agent was not able to fully understand my query. A couple of days later, I contacted support through live chat and got an agent immediately. He was able to answer my question quickly.

Although support is generally reliable, it would be great if live chat support were available 24/7, along with phone support. Alternatively, it would be beneficial if the email agents were more proficiently trained.