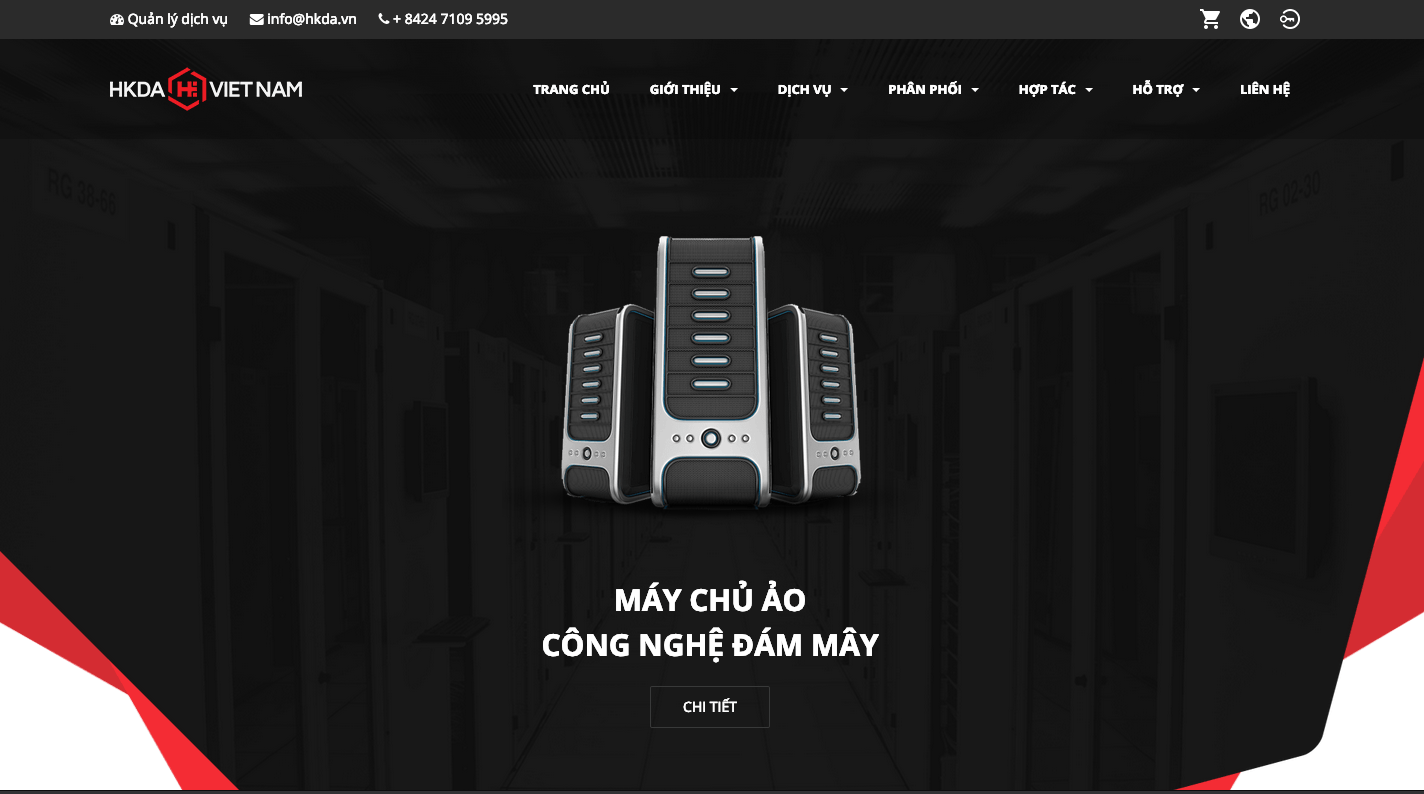 HKDA Vietnam is a web hosting company that was founded in 2009. It offers a fairly broad array of packages, including Linux and Windows shared hosting, VPS hosting, Java hosting, XenForo hosting, reseller hosting, and cloud hosting. Services and support are offered in Vietnamese.
Features and Ease of Use
HKDA Vietnam's shared Linux hosting plans offer good functionality, but the speeds and software versions will only be good enough for beginning webmasters and smaller websites.
For example, you'll have access to FTP, phpMyAdmin, and cPanel, but PHP and MySQL are only supported up to version 5. It would be much better to have the same feature list, but with the more up-to-date versions (which are considerably faster and more secure).
In addition, there aren't a lot of integrations offered. You do have two of the most popular CMSes (WordPress and Joomla) though. This means that beginning webmasters looking for help setting up a new website will find it, but larger websites may not get all the integrations they need.
On the Windows side, the essential features are present:
Microsoft SQL
Plesk
Web Admin
ASP 3.x
FTP access
All of the shared hosting plans come with weekly backups and account restore options. Uptime is guaranteed at 99%, but there are no free SSL certificates or domain registrations offered. However, a website design service is provided as an additional service to help small webmasters get their websites off the ground.
VPS hosting plans with an excellent feature list are also available. These come with a 99.99% uptime guarantee and feature:
Full root access
RAM and storage upgrades
SSD storage
Free DirectAdmin license with at least a 12-month plan
However, one drawback you should be aware of is that while management tools are available, there is no managed server option. Webmasters looking to outsource their server administration will need to go elsewhere.
Pricing and Support
HKDA Vietnam offers a three-day risk-free trial as well as a 30-day money-back guarantee. There are also discounts available for webmasters who purchase three or more services simultaneously.
The pricing structure for the Linux shared hosting plans is advantageous if you run a smaller website. Plans range from 500MB-10GB storage and are hosted on Intel® Xeon® E5-2670 servers. The cost for these capacities versus similar offerings from competitors is very good. You get a price-to-capacity increase at about a 1:1 ratio as you move through the tiers, which is not great but not enough to detract from the excellent absolute price.
On the other hand, the pricing on the Windows plans is much less advantageous. You will pay nearly five times more than for Linux, but get much less capacity at the highest tier — just 5.5GB storage. That seriously undercuts the relative value, and also makes it so that only the smallest of websites can actually get enough capacity to run smoothly.
The VPS hosting packages offer much less value than would be expected from a company operating out of Vietnam. There are up to 16 CPUs offered, but that's undercut by a cap of 240GB SSD storage. The larger websites that would benefit from that much computing power will most likely need more storage space. In addition, the price relative to competitors is high despite the limitations.
Support options are below average. Support is advertised as 24/7, but I emailed them and didn't receive a response even after 24 hours. They don't offer live chat options, but they do have a knowledge base that might have answers to basic technical questions.