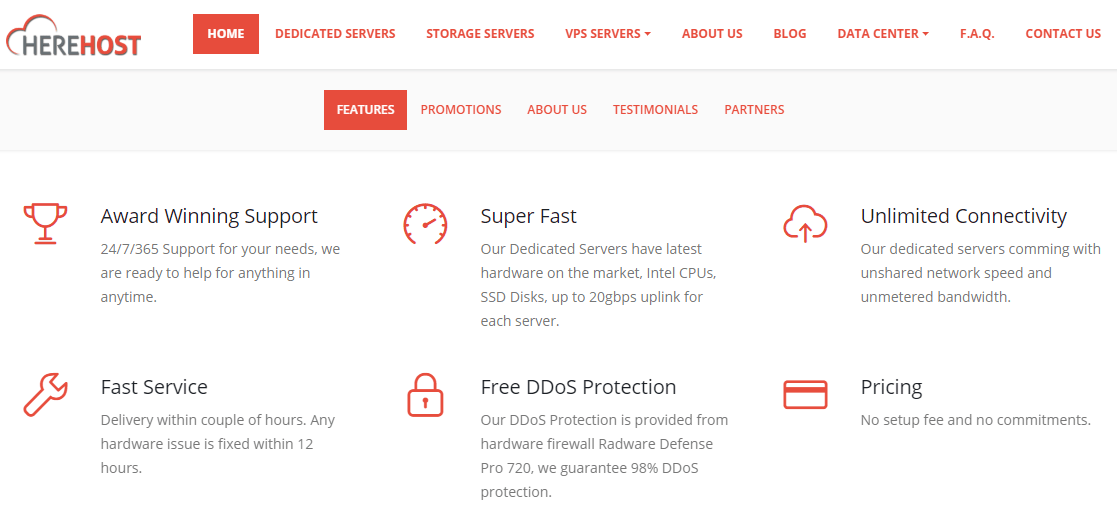 Here-Host's journey started in 2016, but the seeds of its establishment were sown sometime around 2014 when 1 Gbps uplinks were the standard, and affordable unmetered plans plus dedicated servers with 10 Gbps ports were scarce. After having years of experience in internet architecture and global server management, the founder of the company (and his team) knew they could do it much better and differently, and thus was Here-Host born.
Today, Here-Host's servers are located in Telepoint (Sofia). The company's website is in English.
Features and Ease of Use
Here-Host offers a 99% uptime guarantee, which is lower than the industry average. It provides three VPS plans – Mini, Basic, Super, and Mega. These plans vary in terms of CPU cores (1, 2, 4, and 8 respectively), RAM (2, 4, 8, and 16 GB respectively), and disk space (10, 30, 60, and 120 GB respectively).
In addition, all these plans provide
1 TB bandwidth

RAID 10 configuration

Network speed of 1 Gbps uplink
The company also offers ten dedicated server plans, out of which six (which are Dell Mini, Mini Plus, Basic, Super, Mega, and Business) use Dell servers, while four (which are Basic, Basic Plus, Mega, and Business) use Supermicro servers. All these dedicated server plans have further variations available in terms of RAM, storage, and traffic.  
If you need high capacity dedicated servers with large storage, Here-Host's three dedicated Supermicro storage servers plans (Basic Storage, Basic Storage Plus, and Mega Storage) are what you should look for. Just like dedicated servers, these plans too come with further variations available in terms of RAM, storage, and traffic.  
The company also provides colocation service in its datacenter. You can use the colocation configurator tool to build a colocation plan that meets your needs in terms of server units, traffic (Mbps), PSU (W), IPv4 and IPv4 subnet/your ASN or network.
What really caught my attention is the speed and performance of Here-Host's servers. Also, connectivity is unlimited, and resource allocation is guaranteed. With its unmetered bandwidth and unshared network, there's no reason to worry about downtime, and security is assured thanks to a combination of firewall and free DDoS protection.
Pricing and Support
Here-Host's entry-level VPS and storage servers are competitively priced but not cheap. However, you can rest assured that you will not share resources and you can configure your servers just the way you want, maybe also throwing in a couple of add-ons including cPanel. The real deal is its dedicated servers, which are great for the cost-conscious shoppers.
All Here-Host's plans can be purchased using U.S. dollars, euros, or pounds. You can pay for them on a 1-, 3-, 6-, or 12-month basis via credit/debit cards, PayPal, or the Bitcoin cryptocurrency. You get discounts for longer sign-ups, and a fourteen-day money-back guarantee that gives you a couple of weeks to decide if you want to stay with this host.
You can contact this company's support staff 24/7 via live chat. You can also use email, telephone, or the ticketing system for fast support. I was extremely impressed when I tested the 24/7 live chat channel: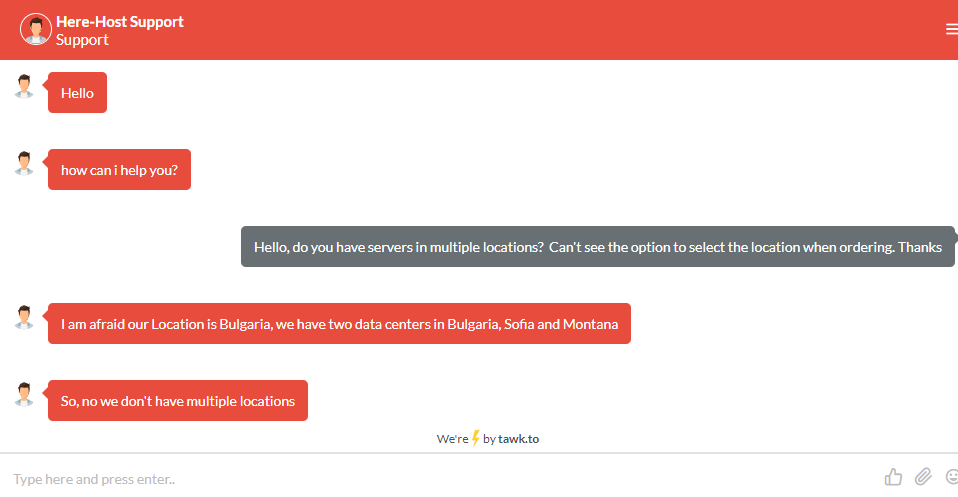 If you believe in self-help, the FAQ section and blog of Here-Host will surely provide great tools.