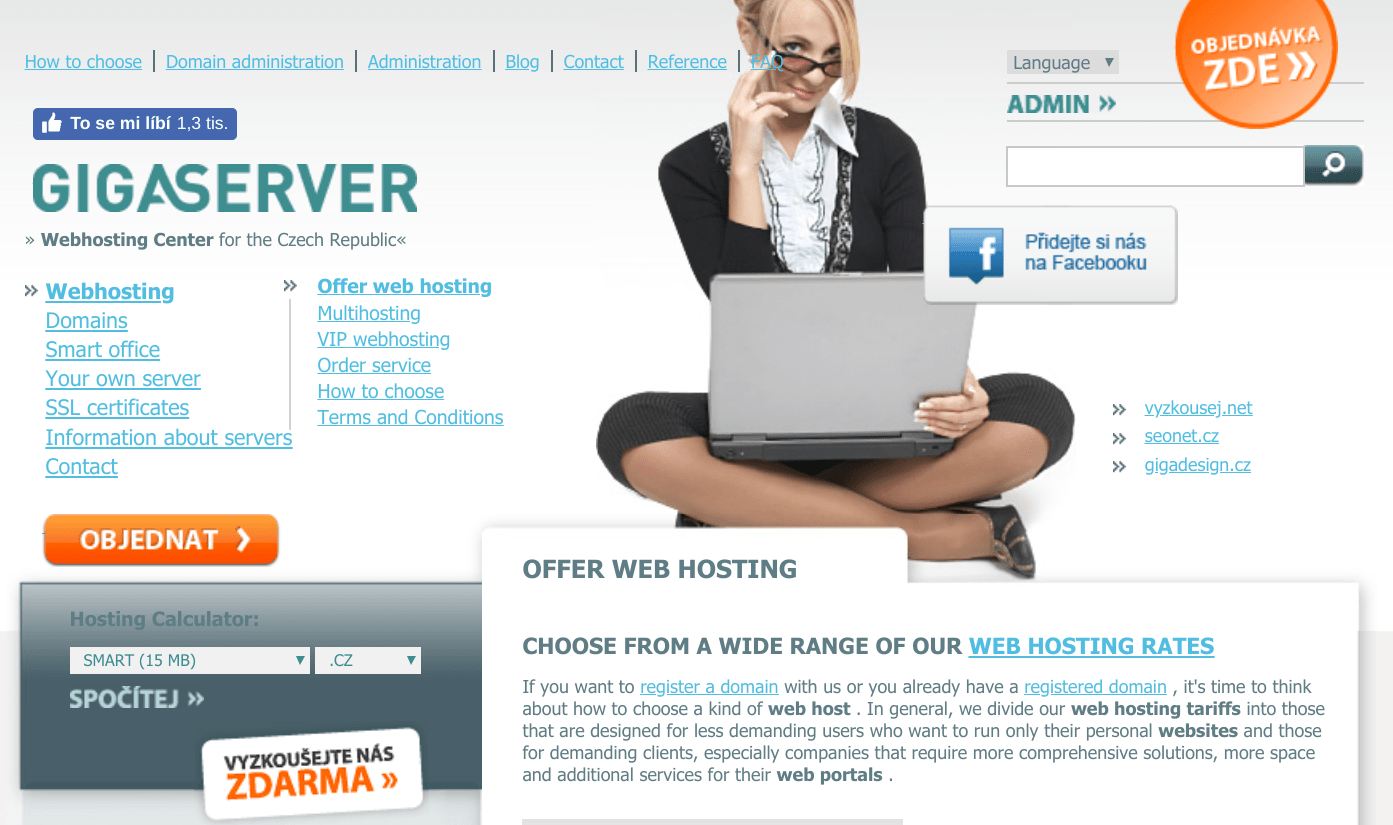 Gigaserver is a Czech subsidiary of Seonet Multimedia and has been offering website hosting services since 2005. Their domain registration and website hosting services are good for basic and small business sites, and while they lack some advanced features, they are a good choice for those looking to save money on basic website hosting.
Features and Ease of Use
Gigaserver offers shared website hosting services with a solid set of base features that includes:
Unlimited bandwidth
Unlimited email accounts
Unlimited subdomains
SSD storage
Free domain with one year or more on the Live plan
In addition to these base features, you get the following value-added features:
Free Let's Encrypt SSL certificates
Cron job access
Supports PHP 5.3 through 7.2
AWStats supported
I like the fact that you get free SSL certificates on all plans, and a free domain with a year of service on the Live plan or greater. Otherwise, the services are somewhat average and lacking support for many advanced developer features such as Python.
For beginners, Gigaserver offers auto-installers for WordPress, Joomla, PrestaShop, and Quick.Cart. They don't provide a website builder, but you can use cPanel or FTP to upload files to your website.
Pricing and Support
Gigaserver offers several website hosting plans. The Smart plan is not a smart choice because it offers just 15MB of storage. The Practitioner plan is a much better starter plan but still lacking in storage. I'd actually start with the Hyperpower plan with 5 GB of storage and 20 databases, and look at the Easydisk and Idealdisk plans if you need even more.
Note that this hosting is for single domain sites only. They do offer a multi-hosting service, but it is essentially a redirected subdomain rather than true multiple domain hosting. So if you're looking to host multiple domains on a single account, this probably isn't the service for you.
Gigaserver also offers VIP webhosting that provides a more powerful configuration and servers that are limited to 40 domains, meaning your server will not be overloaded. These plans are okay feature-wise, but not quite as good as the standard hosting, and they don't support Ruby or Python. The standard hosting plans are recommended unless your site specifically requires a higher-performance server, as the pricing for the latter is higher than the standard plans.
Gigaserver offers solid 24/7 support via phone, email, live chat, and even fax (remember those?). They also have a very robust FAQ section along with a regularly updated blog with announcements regarding changes to service plans, service outages, and more.
The average monthly availability of their servers is stated as 99.98%, which they invite you to verify for yourself at www.vyzkousej.net.