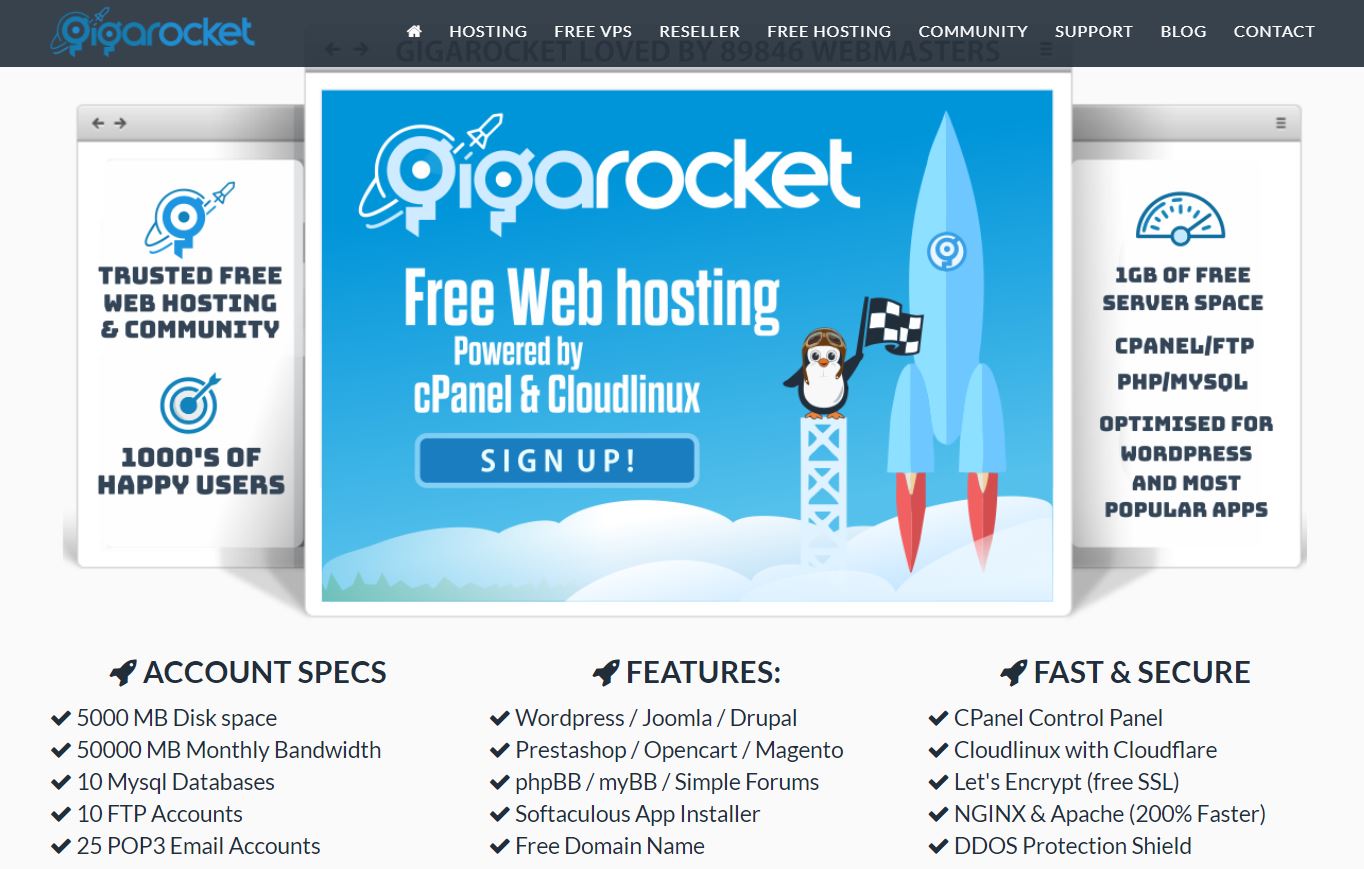 GigaRocket is a U.K. based free P2H (Post to Host) web hosting service founded in 2013 as Gigarank before rebranding in 2017. Since its launch, GigaRocket has been offering ad-free cPanel hosting for no cost. It formerly provided paid web hosting and free VPS hosting, too, but it has discontinued these services.
Most free web hosts have uninformative and unattractive websites, but the GigaRocket English website is neat and packed with information. You should be aware that some information is outdated, and it still advertises its paid shared hosting and free VPS plans.
Features and Ease of Use
Let's take a quick look at GigaRocket's free cPanel hosting package. These are some key features you can look forward to:
Web editor
SEO tools
Support for PHP 7, MySQL 5, and MariaDB
phpMyAdmin, Perl, cURL, Freetype, and GD support
Free domain name
Softaculous one-click installer
cPanel
CloudLinux and free Cloudflare CDN
Free SSL
DDoS protection
NGINX and Apache
eAccelerator, FastCGI, and ionCube loaders
GigaRocket uses Intel Xeon processors with a minimum of 32 GB DDR3 of RAM and has servers in Europe. However, you only get limited resources such as 5,000 MB of disk space, 50,000 MB of bandwidth, 10 FTP accounts, 10 MySQL databases, and 25 POP3 email accounts.
This free web host includes a range of better than average features that you can use whether you are a beginner or amateur developer wanting to experiment with web hosting. You can install hundreds of popular CMS apps like WordPress, Joomla!, Drupal, or PrestaShop using Softaculous one-click installer, build and design your website using a free built-in web editor, and hone your developing skills with various coding languages.
There are also a few cool security and performance-enhancing features that you don't often see with free web hosts, such as Cloudflare CDN (to increase loading speeds and accessibility), CloudLinux, and DDoS protection.
While all that sounds like a jackpot deal, you must remember that GigaRocket is a free service; therefore, you will be subject to many annoying restrictions.
To apply for free cPanel hosting with GigaRocket, you need to make ten quality posts in the community forum. You then must make at least five posts per month to keep your account. Otherwise, your account will be flagged as inactive and terminated.
You're only allowed to have one account with GigaRocket, and your resources are limited. If you don't set up your account within 48 hours or exceed your limits, it will be temporarily suspended.
GigaRocket can also reduce resource use/bandwidth or ask you to move your website entirely to another host if your usage is excessive.
The rules are endless, so I strongly advise you to read GigaRocket's terms of service before deciding to apply for its free web hosting service.
Whether you're a beginner or a pro, it's better to sign up for a reliable paid web hosting company. You get more control over your website, premium features, and unlimited resources without breaking the bank.
How? Check out this in-depth top web hosting comparison.
Pricing and Support
Since GigaRocket has retired its paid services and only offers free cPanel hosting, there's nothing to say here about pricing. Let's skip to customer support.
As previously mentioned, the website may have some outdated sections, including the blog, but it's pretty generous with information. There's a small knowledgebase section that contains some useful tutorials and an active community forum.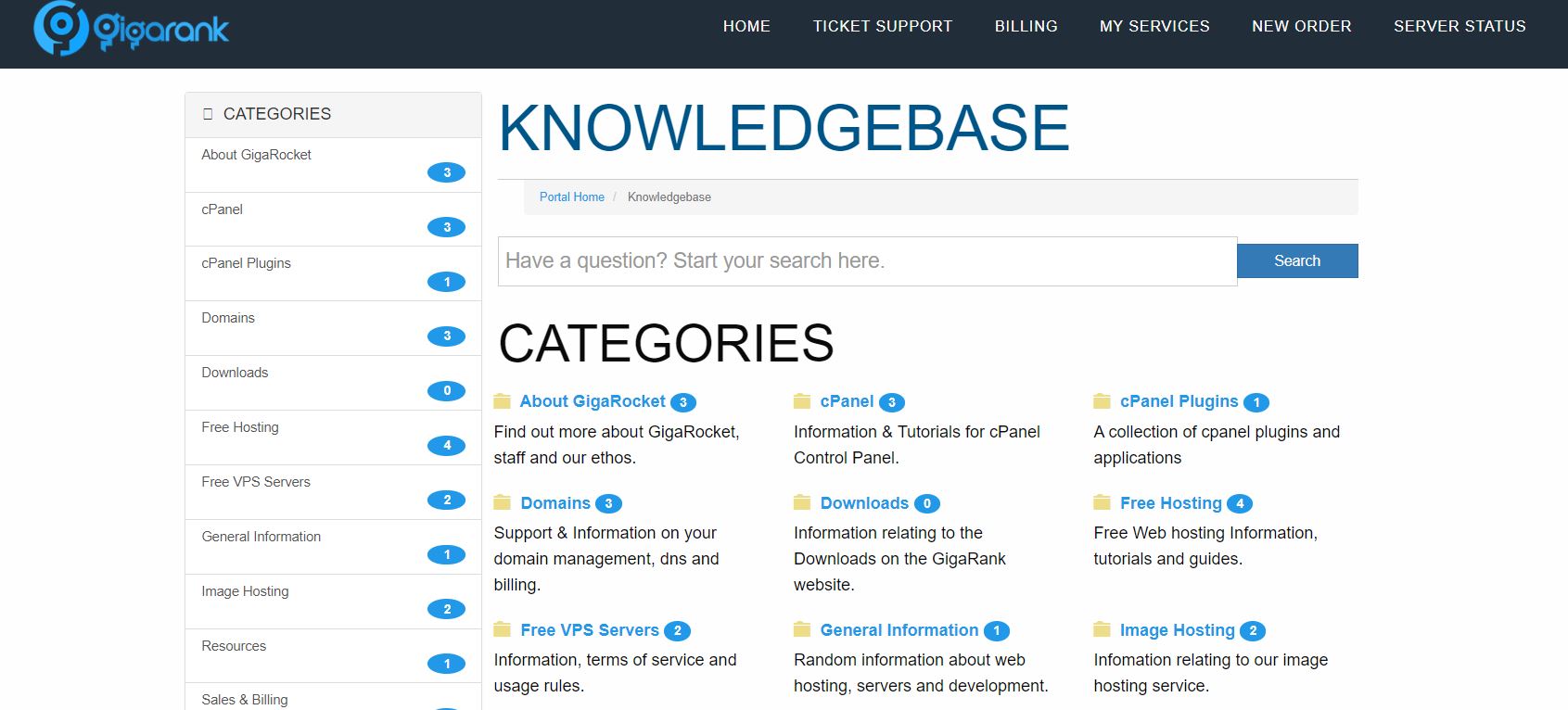 Unfortunately, the customer support isn't reliable and is limited to a ticket system and social media. It's unresponsive, too. I sent a ticket four days ago and still haven't received an answer.
A free domain name is included with some hosting plans from GigaRocket