Fullnet Hosting is a small Polish web hosting provider operating out of a local data center. They're a new player on the scene, so they've chosen to focus primarily on individuals and small businesses. In addition to inexpensive shared hosting, they offer value-added services such as search engine marketing.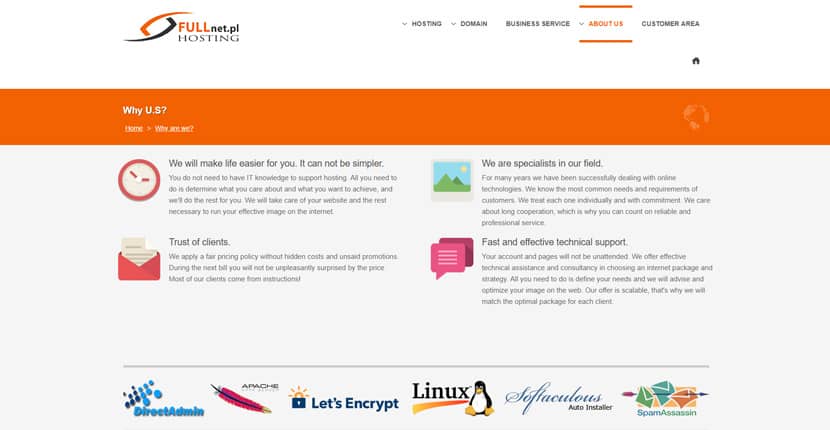 Features and Ease of Use
Fullnet Hosting focuses mainly on shared hosting, so you'll have to search elsewhere for VPS and dedicated server packages. Their offerings are suitable for new webmasters just starting out with their first websites all the way to mid-sized businesses with relatively media-heavy websites. With Fullnet Hosting, you get features such as:
Unlimited data transfer
Unlimited emails
Unlimited databases
Unlimited add-on domains
Softaculous one-click installer with over 400 scripts available
Free Let's Encrypt SSL certificates
Support for PHP 5.6 and 7.1 with OPcache
Their plans mainly differ in the amount of storage space you're allocated. The Starter plan gives you 1GB of web space, while the highest-tier Business Pro plan gives you 16GB. All plans come with an advertised 99.9% uptime, though it's not clear whether this is backed up by any sort of refund policy or SLA, so you may want to check with them on this note before you commit to a package.
In addition to web hosting, Fullnet Hosting also offers website creation and basic search engine and social media marketing services. Since they're a small provider, being a convenient one-stop web portal for hosting and website design is likely how they've chosen to value-add to their customer base.
Note that Fullnet Hosting doesn't appear to offer any beginner-friendly website builders. This means that while you'll still be able to get a website set up fairly quickly with the help of their easy app installer, you'll likely need to pick up a fair bit of technical knowledge along the way.
Pricing and Support
What I like about Fullnet Hosting is that their prices are incredibly affordable for those just starting out in web hosting, and that they don't use any of the promotional tricks typical of the industry. With the exception of domain renewal (which isn't included in any of their packages, sadly), you'll pay the same amount when signing up and when renewing your hosting account. You can opt for monthly, quarterly, half-yearly, or annual contracts.
They have a seven-day free trial of all hosting services, though to be honest this really isn't enough to adequately test the full scope of their platform. There's no money back guarantee either, so that one week is all you'll get.
Although their plans can be scaled, there is a limit to how far it can go because they don't provide VPS, cloud, or dedicated server hosting. If you have complex database-driven websites with high traffic, this host is not suitable for your needs.
In my experience, their technical support team is fast and reliable. They're a bit slow during non-business hours, but when they do respond they've proven themselves to be helpful and efficient. They only respond in Polish, however, so foreign users may have difficult using this service.