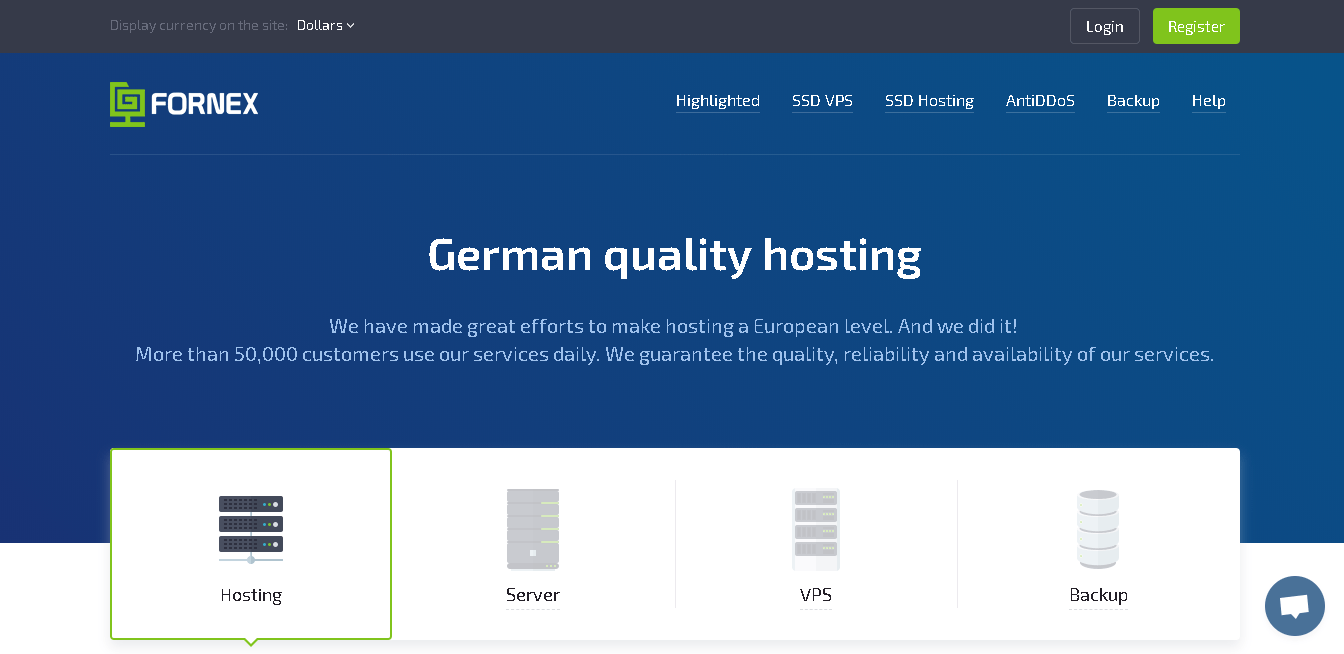 Fornex doesn't provide too much information about themselves, but they are a European hosting company that has been around providing hosting and infrastructure related services since 1999. They are headquartered in Malaga, Spain and have facilities located all over Europe including Ukraine, Russia, the Netherlands, and Germany. They regularly update their services and website to keep the experience modern and enjoyable to use. They currently offer an extensive selection of dedicated server, VPS, and shared hosting products.
Features and Ease of Use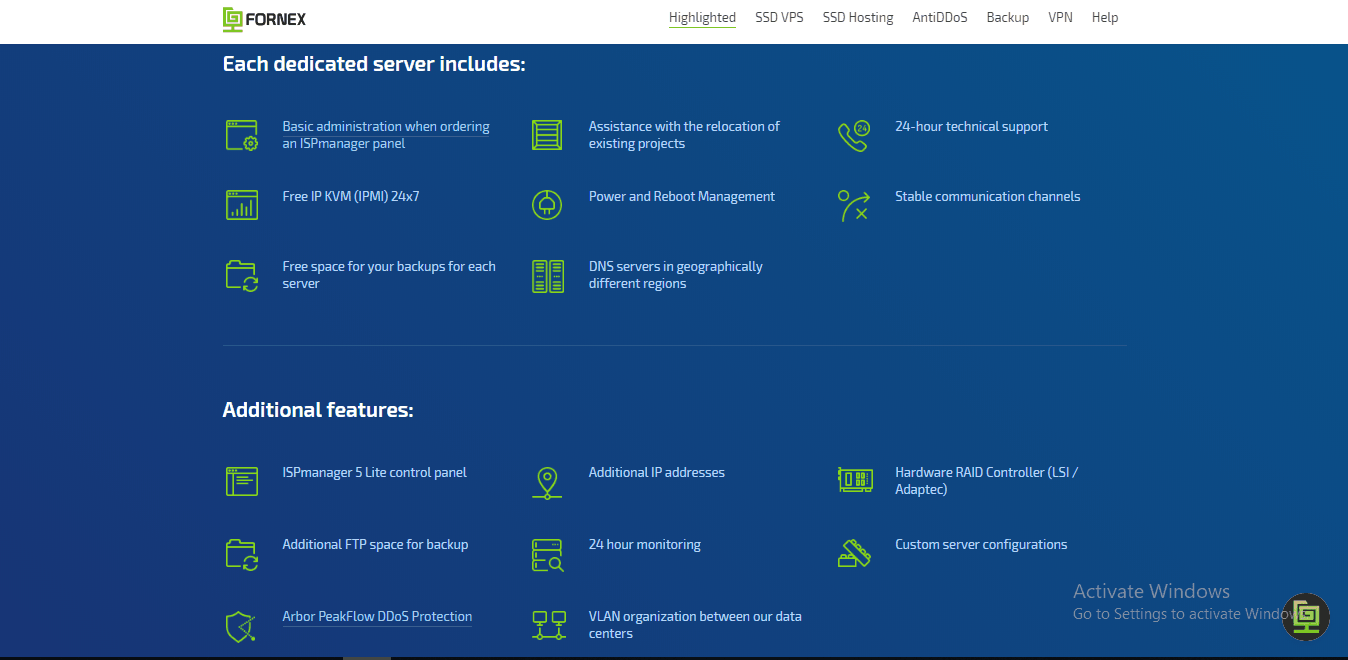 Fornex caters to a wide range of customers with products suited for everything from individuals' websites/blogs to small or large scale businesses:
99.99% uptime guarantee for VPS

Web hosting and dedicated servers come with space for manual backups while you need to purchase pace with VPS plans

No add-on domains, although you can access this through cPanel

Unlimited traffic with all hosting products and plans

A solid variety of storage options with SATA, NVMe, and SSD storage options
Fornex provides a range of hosting types and services which include dedicated servers, VPS, shared web hosting, VPN solutions, and backup resources. Unfortunately, they don't provide much info on their data centers, but through their solution specifications, we can see that they make use of fantastic hardware and software.
None highlight this better than their dedicated server offerings with Intel Xeon Silver and Gold processors, SATA, SSD, and NVMe hard drives, and a range of Windows or Linux software distributions and control panels. They also provide a global network peering infrastructure for geographically diverse DNS locations for VPS and dedicated servers. VPS servers are also backed with a 99.99% uptime guarantee, but this doesn't extend to their other services. cPanel is the default control panel but you can purchase other licenses.
For web hosting, they provide the ability to toggle between PHP versions, Cron jobs, and a free website builder. The website builder isn't the best but comes with a decent template library and is very beginner-friendly. Unfortunately, there aren't any specific hosting solutions such as an e-commerce hosting plan.
RAID hardware controllers also ensure some redundancy for your storage and Arbor PeakFlow DDoS protection is provided. Businesses will like the fact that you can set up VLAN networks between data centers. You can enhance any of your hosting solutions with their VPN, backup, or AntiDDoS services and packages. They also offer server administration that's either included for free with some VPS products or that you can add on for your dedicated server.
Pricing and Support
Overall, their shared web hosting and VPS SSD are incredibly affordable considering all the features and software you get for free and the fact that the shared web hosting is semi-dedicated. Although pricing for their dedicated servers starts much higher, it's still fair considering what you get in terms of resources.
For all products, you can also purchase additional IPs and backup storage at fairly standard prices. Hosting prices also don't cover a domain or SSL certificate. If you order the ISPManager console with your VPS hosting product, you'll get basic administration services included for free. However, it's slightly disappointing that you don't get backup storage for free with a VPS plan.
There are 10 different dedicated server configurations. Unfortunately, they don't provide custom configuration but the range of options does allow for some flexibility in pricing. Their administration services for dedicated servers come at a flat monthly fee which seems quite high, but is very reasonable for a whole month of services. You'll also need to pay extra for a Windows license which is standard. One huge benefit is that they don't charge setup fees.
Unfortunately, you also only get a 7-day trial period with shared hosting or VPS plans. However, you still have to make an upfront payment for VPS and will be refunded upon request. All of their hosting plans offer monthly, quarterly, semi-annual, and annual billing with discounted rates for longer billing periods with a 15% discount for annual billing. They also accept a decent range of payment options that even include Bitcoin.
Their 24/7 support services are available for all their products. If you require extra services, you can opt for their administration packages designed for dedicated servers or VPS SSD plans. Whenever I've engaged in their 24/7 live chat, their agents have been prompt in their responses, and I've consistently connected with English-speaking support personnel. Additionally, you can contact them via email and phone, where my experiences have been similar, although emails naturally have a slightly longer response time.
How much does FORNEX cost?
FORNEX offers plans from $1 to $9. The price depends on which type of hosting plan you choose. You can see the updated pricing table (updated weekly) below.

Which FORNEX plan should I get?
My recommendation is to start with a cheaper plan. You can always upgrade later on. FORNEX can help you with the migration to a more expensive plan. The increase in visitors many times takes longer than expected and you shouldn't pay a lot of money until the need arises. Of course, your needs may vary, and you can consult with a hosting expert from FORNEX here.

How good is FORNEX's customer support?
FORNEX is not ranked as one of our top web hosts. But that can also be a result of FORNEX being a small, under the radar, hosting provider. There are advantages to a small hosting company – as a customer, you are more important to them. You can also check out our comparison of the most popular web hosting services here.