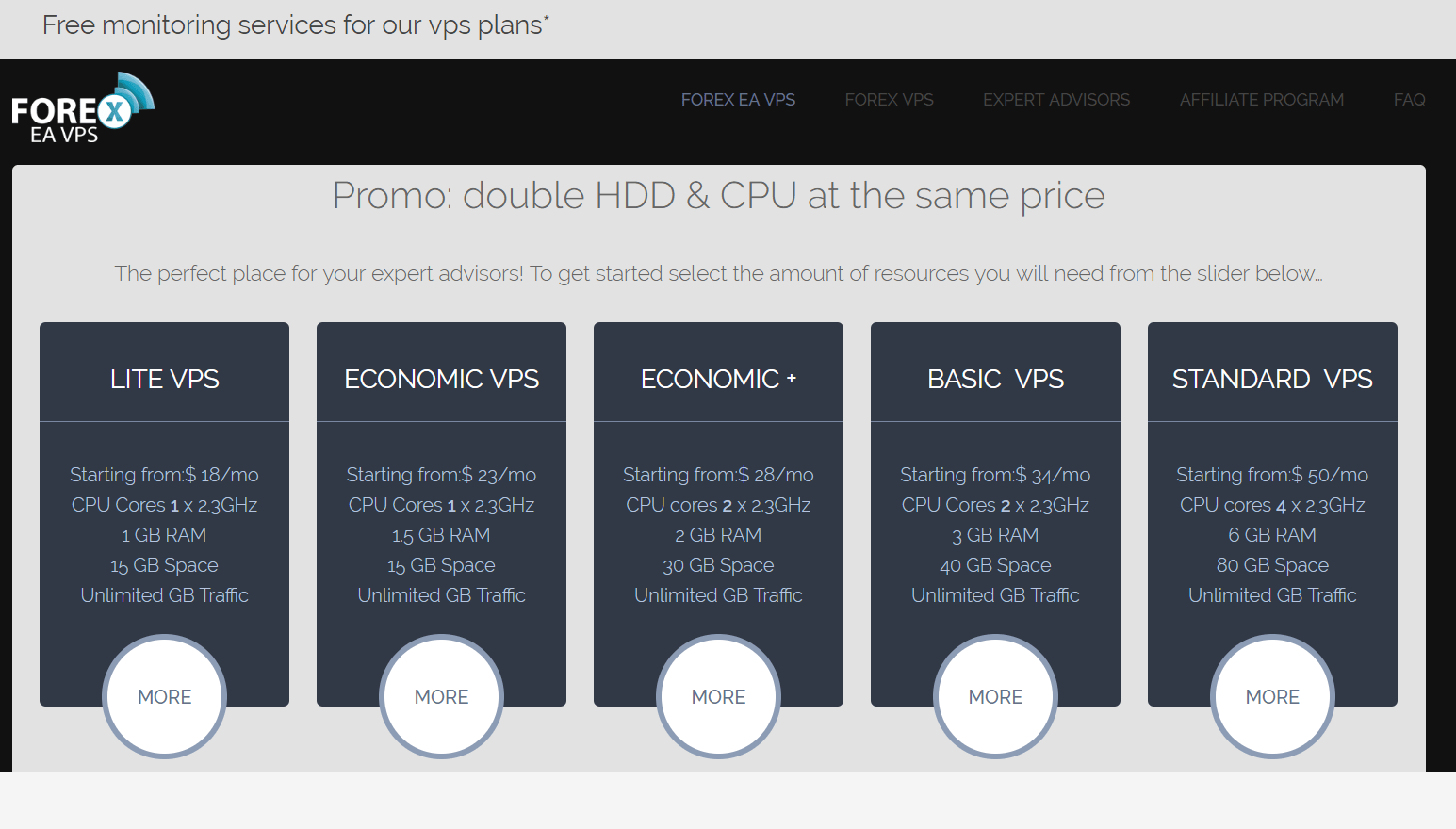 Forex EA VPS is a privately owned hosting company that's been around since 2014 and is based in Sofia, Bulgaria – a very strategic location as far as the global internet backbone is concerned. It specializes in providing hosting platforms for serious Forex traders who don't want to struggle with the other ins and outs of a website hosting service. It only provides VPS packages and the website and services are in English.
Features and Ease of Use
VPS packages that will give Forex traders peace of mind offer:
99.99% Uptime guarantee

Pre-installed MetaTrader 4 and 5

Weekly automatic backups

Up to 120GB of storage

Unlimited bandwidth with all plans
Forex EA VPS is focused on a very specific niche: providing those serious about Forex trading with their own online platform to do so. To that effect, it makes its hosting as easy and as simple as possible, leaving as little for its customers to do as it can.
It monitors all servers 24/7 and you can have your VPS administrated for free as well, so you don't have to worry about any hosting housekeeping. VPS come Forex-ready by running on Windows (2008/2012) and with MetaTrader 4 and 5 preinstalled for you
You also don't have to worry about using up your bandwidth as all accounts come with unlimited traffic, and the storage that starts at 15GB should be more than enough for any trader's needs. The same goes for the minimum 1GB RAM and 1 x 2.4GHz CPU. However, upgrading will probably get you smoother performance.
You're also not limited by how many MetaTrader instances you can run, but it does provide recommended amounts based on your resources.
A 1000 Mbps port should also mean you're not held back from the most up-to-date moves by a slow connection. Other than Forex, you can do pretty much anything you want on your server with the freedom to install and run software.
Pricing and Support
Forex EA VPS provides six VPS packages with prices that start at the lower end of the VPS spectrum. When considering the resources and features included, the prices are average compared to the rest of the international market. The plans offer a decent range of prices, making them appealing to most customers.
On top of that, the billing is pretty flexible as you can choose from one-month, three-month, six-month, or yearly terms with discounts for longer commitments. You can also upgrade individual features of your hosting for an extra fee if you feel that none of the standard plans are just right. However, it works out cheaper to just go with the pre-configured packages than to upgrade your resources to a higher tier individually.
One great free feature that you get with your plan is managed hosting services. You have to opt in to it, but it's completely free (with at least an ECONOMIC+ plan). With this plan or higher, you also get a free Forex advisor software package (or, you can buy a package and get a month of hosting for free).
To top it off, you can feel reassured trying out the hosting services, as it offers a 30-day money-back guarantee in case you're not satisfied.
Because it wants to offer a niche services for Forex traders who likely don't want to be bothered by the day-to-day running of a server, Forex EA VPS takes 24/7 monitoring and server management quite seriously. As such, you shouldn't have too much reason to contact support in the first place. If you need to, you can get in touch with them via email (or live chat, according to the site, though I couldn't get it to load) and they are supposed to be active 24/7. However, I have had problems with support availability when trying to reach them.


Unfortunately, there's only a very short and simple FAQ available, and there are only three articles in the knowledge base, although they do come with video tutorials.