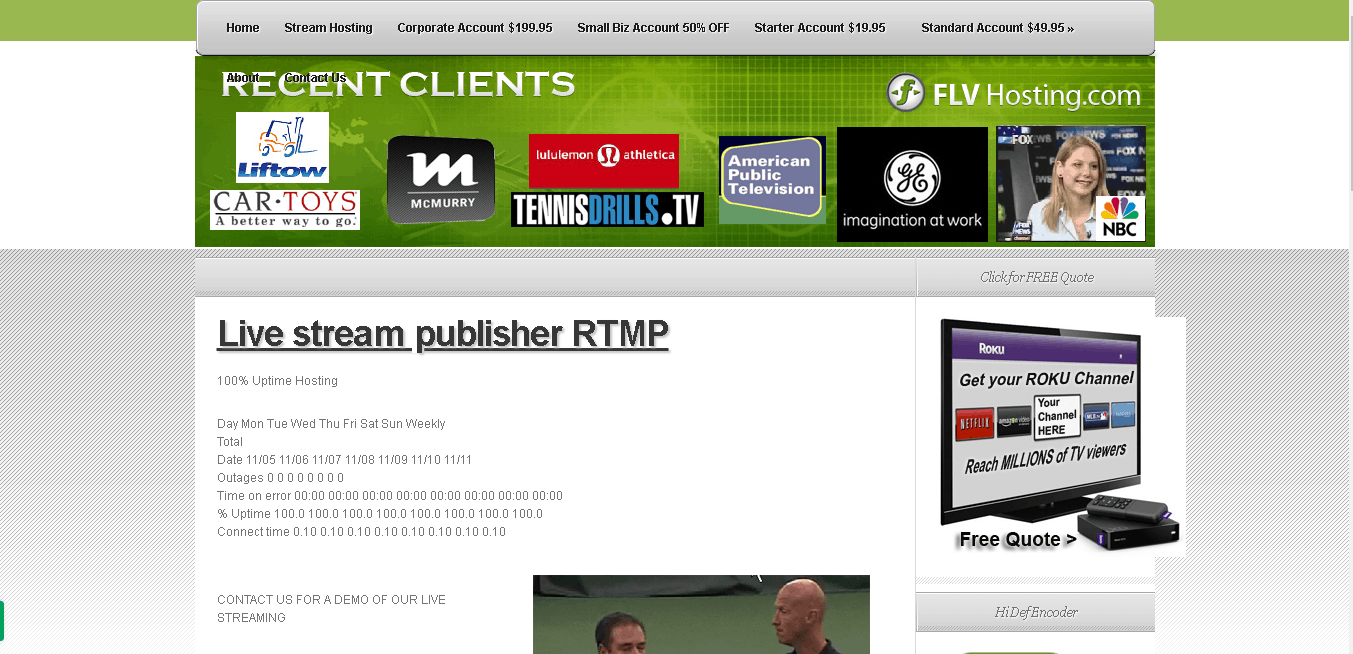 Florida-based business FLV Hosting has been in operation since 1999. They provide website hosting that
primarily focuses on video delivery
, meaning they host videos that you can embed into your website to be streamed to your visitors. The company name comes originally from the Flash Video (FLV) file format.
This hosting provider has worked with small to medium-sized businesses as well as Fortune 500 companies in 30 countries worldwide. Their simple website and their support are both in English.
Features and Ease of Use

FLV Hosting offers four streaming hosting packages: Starter, Standard, Small Business, and Corporate. The packages include the following features:
Uptime: 100%
Storage: From 5 GB to 100 GB
SIM Connects: 100 to 2500
Data Transfer: 50 GB to 3 TB
Setup Time: 24 to 48 hours
Control Panel: Web-based
FLV Hosting's main differentiator is their focus on video streaming, so if you need to host anything other than videos then FLV Hosting will not be the best choice for you. Still tuned? Good, because if you are looking for a dedicated hosting provider that specializes in Flash Video (FLV) or MP4 video in 4K then you should read on!
FLV Hosting has servers located in multiple America-based data centers: Atlanta, Chicago, Fort Lauderdale, Charlotte, Cincinnati, Jacksonville, Louisville, Nashville, Raleigh, Richmond, and Tampa. These data centers are fully redundant with 24/7 monitoring, and they house servers with RAID 5 storage and Xeon processors for reliability and speed.
Whilst they don't have an uptime service level agreement (SLA), they do boast about their actual historical uptime which they self-state as 100% uptime, zero errors and 0.10 connect time.
Pricing and Support
It's hard to compare FLV Hosting's prices with local or international alternatives because they offer such a unique service. Whilst many of the big hosts can also be used for video hosting, this company can only be used for video hosting. Their apparently high prices may be well worth the cost for this niche video streaming service.
FLV Hosting offers monthly pricing with discounts for annual commitments, so you can choose between the low risk of a low commitment or the cost saving of a longer obligation. Even on the longer plans, you get a seven-day money-back guarantee as a backout mechanism, and you can also easily upgrade your package at any time.
There is free 24/7 support for making sure your servers are live and videos are being streamed. For other support requests, they also offer a paid service. Customer service can be obtained via Skype, email, or a ticket system for existing customers, and their website includes a small knowledgebase with help documents.