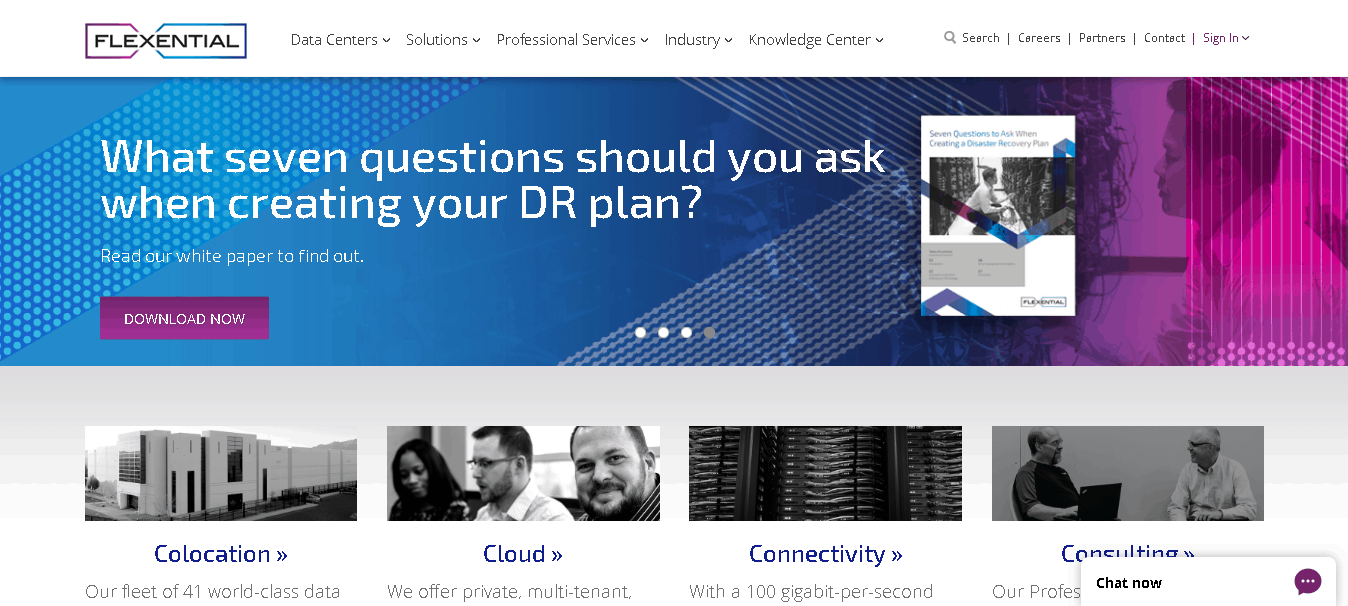 At the start of 2018, ViaWest and Peak 10 rebranded themselves to form Flexential to boost their already dominating position in the IT industry. Flexential today aims to continue providing the same services that these two companies have been providing since 1999 and 2000 respectively. Today, Flexential has over 41 datacenters spread across North America serving over thirty-one different industries and twenty-one domestic and international markets. As of today, they serve over 4200 satisfied customers.
Features and Ease of Use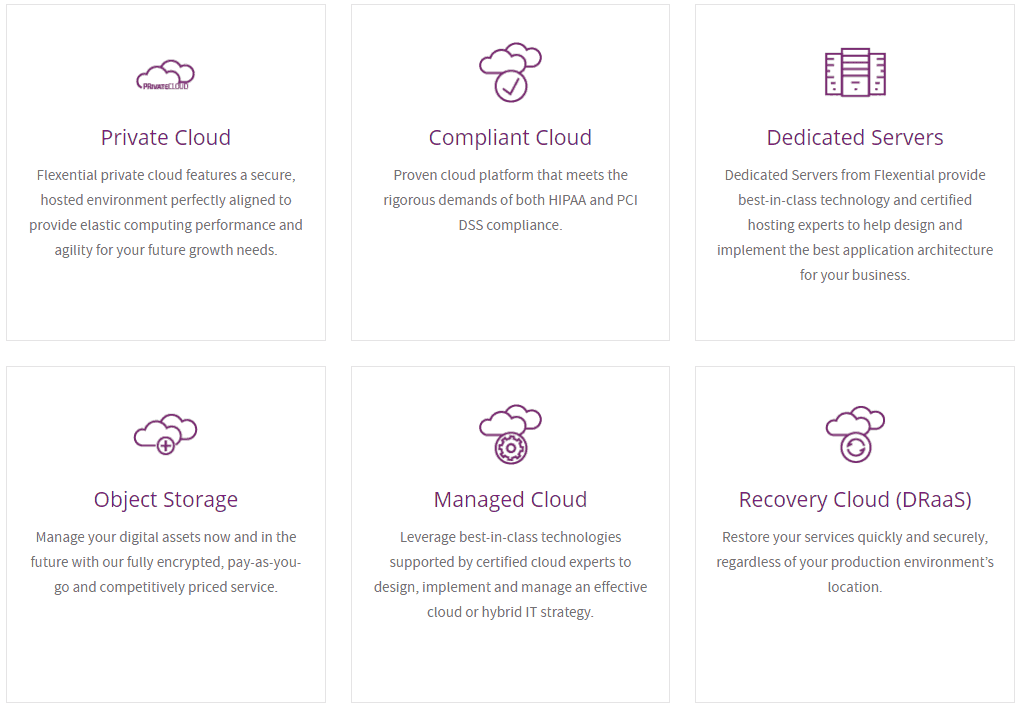 Flexential's cloud dedicated server solutions offer reliability, privacy, and security. Here are some features you'll get when you use their service:
Operating system services including OS installation, management, and monitoring
Procurement of hardware and racking
Troubleshooting, management, and replacement of hardware
Network management and protection
Data protection backup
Dedicated as well as shared storage available
To ensure that you have the best hardware at your disposal, Flexential offers Cisco Powered Private Cloud Environment. From top to bottom, you get a dedicated solution that is not shared with any other customer. This gives customers the peace of mind that their data isn't at risk due to security breaches through some other customer. The highly redundant infrastructure in a secure environment means your customers need not worry about the security and privacy of their data.
One of the biggest advantages of using Flexential is that you save time and resources that you would have to otherwise employ on hardware maintenance and management. In-House management requires a lot of resources and skilled staff but using Flexential eliminates the need for that. The time and money saved this way can be used elsewhere in the business. An IT staff that isn't overloaded with worrying about downtimes and server maintenance can perform other tasks more efficiently.
You can install a range of operating systems on your dedicated servers. These include Red Hat, CentOS, Ubuntu, and Microsoft Server. Similarly, support for MS SQL, PostgreSQL, Mongo DB, and MySQL is also available.
Pricing and Support
They do not offer any pre-prepared plans since dedicated server requirements vary from one customer to another. You will need to get in touch with them and request a quote for the exact services you need. While it is not possible to compare their prices to the competition with the information available, it can be said that they have a big list of trusted partners as well as satisfied customers on their website which points to a high quality of service. As far as scalability is concerned, Flexential helps you design your dedicated server needs and ensures you are set up in a way that makes it easier to scale up in the future.
It is slightly hard to get in touch with them through their website as the Contact Us page is hidden in the About Us page of their website. You can call their support or sales staff by telephone or get in touch with them via email or the contact form on the website. There is no live chat available. Flexential has a highly skilled and certified customer support staff so you can rest assured that your servers are in safe hands.
How much does Flexential cost?
Flexential offers multiple plans priced highest to lowest. The price depends on which type of hosting plan you choose. You can see the updated pricing table (updated weekly) below.

Which Flexential plan should I get?
My recommendation is to start with a cheaper plan. You can always upgrade later on. Flexential can help you with the migration to a more expensive plan. The increase in visitors many times takes longer than expected and you shouldn't pay a lot of money until the need arises. Of course, your needs may vary, and you can consult with a hosting expert from Flexential here.

How good is Flexential's customer support?
Flexential is not ranked as one of our top web hosts. But that can also be a result of Flexential being a small, under the radar, hosting provider. There are advantages to a small hosting company – as a customer, you are more important to them. You can also check out our comparison of the most popular web hosting services here.