FDCServers has been in business since 2003 and offers a wide variety of web hosting and private server services. While they don't focus exclusively on web hosting, they do provide reliable options for those looking for VPS and dedicated server solutions. They presently host 13 data centers with over 10,000 customers and boast both a 10Tbps backbone and 99.995% reliability.
Features and Ease of Use
FDCServers provides a wide variety of customizable VPS and dedicated server options for almost any budget.
VPS features include:
Unmetered bandwidth on many plans
SSD storage
Choice of 32-bit or 64-bit architecture
Customizable configurations
Choice of 13 data center locations
Fast deployments
IPv4 and IPv6 address space
Up to 10Gbps bandwidth
Direct admin and cPanel support
Many companies offering VPS give you a limited number of customizable options for your server. FDCServers gives you over a dozen customizable server options for every plan offered.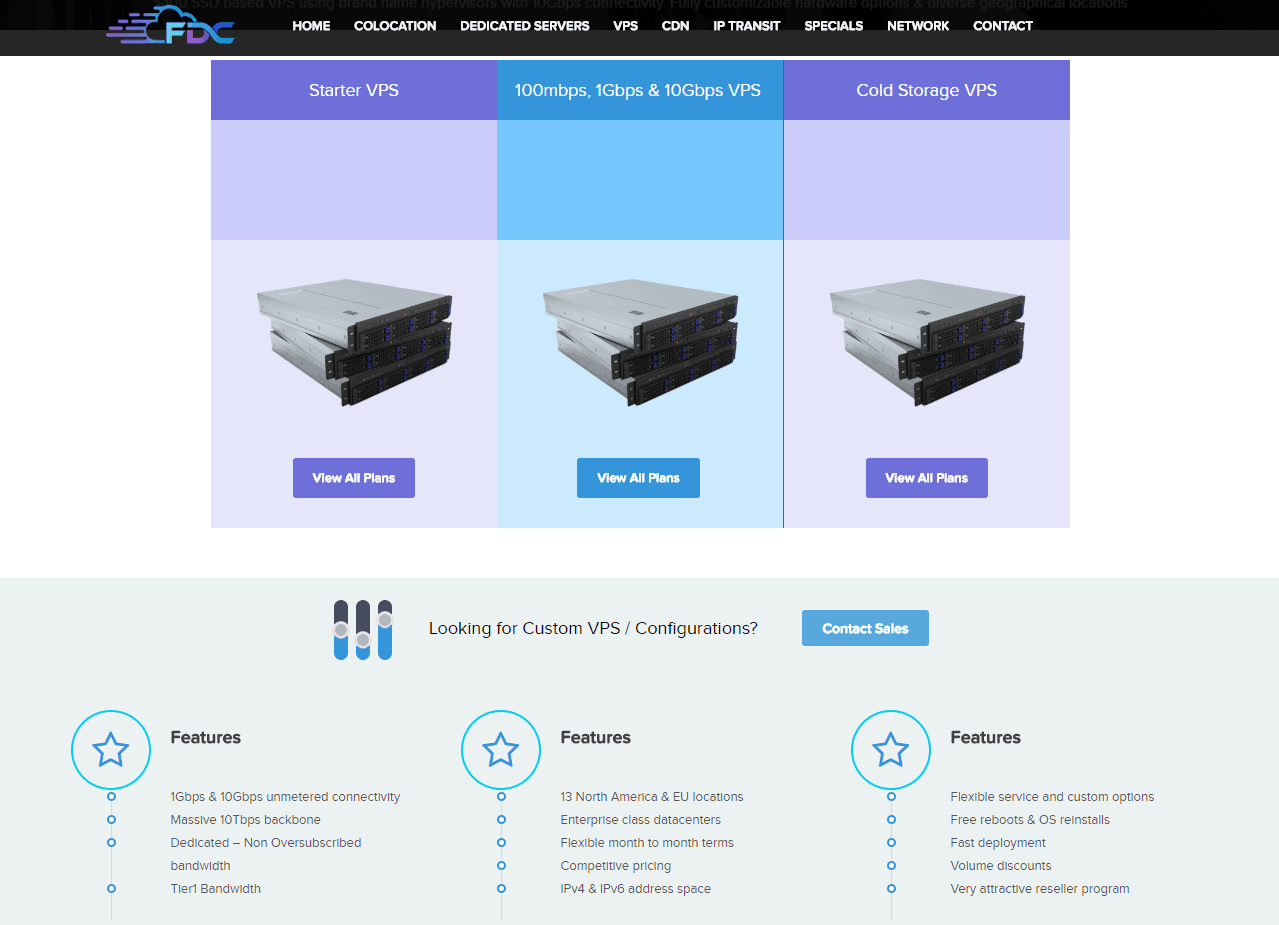 Dedicated servers feature the following:
Choice of hard drive configurations
Massive storage of up to 72TB
Connections up to 100Gbps
Choice of operating systems
Optional backup storage
Direct admin and cPanel support
The main criticism of both the FDCServers' VPS and dedicated servers is that some lower tier plans have restrictions on their dedicated bandwidth. Depending on the number of sites you're hosting and the traffic they require, you may be forced to start with a more expensive plan to guarantee your bandwidth.
If you're a beginner who needs a lot of help setting up your website, don't bother choosing this service unless you plan to hire someone to set up and administer it for you. FDCServers merely sells you space, and that's all. They don't offer any support outside of setting up the operating system for your VPS or dedicated server. If you know what you're doing, you shouldn't have any issues using their VPS or dedicated servers.
Pricing and Support
FDCServers offer two types of VPS solutions – Starter and Enterprise. If you're looking for a VPS, here's a quick breakdown of their services:
Starter – There are four Starter VPS packages that offer between 5 and 100Mbsp unmetered bandwidth along with storage from 10GB to 100GB on a single core server. These plans are most appropriate for smaller sites or groups of sites that don't need massive bandwidth or storage.
Enterprise – The Enterprise VPS packages provide unmetered bandwidth ranging from 100Mbps to 10Gbps, along with storage options ranging from 100GB to 600GB and up to four CPU cores. These packages are suitable for most small to medium-sized websites, and even the highest tiers are surprisingly affordable.
If you need cold storage for website files or records, FDCServers also offers cold storage VPS services with up to 4TB in storage.
FDCServers offers three different dedicated server configurations featuring Dell or Supermicro servers. Each server can be customized based on your individual needs with options to choose your data center, the type of bandwidth plan you want, your OS, and optional backup storage.
The biggest criticism against their dedicated server setup is that most server configurations come with a setup fee that's actually higher than your first month's service.
Another criticism of this company is their customer support. The website states that customers will receive a "24/7 helpdesk" link to use once they sign up. What they don't tell you is that this link is email only. There are no options for phone or live chat support.
Also, their support is limited to network and hardware issues only. If you have a problem with your site, you're on your own.
How much does FDC Servers cost?
FDC Servers offers multiple plans priced highest to lowest. The price depends on which type of hosting plan you choose. You can see the updated pricing table (updated weekly) below.

Which FDC Servers plan should I get?
My recommendation is to start with a cheaper plan. You can always upgrade later on. FDC Servers can help you with the migration to a more expensive plan. The increase in visitors many times takes longer than expected and you shouldn't pay a lot of money until the need arises. Of course, your needs may vary, and you can consult with a hosting expert from FDC Servers here.

How good is FDC Servers's customer support?
FDC Servers is not ranked as one of our top web hosts. But that can also be a result of FDC Servers being a small, under the radar, hosting provider. There are advantages to a small hosting company – as a customer, you are more important to them. You can also check out our comparison of the most popular web hosting services here.