Adult websites are a tricky business. It is often difficult to find quality hosting at a reasonable price. That's where Exmasters comes in. They have been providing quality adult web hosting since 2001 and offer a wide variety of plans for adult sites of all types.
Features and Ease of Use
Exmasters offers a fully-functional web hosting environment that can handle almost any adult site. Regardless of which plan you choose, you'll get the same primary and advanced features.
All plans include the following basic features:
Unlimited domains
Web control panel
Basic firewall protection
FTP access
Unlimited email addresses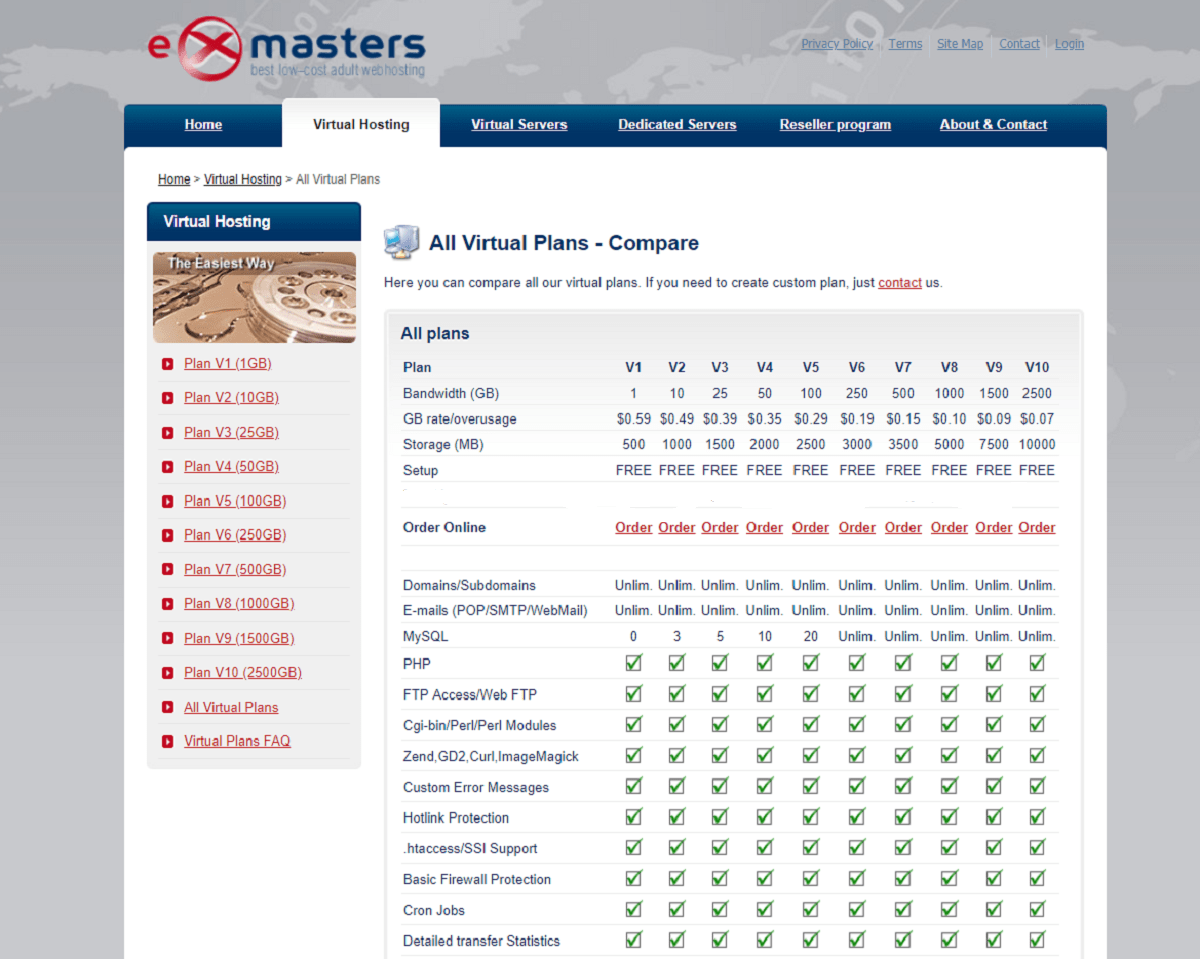 All plans also include the following features you usually see reserved for the most expensive plans on other sites:
Unlimited subdomains
Hotlink protection
SSL certificates
Tube/Streaming compatibility
Cron Jobs
This site isn't for the rank beginner. While their web control panel and online apps are straightforward, you need to know what you're doing.
There are no pre-configured designs or point and click website builders. This host is geared towards adult web hosting, so it isn't necessarily ideal for newbies wanting to start up a blog unless it is an adult blog.
Pricing and Support
There are ten different plans for which you can register, and all have the same features except for storage, bandwidth and the number of MySQL databases supported. Below is a brief overview of the plans.
| | | | | |
| --- | --- | --- | --- | --- |
| Plan # | Storage (GB) | Bandwidth (GB) | MySQL | Overage Fee (Per GB) |
| 1 | .5 | 1 | 0 | $0.59 |
| 2 | 1 | 10 | 3 | $0.49 |
| 3 | 1.5 | 25 | 5 | $0.39 |
| 4 | 2 | 50 | 10 | $0.35 |
| 5 | 2.5 | 100 | 20 | $0.29 |
| 6 | 3 | 250 | Unlimited | $0.19 |
| 7 | 3.5 | 500 | Unlimited | $0.15 |
| 8 | 5 | 1000 | Unlimited | $0.10 |
| 9 | 7.5 | 1500 | Unlimited | $0.09 |
| 10 | 10 | 2500 | Unlimited | $0.07 |
Exmasters does not offer a free plan. You can request limited free access to conduct testing of their servers, but it will not be adequate to host a site.
The first couple of plans are limited in storage space and bandwidth. Sites requiring a lot of bandwidth, such as those hosting video libraries, will need one of the larger plans. On a positive note, if you happen to go over your data cap, your site will not be shut down – instead, you will pay overage fees.
You can always upgrade or downgrade your plan at any time at no charge. If you find that you're regularly being hit with overages, an upgrade is probably needed.
Exmasters has solid 24/7 customer support and offers live chat, phone, and email support. You can even reach them on Skype and ICQ. Yes, there are still those out there using ICQ.
I discovered that their customer support team is highly knowledgeable, and I was able to connect with an agent almost instantly. Moreover, for urgent situations like a server outage, they provide an emergency email contact that promises to resolve issues within 10 minutes.
How much does Exmasters cost?
Exmasters offers plans from $4 to $172. The price depends on which type of hosting plan you choose. You can see the updated pricing table (updated weekly) below.

Which Exmasters plan should I get?
My recommendation is to start with a cheaper plan. You can always upgrade later on. Exmasters can help you with the migration to a more expensive plan. The increase in visitors many times takes longer than expected and you shouldn't pay a lot of money until the need arises. Of course, your needs may vary, and you can consult with a hosting expert from Exmasters here.

How good is Exmasters's customer support?
Exmasters is not ranked as one of our top web hosts. But that can also be a result of Exmasters being a small, under the radar, hosting provider. There are advantages to a small hosting company – as a customer, you are more important to them. You can also check out our comparison of the most popular web hosting services here.