eWebTechno is an internet service provider based in India. The hosting company was founded in 2007 and it has since been growing its infrastructure to expand to other markets in the United States. Today, its offerings range from web hosting solutions to VPS hosting, reseller hosting, web design and development, professional email hosting, bulk SMS marketing, online marketing, and SEO, among others.
Features and Ease of Use
The following are some of the standard features that customers can expect from eWebTechno web hosting packages:
MySQL databases

Private cPanel

CMS, online site design software

More than 350 pre-installed scripts

PHP v5 support

SSL secure server

SSH protocol
eWebTechno data centers are hosted in safe and secure environments with world-class power systems as well as fast internet connections. This is to guarantee secure and maximum availability of its hosting services.
The data centers are located in India and the United States. This hosting firm, however, advises users to choose their closest data center locations since the closer you are to your server location, the faster your website is likely to be.
eWebTechno virtual servers come with a lot of flexibility where customers can easily choose the resources that match their business requirements. This includes server specs like RAM and storage space as well as CPU. Its servers come with Virtuozzo virtualization technology that ensures centralized storage and maximum utilization of servers.
eWebTechno provides both Linux and Windows web hosting solutions. The hosting solutions provide options of either cPanel or Plesk control panels to help users easily manage their website operations.
Although eWebTechno does not offer free backup services for its client's websites, the vendor provides CodeGuard backup solutions at a price. You can choose from Basic, Professional, Premium, and Enterprise backup plans based on your requirements.
Pricing and Support
eWebTechno web hosting solutions are some of the cheapest hosting plans in the market. Yet, the hosting solutions come with inflexible billing cycles forcing customers to commit to a minimum contract of one year. Other billing cycles include biennial and triennial subscriptions. 
In addition, this hosting firm has a coupon with a limited offer, where customers get to purchase its hosting solutions with just a one-time annual price, and get to enjoy free hosting for the rest of their lives. All prices are listed in both Indian rupees as well as U.S. dollars.
eWebTechno hosting services provide a 100% uptime guarantee. This means that your website will always be online with zero chances of downtime. While this might seem like an impossible task to maintain, it is doable. Besides, all new web hosting accounts are covered by a 30-day money-back guarantee, as well.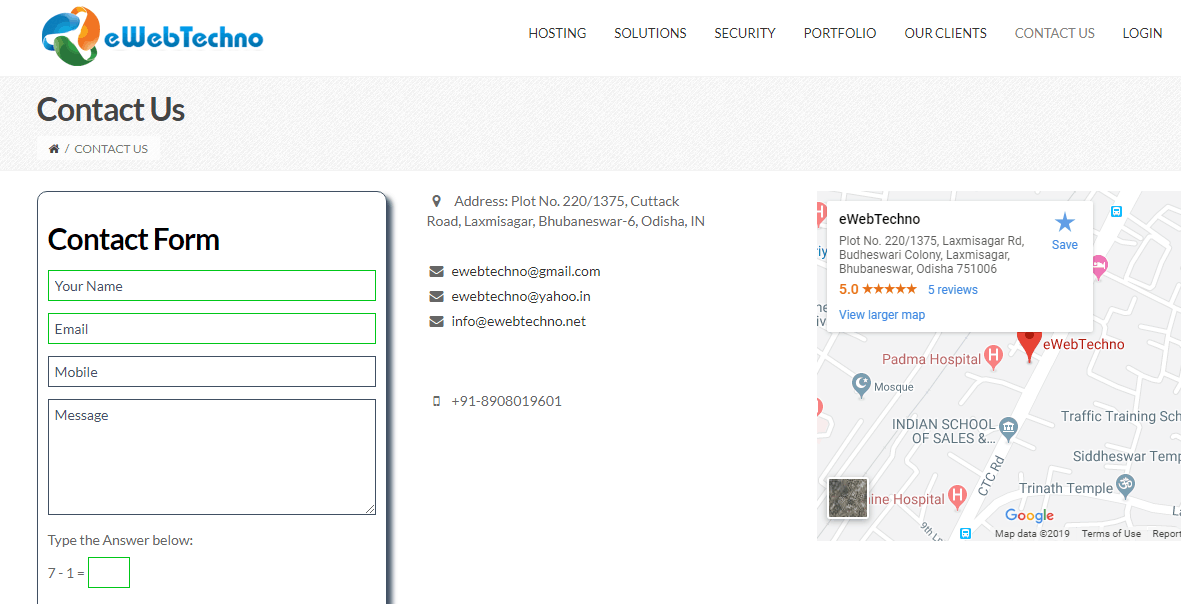 To contact eWebTechno, customers can do so via telephone, email, or through a contact form. That said, the hosting provider does not seem to have a ticketing system or live chat support.
eWebTechno has a section labeled knowledge base but, unfortunately, it is empty.