Evolution VIP is an Israeli web hosting company that's been in business since 2006. During that time they've hosted over 20,000 websites, including top companies in Israel. While their plans are lacking in storage and databases, they offer unlimited compatibility with scripting languages, giving you greater freedom to create the perfect website.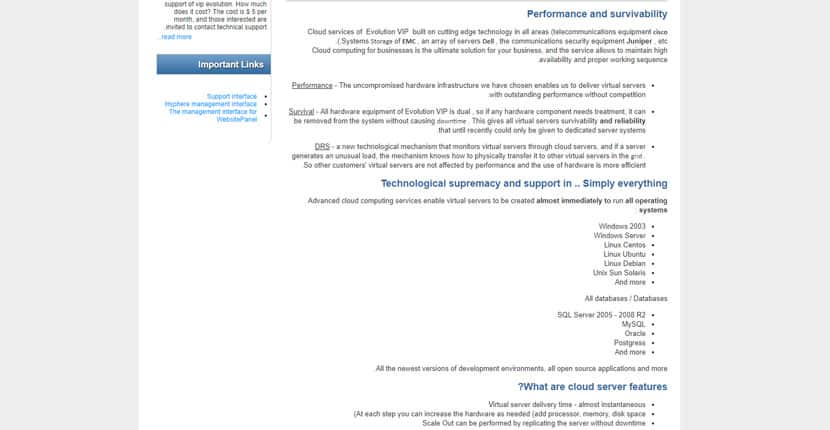 Features and Ease of Use
Evolution VIP is one of those hosting companies that look substandard until you start reading the fine print. On the surface, they don't appear to offer much more than basic features. Here's a quick rundown of their primary features:
99% availability SLA

Automatic and manual backups

Free domain registration

SSL certificates available at an additional cost

High bandwidth
Ten or more email accounts
Full firewall protection
No restrictions on developmental languages
There's nothing overly impressive here until you get to that last feature. To paraphrase the website, Evolution VIP knows you need access to as many developmental tools as possible, so they put no restrictions on tools. That means if you want to build with Ruby on Rails or Python, you can. Unlike certain companies, they aren't going to restrict you from doing so.
Now, with that freedom there comes some personal responsibility. That means that this host is not for beginners. They don't offer a website builder or auto-installer tools. If you want the freedom to code using any tool at your disposal, it means you'll have to know how to use them.
I should also note that there are some good and bad points about their shared hosting services. The number of domains, databases, and emails boxes are decent for each plan. Unfortunately, they skimp on storage for all. It's hard to host anything more than basic websites with the storage they give. Also, you won't be able to host large databases on this service, making it tough for some e-commerce companies to operate. The email storage size is a bit of a joke.
Pricing and Support
Evolution VIP offers Linux and Windows-based hosting, both with four plans and offering the same basic features. As with many hosting providers, Evolution VIP has chosen to price their Windows-based plans higher than their Linux ones to offset the cost of the Windows OS server license. In addition, their Windows-based plans offer fewer resources than their Linux packages.
Further, I found their packages quite a bit more expensive than the market average. Their shared hosting plans can be three to four times higher than those of their leading competitors, especially considering the paltry amount of storage they offer.
One positive aspect about Evolution VIP is that they have made an effort to provide a user interface that gives you more control over your account. Through their admin panel, you can easily make adjustments to your plan, storage capacity, number of email accounts, domain settings, and more.
Evolution VIP's support is decent, but keep in mind that they are based in Israel and work on an Israeli schedule, meaning they are only available from Sunday through Thursday. Their phone support operates from 9:30 a.m. to 6 p.m. Israeli time, but there's a 24/7 emergency support line for things such as total server outages.
Otherwise, they offer a support website with a helpful knowledge base along with the ability to submit a support ticket. You can also email them for support. Live chat is available, but outside of Israeli office hours you'll be talking to a robot rather than a live operator.