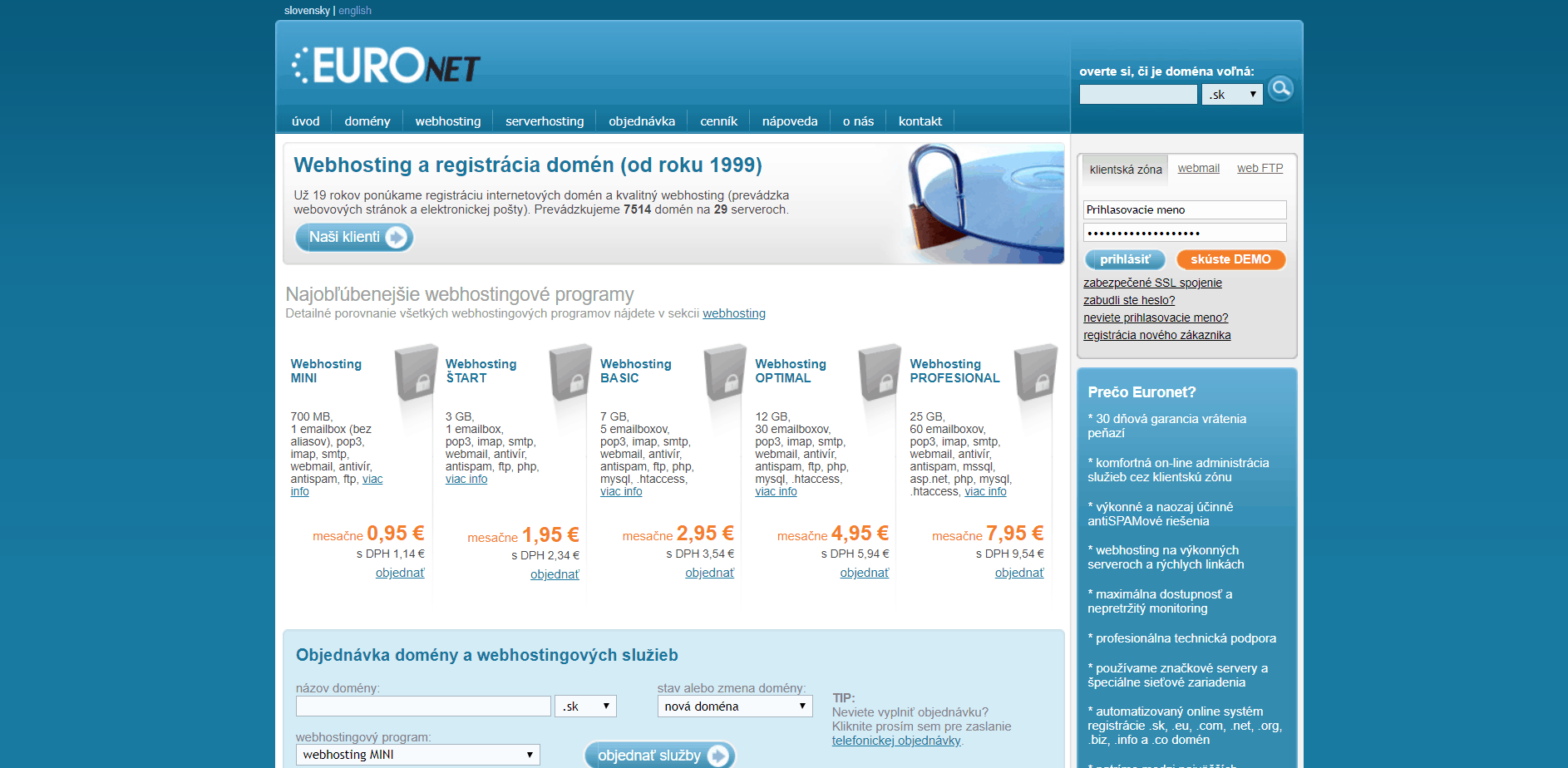 Euronet started out as DELFI  in 1999 and they have since been serving local Slovakian and international clients.
Their chief product offering is based on web hosting solutions for individuals to medium-sized businesses
. They also provide a range of other support services as well as being a full-on domain registrar. Euronet mostly operates in Slovakia and has servers in Bratislava.
Features and Ease of Use
Euronet doesn't really offer any extraordinary features, however, they do provide the following:
Domain registration
SSL certificates
DNS set up
FTP
Anti-spam and anti-virus security
Some of their best features are the extra support services they offer that you can purchase at extra cost and these include:
Dedicated Server Administration: You can let a professional take 100% control over managing your server to make sure that it's up and running at all times while you concentrate on managing your website.
Content Management System support: With most web hosting plans, you can install WordPress, Joomla, Drupal, or any other CMS. You can also ask them to do it for you with a dedicated server.
SiteBuilder: This is a website creation tool that can be managed through Plesk. It's included for free with most plans.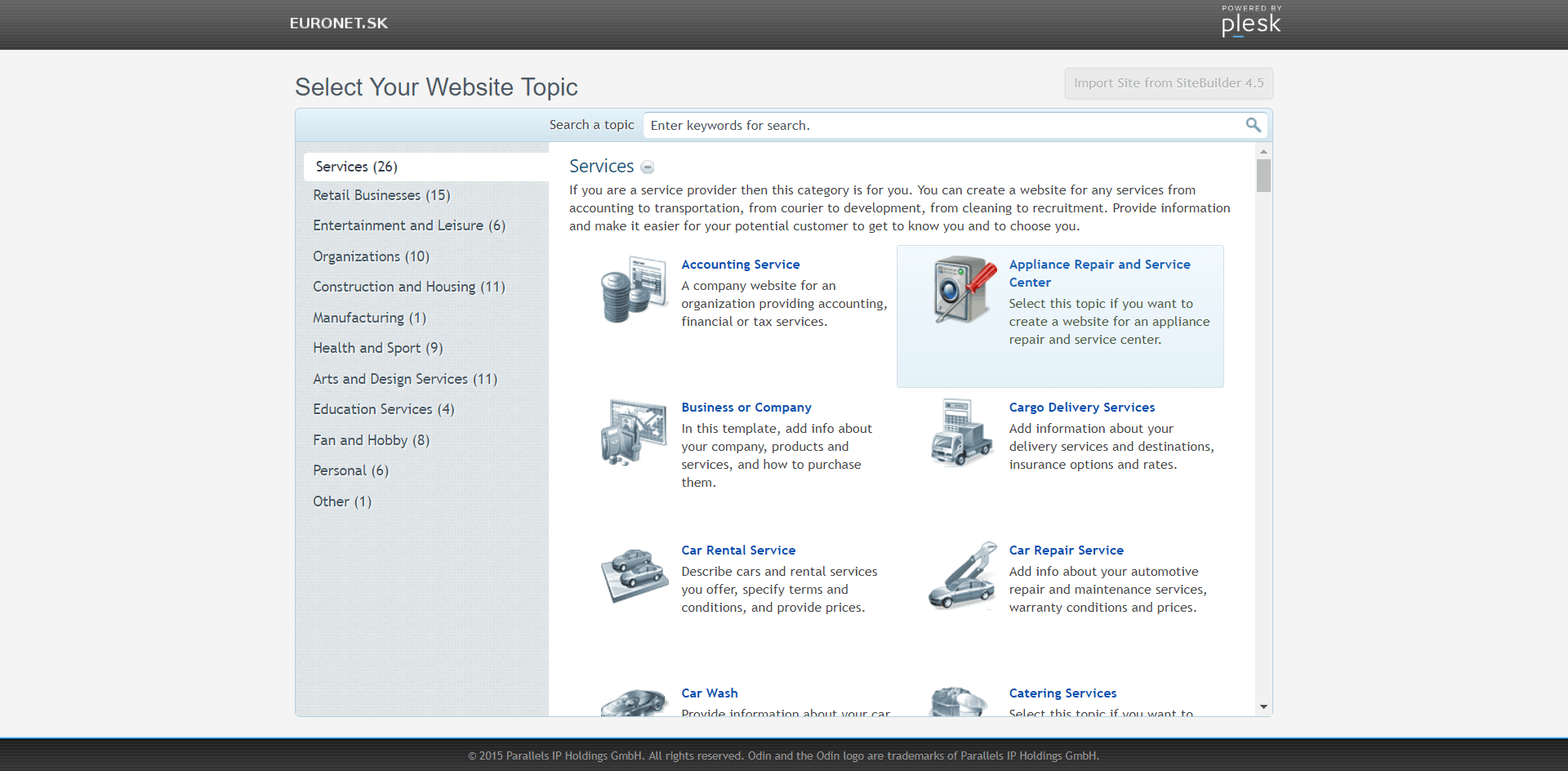 Unfortunately, the Euronet website is not the best and this can make it a bit confusing to navigate and to register. Unless you go with a managed or fully administrated option, you will also need some experience. However, the ability to install your favorite CMS will significantly improve the experience and you can do much worse than the Plesk hosting management console.
Pricing and Support
It's clear that shared web hosting solutions make up the main part of Euronet's offering. They have six web hosting plans to choose from with a custom dedicated server plan for those with more intense requirements. Their hosting plans start at little over a dollar a month which is extremely affordable. However, you do pay for a lot of other services if you want to use them. All plans come with a 30-day money back guarantee.
Web Hosting: All products come with anti-spam and anti-virus protection, a management dashboard, webmail, and DNS administration. You also get a free .sk domain. The last three plans come with a discounted quarterly billing option:

Mini: 700 MB disk space and one email account
Start: 3 GB disk space, one email account, and PHP support
Basic: 7 GB disk space, five email accounts, PHP support, MySQL support, suitable for a content management system, .htaccess support, and access to the SiteBuilder tool
Optimal: 12 GB disk space, 30 email accounts, and all of the above.
Professional: 25 GB disk space, 50 email accounts, all of the above, and ASP.NET support.
Extra: 50 GB, 100 email accounts, and all of the above.

Dedicated Server: These dedicated servers utilize premium hardware, featuring the latest Intel Xeon processors. You can customize your configuration according to your needs, such as CPU cores, RAM, and storage. The servers are fully managed and monitored around the clock. Additionally, you have the flexibility to install your preferred software. To devise a suitable solution, reach out to them directly. Keep in mind that a setup fee is required at the beginning of your plan.
At Euronet, you have access to support via either email or by phone. Although support is restricted to Serbian office hours, they do provide a hotline after hours for serious issues such as server malfunctions or downtime. As support is only provided in Serbian, you may have a tough time if you speak another language.