Montreal, Quebec-based eStruxture is on a mission to provide customers with the capacity to run the world's most demanding applications with unparalleled flexibility and performance. They achieve this by providing top-of-the-range server space within their high-end facilities in Montreal (three sites including a Tier III facility) and Vancouver.
Despite all their data centers being in Canada, powerful partnerships with global cloud services and network operators allow eStruxture to give their customers global reach with low latency and superb speed-to-market performance.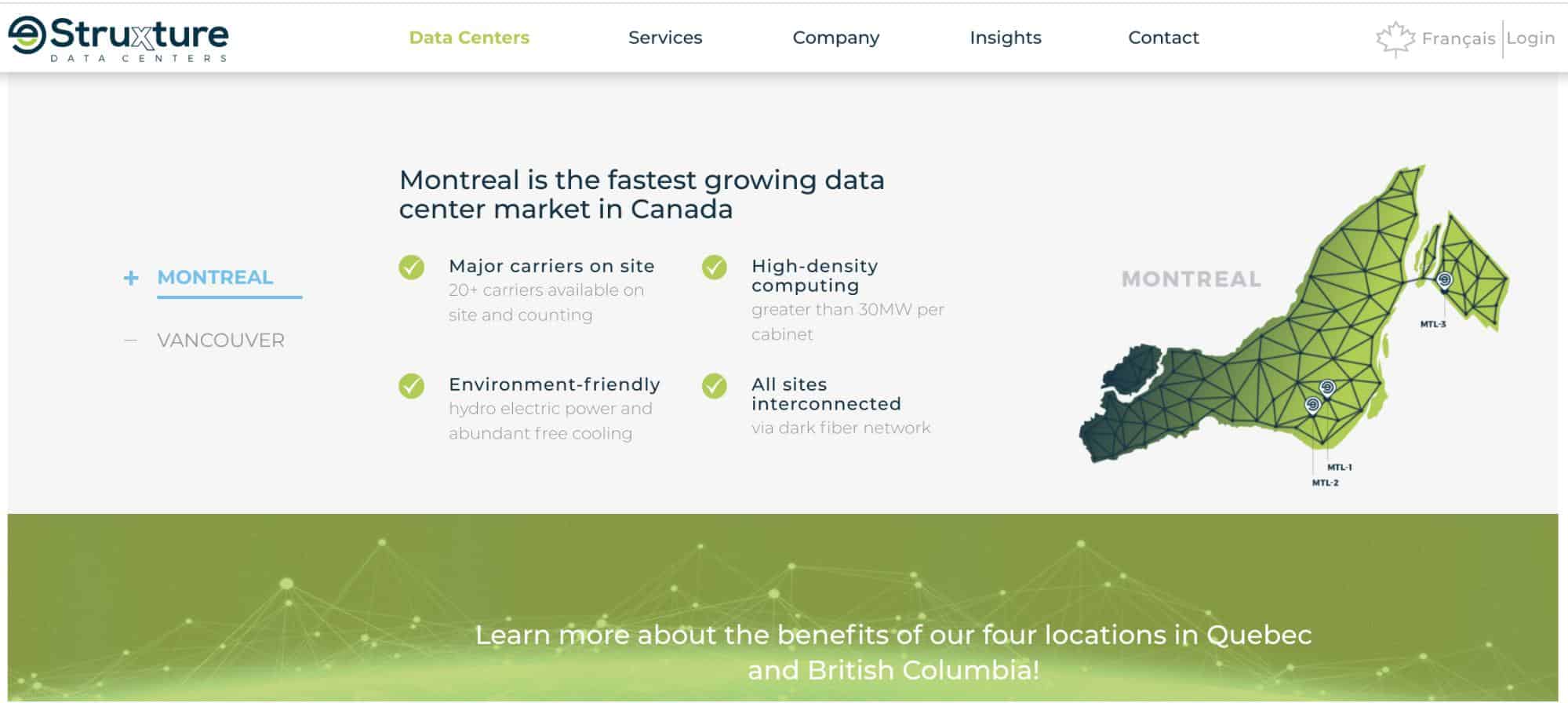 Features and Ease of Use
While they don't provide the basics such as SSL certificates and domains (because their customers typically don't need these) there is no doubt that eStruxture is nonetheless a premium infrastructure-as-a-service (IaaS) hosting provider. Just look at the following feature list:
24/7 Data center monitoring
R1Soft backups on multi-tiered block-based storage
Multiple facilities providing disaster recovery with geographic redundancy
Highly configurable products
Choice of multiple OSs with individual flavors/versions, including Windows, Linux, Open Free BSD, and
VMWare ESX
eStruxture's four high-end data center facilities protect your data against disasters in an environmentally conscious way, with outstanding uptimes of 99.99%. Their solutions are also highly scalable, and on-site technicians are always ready to intervene or upgrade your servers. Thanks to 900+ network partners including as AWS, Bell, and Astute, eStruxture also provides low-latency, high-performance, and cost-effective global reach.
The Cloud Connect service allows you to connect over an elastic SDN-based Ethernet fabric, for even greater speed-to-market and flexibility across a cloud hosting ecosystem that accommodates Microsoft Azure, Amazon Web Services (AWS), and Google Cloud. You can connect to all your resources and transfer data between cloud services while bypassing your ISP and general network congestion.
Pricing and Support
eStruxture's high-end offerings are as follows:
Dedicated Server: High-end IaaS products with cloud technology. Choose from a number of pre-configured options or tailor-make your own configuration based on a particular CPU. Add-ons include storage upgrades, memory upgrades, choice of operating system (Windows/Linux/Open Free BSD/VMWare ESX), choice of server control panel, bandwidth upgrade (100 Mbps to 1 Gbps), backup sizes, and managed support.
Enterprise Colo: Private, dedicated server units for those who don't want to share rack space or resources. Choose from 10U, 20U, or 42U options. After selecting your rack space, you will need to contact the company for a custom quote based on your requirements.
Shared Colo: Choose between 1U to 5U of rack space up-front, which you can upgrade on a per-unit basis at any time. Each solution comes with one power outlet, one uplink, 2000 GB bandwidth, and 100 Mbps port speed. You can add power plugs, cross-connect cables, IP addresses, bandwidth, backups, and support.
Being a high-end hosting provider, eStruxture sets correspondingly high prices, and they offer certain types of hosting (like VPS and private cloud services) solely through custom quotes. Unfortunately, they do not provide any money-back guarantees or refunds.
Technicians monitor the facilities round the clock, and 24/7/365 premium technical support is provided via live chat, email, or phone. Basic support comes with port monitoring, control panel updates, remote reboot, 4-hour hardware replacement, phone support, and 30 minutes of consultation. Managed services add system security updates, on-demand monitoring and security scans, one free re-install per month, and one hour of consultation. You can get more free interventions with colocated packages.
How much does eStruxture cost?
eStruxture offers multiple plans priced highest to lowest. The price depends on which type of hosting plan you choose. You can see the updated pricing table (updated weekly) below.

Which eStruxture plan should I get?
My recommendation is to start with a cheaper plan. You can always upgrade later on. eStruxture can help you with the migration to a more expensive plan. The increase in visitors many times takes longer than expected and you shouldn't pay a lot of money until the need arises. Of course, your needs may vary, and you can consult with a hosting expert from eStruxture here.

How good is eStruxture's customer support?
eStruxture is not ranked as one of our top web hosts. But that can also be a result of eStruxture being a small, under the radar, hosting provider. There are advantages to a small hosting company – as a customer, you are more important to them. You can also check out our comparison of the most popular web hosting services here.