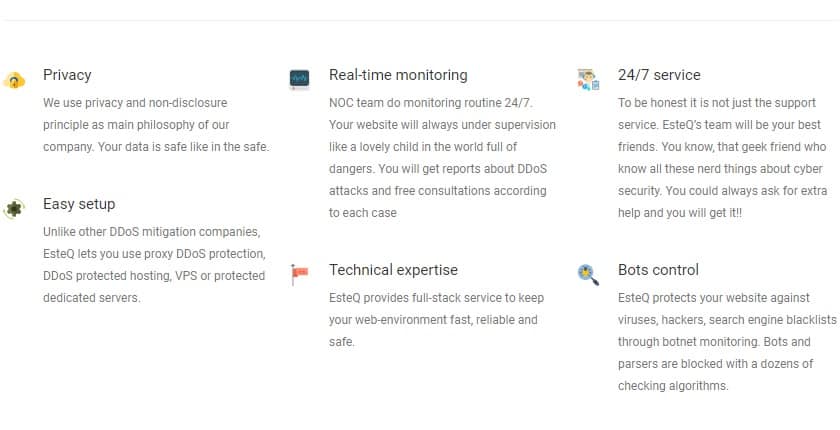 With a range of anti-DDoS attack mitigation services including DDoS-protected hosting, VPS, and secure dedicated servers, EsteQ aims to help startups and small-medium enterprises in Lithuania and beyond prevent and thwart cyber attacks. The company was founded in 2016 and its services are geared towards e-commerce businesses, financial providers, gaming platforms, and online services.
Features and Ease of Use
EsteQ specializes in cyber security, so you'll find that it only offers highly secure hosting rather than the typical shared hosting or VPS you'd get with other providers. Though not a standard web hosting company, EsteQ offers a number of decent features such as:
Domain name registration
WordPress-readiness
Up to 1000Gbps DDoS attack mitigation
SSD storage
SSL certificates
IP management
Real-time monitoring tools
Security & vulnerability reports
Managed hosting services
Unlike most DDoS prevention and mitigation firms, EsteQ offers protected DNS hosting with the option to install cPanel and other enterprise-class apps. Its anti-DDoS service will protect your website and web apps against hackers, viruses, and search engine botnets. Furthermore, with over a dozen algorithms for checking traffic, the protocols can also block parsers and bots effectively.
On top of that, EsteQ has a NOC team that monitors servers and networks in real time 24/7. They're more like the intelligence guys who check on what's happening on the server-side of things and report to you.  But most importantly, they deal with cyber attacks and other threats fast — before these can knock down your website. Of course, whenever there's a possible DDoS attack, you can consult them and even request a report of the incident.
With EsteQ's out-of-the-box dedicated servers, you get over 100+ configurations in addition to 1000Gbps protection. Servers are set up fast and they're all fully managed for free.
Pricing and Support
The basic hosting kit comes with a price tag that isn't exactly cheap, and the same goes for the Protected Hosting COMBO (intermediate plan) as well as the Protected Hosting Invest plan, which is our highest-tier hosting package.
Both the DDoS hosting packages and protection packages come with monthly and annual billing cycles. Setup is fast. Although you can cancel at any time, you won't get any sort of refund. With the hefty price tags, this means you should be sure about EsteQ as a provider before you purchase a plan from them.
EsteQ has a good live chat support team who are well-equipped to give you a walkthrough of their services and assist you with migration, installation, and configuration of servers.  I asked Morty, a support agent, whether the platform could support cPanel, and he got back to me with an affirmative response in 16 minutes. Alternatively, if you can't reach a live chat agent, you can also open a support ticket or consult the chatbot.