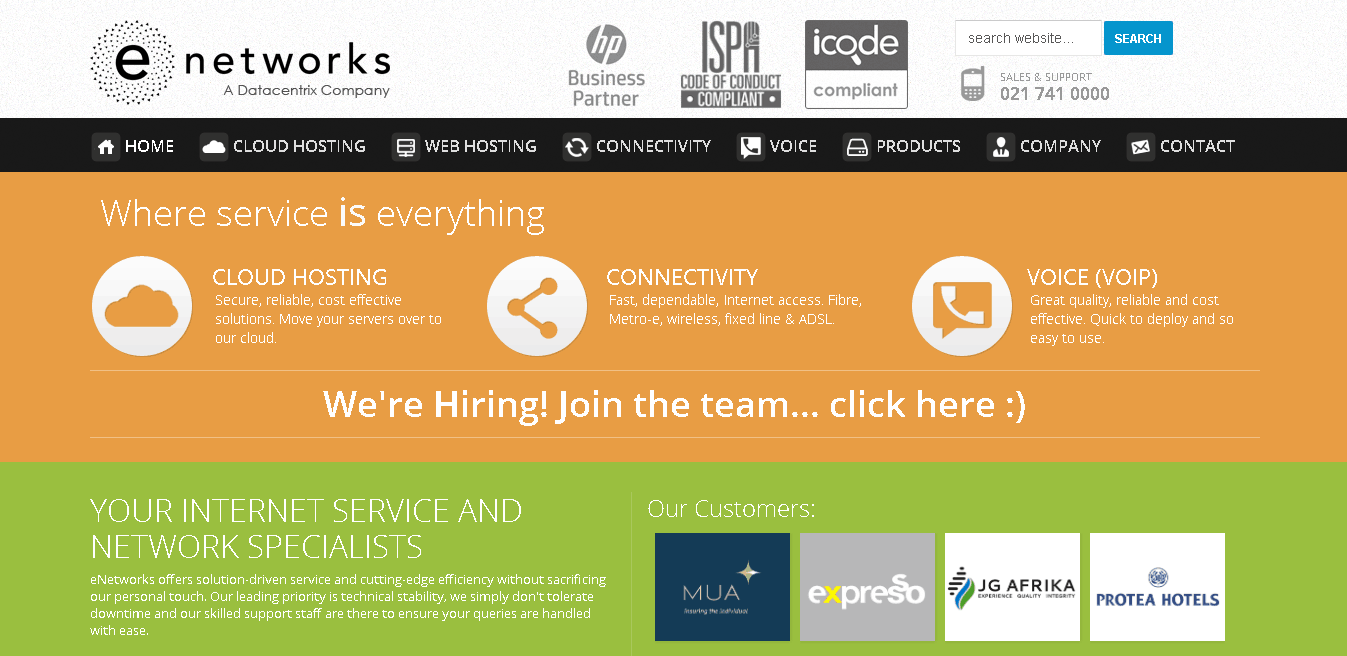 eNetworks,
founded in 1999, is located in Cape Town, South Africa
. The company's aim is to provide fast and reliable internet services. It has servers collocated in three Internet Solutions data centers in Cape Town, Johannesburg and Durban. Its website is available in English.
Features and Ease of Use
eNetworks provides a full suite of internet hosting services e.g., virtual private cloud hosting and dedicated servers, as well as VOIP and connectivity services. Its standard hosting plans include the following core features:
99% uptime guarantee
Daily and weekly automatic backups (added cost)
Choice of three South African data centers
Fully managed service with 24/7 monitoring
Migration assistance from existing host
It provides cloud virtual private servers on both Linux and Windows. All plans use fully redundant hardware for reliability, have a built-in firewall for security, and can scale as you grow with dynamic CPU, RAM, and disk space. You can also load balance multiple servers, in the event of additional resource and uptime requirements. What's great is that your servers will be live within minutes.
In terms of dedicated server rental, there are two packages available; Basic and Advanced. There is a commitment to 99% uptime (although not backed by an SLA), both on-site and remote hands support, and 24/7 security surveillance. Your bandwidth is exclusive, meaning it won't be capped or shared.
Regarding the infrastructure, all dedicated servers come with dual redundant servers, virtual backup systems, and bandwidth and power backup including redundant UPS and diesel generators. There is also optional load balancing between servers.
While there are two base packages of dedicated server rentals, they can be customized with optional add-ons such as additional rack space, daily or weekly backups, and mirrored hard drive with 2G RAM.
Moreover, they customize all plans to meet each customer's specific requirements. Although this may result in a slightly longer setup process compared to companies that offer online payment options, it allows you to tailor the plan precisely to suit your business needs.
Pricing and Support
The prices are in line with other companies providing dedicated server rentals and cloud virtual private servers. The customizations do increase the price quite substantially, so just be cautious to only select necessary add-ons. There is a also setup fee, which needs to be taken into account.
Plans are bought on twelve months terms, however, can be cancelled with three months written notice. Customers can upgrade at any time, although downgrades are a little more tricky, as although you can downgrade, you cannot decrease your invoice amount.
Sales support is available by email and phone on Monday through Friday, 8:30 a.m. to 5:00 p.m. Technical support is available by email and phone Monday through Friday, 8:00 a.m. to 6:00 p.m., with an after hours phone number available for customers with a "valid service level agreement". There is also a knowledge base, of sorts, however it feels more like a blog, as well as a network status page.