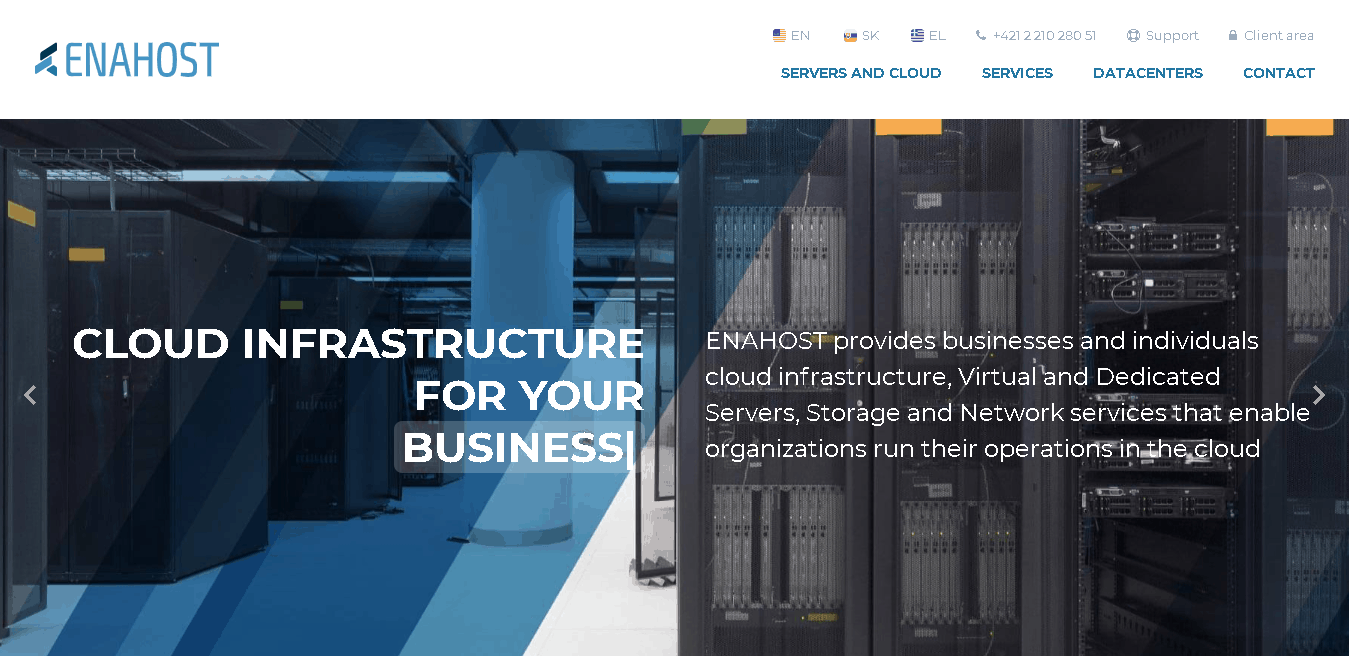 ENAHOST is a provider of cloud infrastructure for business or individuals based out of Bratislava, Slovakia. They are one of the top providers of this kind of hosting in Central and Southern Europe, and provide everything from dedicated servers to virtual desktops to GPU-intensive hosting. They run their own two Tier 3 data centers in Bratislava, Slovakia and Athens, Greece but also have partner facilities in other locations.
Features and Ease of Use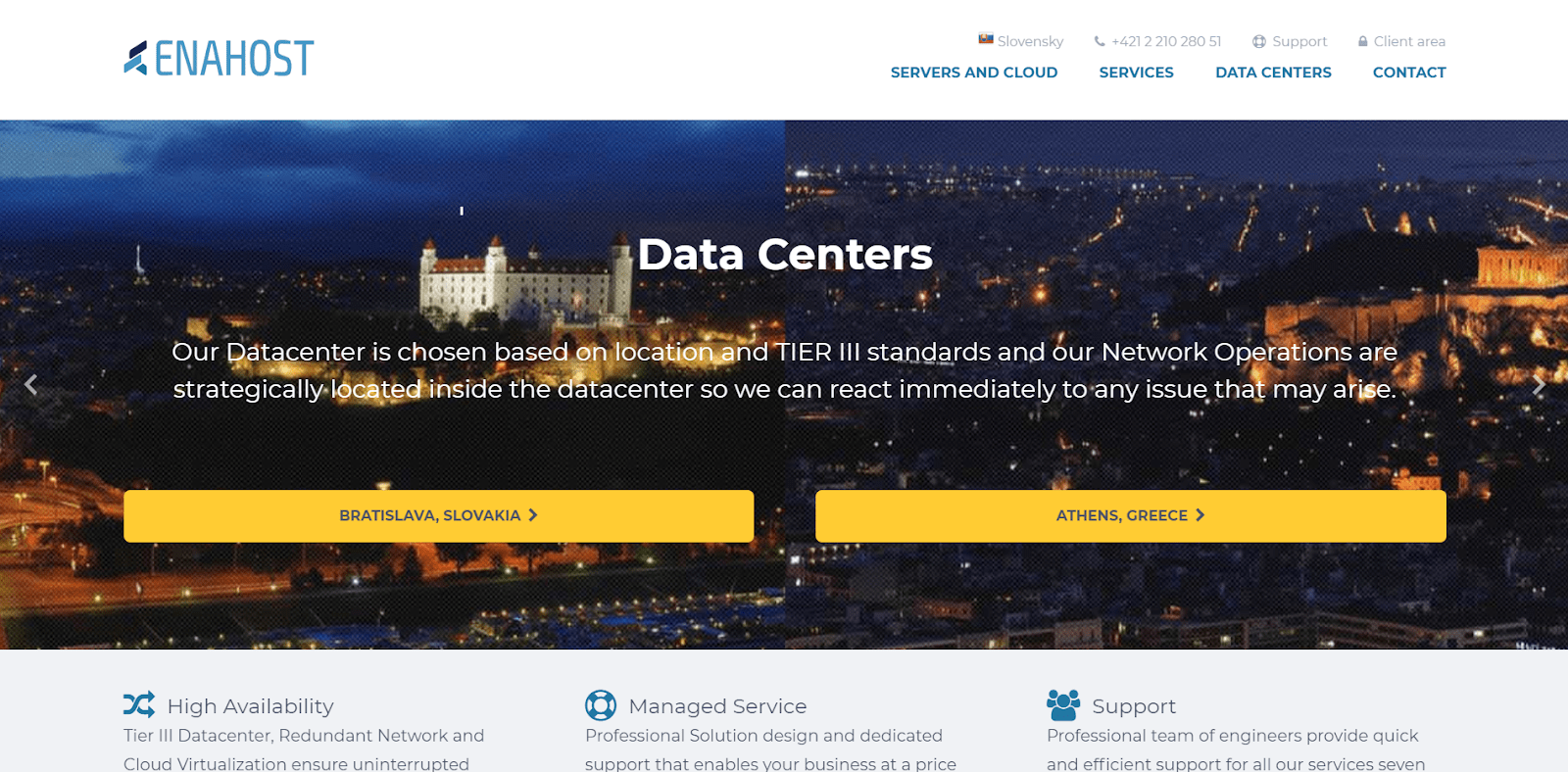 As a provider of high-end server infrastructure, ENAHOST's offering looks a little different than most standard web hosts:
SLA-backed uptime guarantees of 99.9% to 99.95%

Manual and automatic backups depending on your type of hosting as well as purchasable Acronis backups

No add-on domains, although you can access this through cPanel

No SSL certificates but support can help you install them

Traffic limits of 1TB to 10TB with unlimited options

Up to 4 TB of SATA storage with SSD options available
ENAHOST's world-class data centers are what make it possible for them to deliver such top-end hosting services. They come with advanced security, hazard protection, backup power, and are monitored 24/7 by trained technicians. They provide you with the option to host your solution out of Greece, Slovakia, or the Czech Republic with the additional option of Cyprus for their KVM hosting.
If you're looking for hosting with huge amounts of resources that are scalable at any time, then ENAHOST is a great option. You can pick from a range of preset configurations or build your own using sliders for their virtual products. Upgrading or downgrading is allowed at any time. Where applicable, you can also choose to have Windows or Linux with the distribution of your choice pre-installed. Their network infrastructure also allows for anywhere between 100 Mbit to 10 Gbit bandwidth. RAID 10 storage redundancy is provided where it's needed.
Products come with high-end hardware such as Intel Xeon or AMD Opteron processors and ECC RAM for demanding setups. For some, their unique hosting products make them the only choice such as their GPU hosting that features top-of-the-line Nvidia graphics cards.
As a provider of business infrastructure, you'll need some know-how or a dedicated IT team to manage your solutions as ENAHOST merely provides the hardware and some of the software you need. They aren't the best option if you want some form of web hosting, which will require a more suitable vendor.
Pricing and Support
As a provider of virtual server hosting with extensive resources, pricing at ENAHOST naturally starts a bit higher. However, it's on par with what you'd expect from these types of products with this level of resources. They offer monthly, quarterly, semi-annual, and annual billing with all of their hosting except for GPU hosting which only has a monthly option.
You'll need to check what you get with each hosting type as it can differ. For example, with a dedicated server product, you get 10TB traffic with the option to purchase extra while you get unlimited with GPU hosting. Usually, you can also pick and choose a Linux distribution for free but you have to pay for Windows and the related licenses.
You can also purchase additional IP's with any type of hosting, although there aren't really any other add-ons. Luckily, they do offer a 15-day money-back guarantee but it doesn't include your extra purchases, such as control panel licenses.
ENHAHOST provides excellent support, albeit within specific hours. Their support services encompass infrastructure setup, networking concerns, domain registration and transfers, as well as security issues. While you can contact them through phone or Skype, they may direct you to their ticketing system, which serves as their primary channel for delivering support.