EGI Hosting (or EGN, Energy Group Networks) was established in 2003 and has been focused on providing high-end, available, and redundant server space since its inception. They provide not only exceptionally fast computing resources and bandwidth, but also extremely reliable and robust solutions utilizing BGP networks for their managed colocating customers.
They currently have facilities in the U.S. (San Jose and Miami) as well as Switzerland (Zurich). Recently, they've started to make inroads into the Asian market and now provide services in Chinese.
Features and Ease of Use
EGI's servers are built on the highest and most robust industry standards like SSAE-16 TYPE II Certification, N+1, BGP redundancy, and more. They use advanced hardware geared for specific types of hosting. This provides:
Servers running on the most powerful Intel processors
Massive amounts of RAM memory per server
Superb 100% power and 99.99% network uptime guarantees for most solutions
Robust redundancy, which means your data is safe from any catastrophes
Extremely high bandwidth (100 to 1000 Mbps)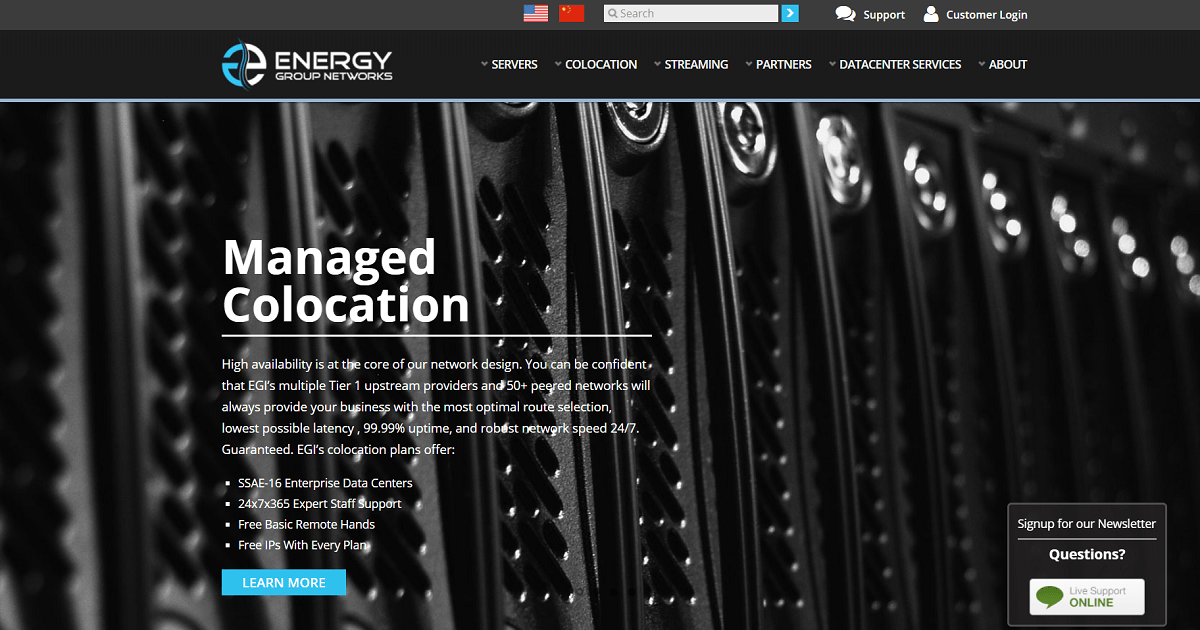 EGI Hosting also provides a number of other services for clients with specialized needs:
Managed hosting: Have a dedicated technician set up and manage your server, looking after both its software and hardware.
Streaming hosting: There are specialized plans for those who require dedicated video or audio streaming servers.
Because this is a premium server/hosting solution, customers are guided all the way through the process, especially when setting up your server. With any plan (and as a given with a managed solution), you can request a technician to help you in any way. EGI Hosting doesn't really cater to casual users; it assumes that you either have the expertise to manage your own servers, or you have your own IT support staff. Otherwise, a managed solution is best.
Pricing and Support
As a higher-end service, you shouldn't expect to find any prices to compete with lower to mid-end hosting services. However, they do offer quite a lot of variety to choose from for large businesses and enterprises in need of highly robust server space. Servers are divided as follows:
Bare Metal Server Plans: These multi-homed and BGP redundant servers have four plans that cater for lower to high-end businesses. Pricier plans provide faster hardware with all plans including 1TB of storage.
Managed Colocation Plans: This is for the ultimate level of protection for your information. Your server will be hosted on SSAE-16 TYPE II Certified, N+1 redundant servers. They guarantee 99.99% uptime with this plan.
Fully Managed Servers:These plans are designed for users who prefer a hands-off approach and want a trained EGI technician to handle their server's setup and daily maintenance. There are three tiered plans available, offering faster hardware options.
There aren't any free trials or plans.
EGI Hosting does sell themselves as a premium server space provider. As such, they have highly trained technical staff in place at their server locations to quickly resolve issues. Their 99.99% uptime is proof of this. They also offer 24/7 live chat technical support, and in my experience, they respond quickly to queries (less than a minute). You can also email or call their support center.
How much does EGIHosting cost?
EGIHosting offers multiple plans priced highest to lowest. The price depends on which type of hosting plan you choose. You can see the updated pricing table (updated weekly) below.

Which EGIHosting plan should I get?
My recommendation is to start with a cheaper plan. You can always upgrade later on. EGIHosting can help you with the migration to a more expensive plan. The increase in visitors many times takes longer than expected and you shouldn't pay a lot of money until the need arises. Of course, your needs may vary, and you can consult with a hosting expert from EGIHosting here.

How good is EGIHosting's customer support?
EGIHosting is not ranked as one of our top web hosts. But that can also be a result of EGIHosting being a small, under the radar, hosting provider. There are advantages to a small hosting company – as a customer, you are more important to them. You can also check out our comparison of the most popular web hosting services here.