Easyname has been in the hosting business since 2005. They are one of the smaller-sized hosting providers who manage to keep up with some of the big boys and the shifting modern standards. At the moment, they have over 750,000 domains registered with them.
They provide support for multiple languages including English, French, Turkish, Spanish, and Russian as well as numerous currencies from Pounds to Euros to Dollars.
Features and Ease of Use
Easyname does provide some fantastic features for the price they ask. While there isn't anything too advanced, all the basics are provided and all the features feel polished and user-friendly. As with any good hosting provider, you can expect:
A domain registration service (with over 300 domain extensions available)
Their very own dashboard to manage your account and websites as well as access website builders
Webmail services
A database manager built into their platform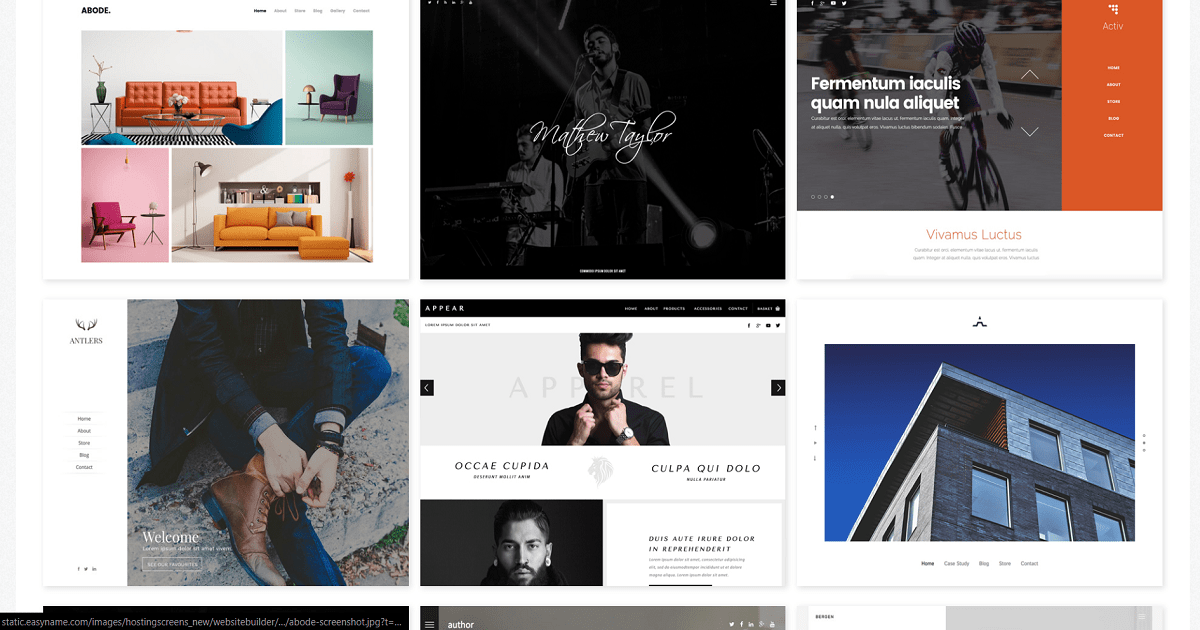 They also provide a few other welcome features:
Easy-install apps: This feature allows you to install and use popular Content Management Systems (CMS) like WordPress, Joomla!, and OpenCart to build and manage your website
Website builder: They also have their very own website builder. The only downside is that you only get five pages for free. However, it comes with templates and integrations. You can also purchase additional features for an extra monthly fee.
As a lesser-known hosting provider, I was pleasantly surprised by the Easyname platform. The main dashboard is very easy to use and one of the more modern and polished ones out there. This is where you manage your website, account, and auxiliary features like the databases and webmail, so it's important to have everything accessible yet not cluttered. They also don't bog you down with as many upsells as other platforms when signing up, as they seem to take their "3 minutes from your own domain" slogan seriously.
Pricing and Support
Pricing for Easyname hosting is divided into two broad categories: Easyname Products and Reseller Products. The former is meant for customers who will only be managing their own websites and don't need possibly limitless resources. The latter is more for agencies who might be managing websites on behalf of multiple clients or who have extensive needs.
Easyname products are divided into three sub-categories:
Medium: 25 GB disk space (5 GB for emails). Limited SSL certificates, databases, and FTP profiles; not suitable for multiple domains
Large: 75 GB disk space (10 GB for emails). 10 SSL certificates and databases, 100 FTP accounts; suitable for multiple domains
Unlimited: Unlimited storage, emails, SSL certificates, FTP accounts, and domains
Generously, you get all other features with all plans as well as unlimited subdomains and data traffic.
Similarly, the Reseller Products come in four categories: Starter, Basic, Medium, and Premium. All packages come with unlimited traffic, SSL certificates, databases, subdomains, and FTP accounts, with only a difference in storage space.
Unfortunately, there is no live chat support on Easyname. However, there are multiple support emails for different aspects and an international phone line which is only available at certain hours. Email support isn't the best, considering it did take me a few hours to a day to get a reply to some queries. However, the staff was helpful enough.
How much does easyname cost?easyname offers plans from $3 to $10. The price depends on which type of hosting plan you choose. You can see the updated pricing table (updated weekly) below.
Which easyname plan should I get?My recommendation is to start with a cheaper plan. You can always upgrade later on. easyname can help you with the migration to a more expensive plan. The increase in visitors many times takes longer than expected and you shouldn't pay a lot of money until the need arises. Of course, your needs may vary, and you can consult with a hosting expert from easyname here.
How good is easyname's customer support?easyname is not ranked as one of our top web hosts. But that can also be a result of easyname being a small, under the radar, hosting provider. There are advantages to a small hosting company – as a customer, you are more important to them. You can also check out our comparison of the most popular web hosting services here.