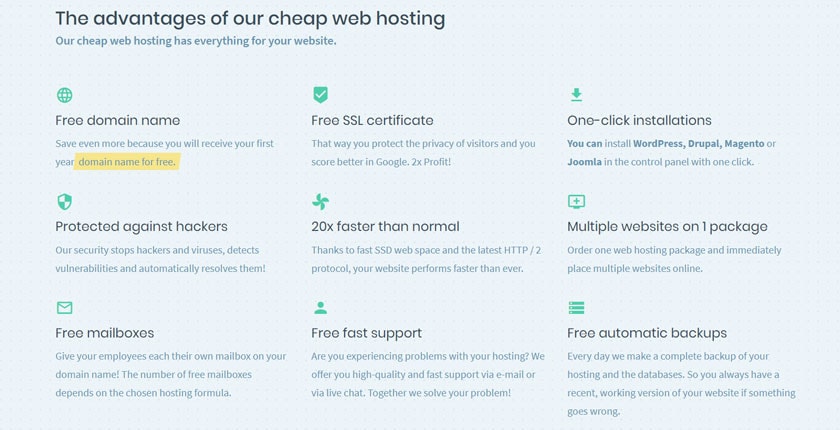 Founded in 1999, Belgium-based Easyhost isn't a new player on the web hosting scene. It specializes in providing inexpensively-priced hosting solutions along with other essential services such as domain registration and SSL certification. With several quality accreditations including
ISO 27001, ISO 9001, and ICANN, Easyhost now boasts 
over 150,000 satisfied customers in Europe. It has a polished and informative website available in English, French, and Dutch.
Features and Ease of Use
Following the same pattern as many hosting providers, Easyhost offers classic shared hosting, cloud hosting, a website builder, email hosting services, domain registration, and SSL certificates. With the shared hosting plans, you'll find several familiar features including:
Guaranteed 99.999% uptime

SSD disk storage

Free domain names

Free SSL certificates

Custom control panel

Daily backups

Automatic patching

Anti-DDoS attack mitigation

PHP 5.2 – 7.3
Easyhost has an eco-friendly yet state-of-the-art data center in Brussels, Belgium, in which it houses its servers. But by far one of the most impressive features I've seen with this service is its high availability. Because of the number of failsafes the company has put in place, Easyhost can guarantee a 99.999% network uptime — which is far superior to most shared hosting services. Essentially, even if your server fails, your hosting will be automatically transferred to a new server to make sure your website is back online in seconds.
Although I would've loved to see CDN support, Easyhost secures your web hosting with a range of security options within all its hosting packages. This includes free SSL certificates, malware scanning, web filters, DDoS protection, Zend optimizer, firewall protection, and automatic patching to fix any security leaks.
However, where Easyhost falls short is on web space. It only provides from 50 GB to 100 GB SSD storage (albeit with unrestricted bandwidth). This is great for small to medium-sized websites, but once your website gains a certain level of momentum, you'll need far more space than Easyhost offers. That said, the company does throw in a free one-year domain registration with each paid plan, making the platform a fairly all-inclusive and convenient option for many.
Easyhost also provides a handy custom control panel through which you can easily install your favorite CMSes such as WordPress, Joomla, Drupal, or Magento in a single click. There's also a website builder available, but this will be a separate subscription.
Pricing and Support
You can spot the word "cheap" several times throughout Easyhost's website, but does the company really live up to its claims? As a matter of fact, it does. Even though it isn't the cheapest hosting provider I've come across, it offers budget-friendly packages with a number of great freebies.
But what I don't like about Easyhost is that it provides neither a free trial nor a money-back guarantee. In addition, you're required to pay a penalty of 15% of your hosting fees (or up to 40 euros) if you happen to be late with paying your bills. (You do get a month, though, so be sure to set a reminder or check your inbox frequently for the invoice.)
Easyhost has several support channels including live chat, support tickets, email, phone, and a knowledge base. But what good are these, if the support staff are neither efficient nor accurate? I submitted a ticket with basic questions about the service, but the response I received was inaccurate and didn't answer most of my questions.
I then turned to the live chat support, which was even worse. Not only was the support agent unhelpful, but he was rude and gave me incorrect information about the service. (He said there was no SSD storage, even though this is listed clearly on the company's plan details page.)