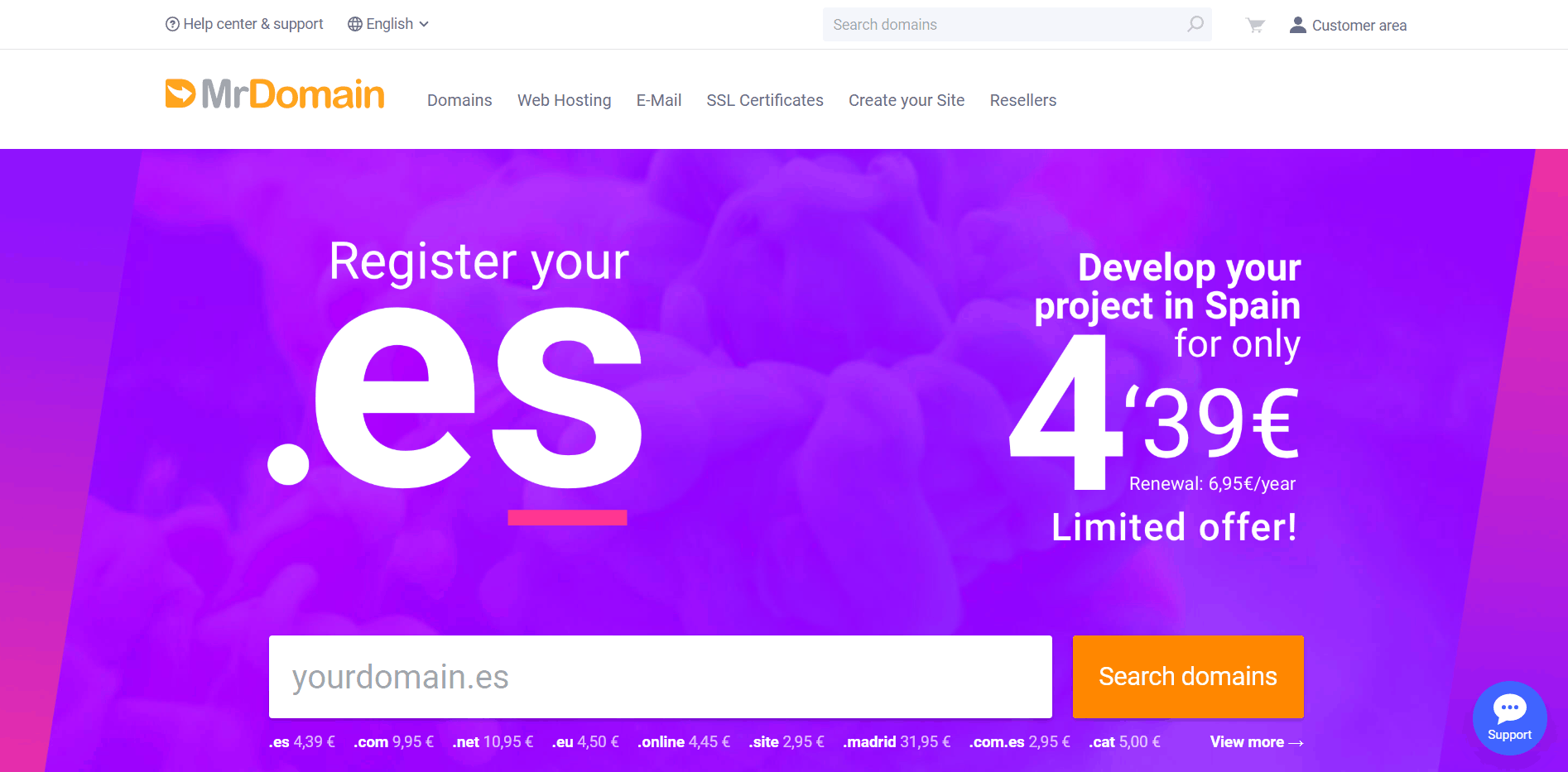 Mr Domain (known as Don Dominio in its native Spanish) is based in Europe and has been in the web hosting business since 2007. It prides itself on being a reliable registrar and hosting provider for your websites. You can expect affordable packages, easy management of your domains and a great support staff when you become their customer.
Features & Ease of Use
One of the most attractive features at MrDomain is the availability of a free website builder with all their hosting packages. Using the website builder, you can design your website by yourself without needing any kind of programming knowledge. What's more, with the help of the one-click installer, you can easily install robust scripts like WordPress, PrestaShop, Magento, and so on. These platforms allow you to manage your own blog, professional website, or online shop.
MrDomain's hosting packages include PHP 7.0 support as well as MySQL databases and phpMyAdmin. You get access to an easy-to-use control panel where you can access different website-related statistics and check on your account's available resources. This ensures that you're in control of your website's performance at all times. They also have a team of system administrators monitoring the servers to ensure your website stays online without you having to worry about the technical details.
Accessing webmail is also made easier and quicker. You can configure the email accounts on your smartphone, tablet, or computer, and even connect them to email management software like Outlook and Thunderbird. The built-in antivirus and antispam filters ensure you are safe from any malicious viruses that might creep in through the emails.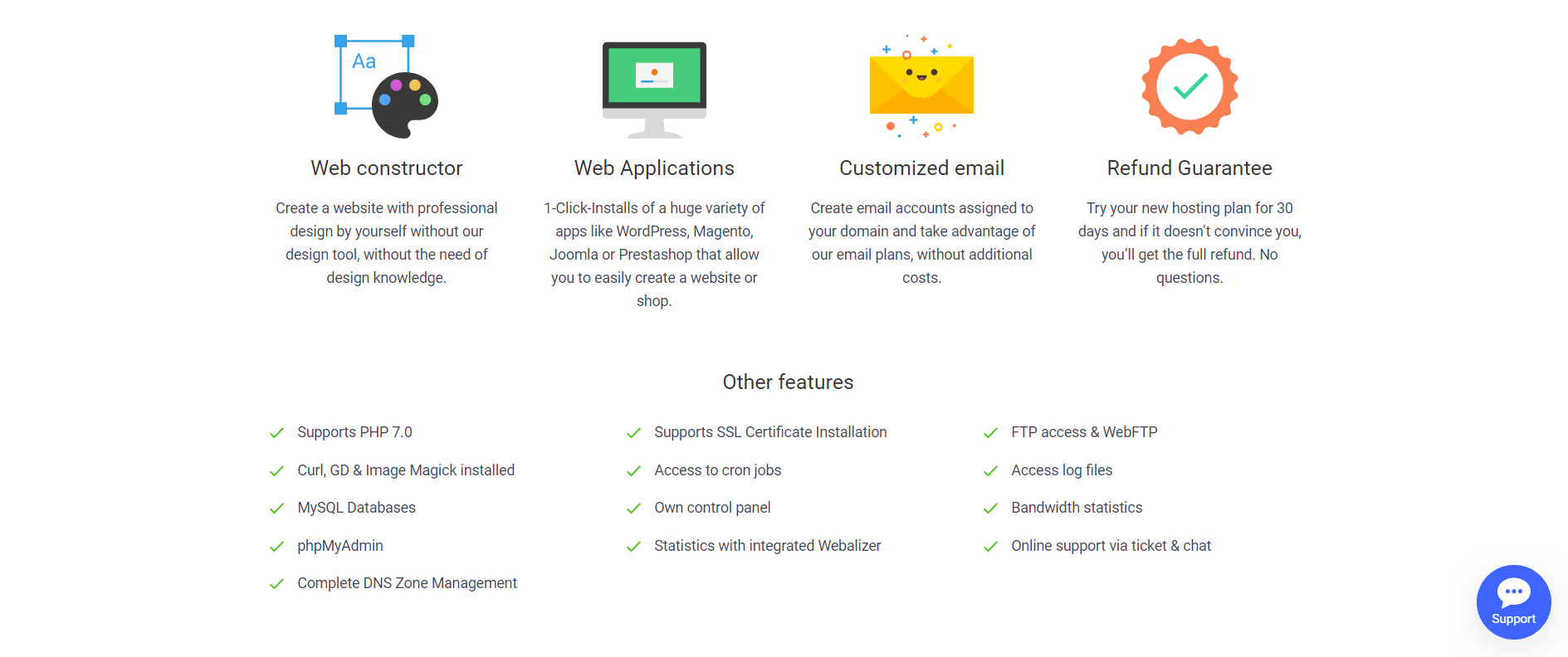 MrDomain's shared hosting packages kick off with 1GB of storage, 25GB of monthly bandwidth, and 25 email accounts. If you have larger professional websites, you can opt for their Corporate package, which includes 20GB of storage, 300GB of monthly traffic, and 50 email accounts.
Pricing & Support
MrDomain's packages are divided into four categories: Basic, Professional, Advanced, and Corporate. The Basic package is priced competitively with similar offerings in the market. As you opt for their more expensive packages, the resource allocation increases, ending with 20GB disk space and 300GB monthly bandwidth in the corporate package. Similarly, you get fifteen email accounts with the Basic package, which increases to twenty in the Professional package, thirty in the Advanced package, and fifty in the Corporate package. What's good about these email accounts is that you get a separate storage for your email accounts, so you can utilize the available disk space for your website only. I did find their Corporate package rather expensive though. For the price they're charging, I would expect to get unlimited disk storage and bandwidth at minimum.
You can try out their packages for 30 days and get your money back if you don't like their service.

As far as their customer support is concerned, they have compiled a list of articles you can read to inform yourself about how the features work. If you still can't find the answer you're looking for, you can reach them through the contact form on their website, though their response times can be rather slow (within 24-48 hours, but only on business days). If the query is urgent, you can always utilize the live chat facility; however, like their email support channel, this is only available during office hours.
How much does Don Dominio / Mr Domain cost?
Don Dominio / Mr Domain offers plans from $0 to $12. The price depends on which type of hosting plan you choose. You can see the updated pricing table (updated weekly) below.

Which Don Dominio / Mr Domain plan should I get?
My recommendation is to start with a cheaper plan. You can always upgrade later on. Don Dominio / Mr Domain can help you with the migration to a more expensive plan. The increase in visitors many times takes longer than expected and you shouldn't pay a lot of money until the need arises. Of course, your needs may vary, and you can consult with a hosting expert from Don Dominio / Mr Domain here.

How good is Don Dominio / Mr Domain's customer support?
Don Dominio / Mr Domain is not ranked as one of our top web hosts. But that can also be a result of Don Dominio / Mr Domain being a small, under the radar, hosting provider. There are advantages to a small hosting company – as a customer, you are more important to them. You can also check out our comparison of the most popular web hosting services here.