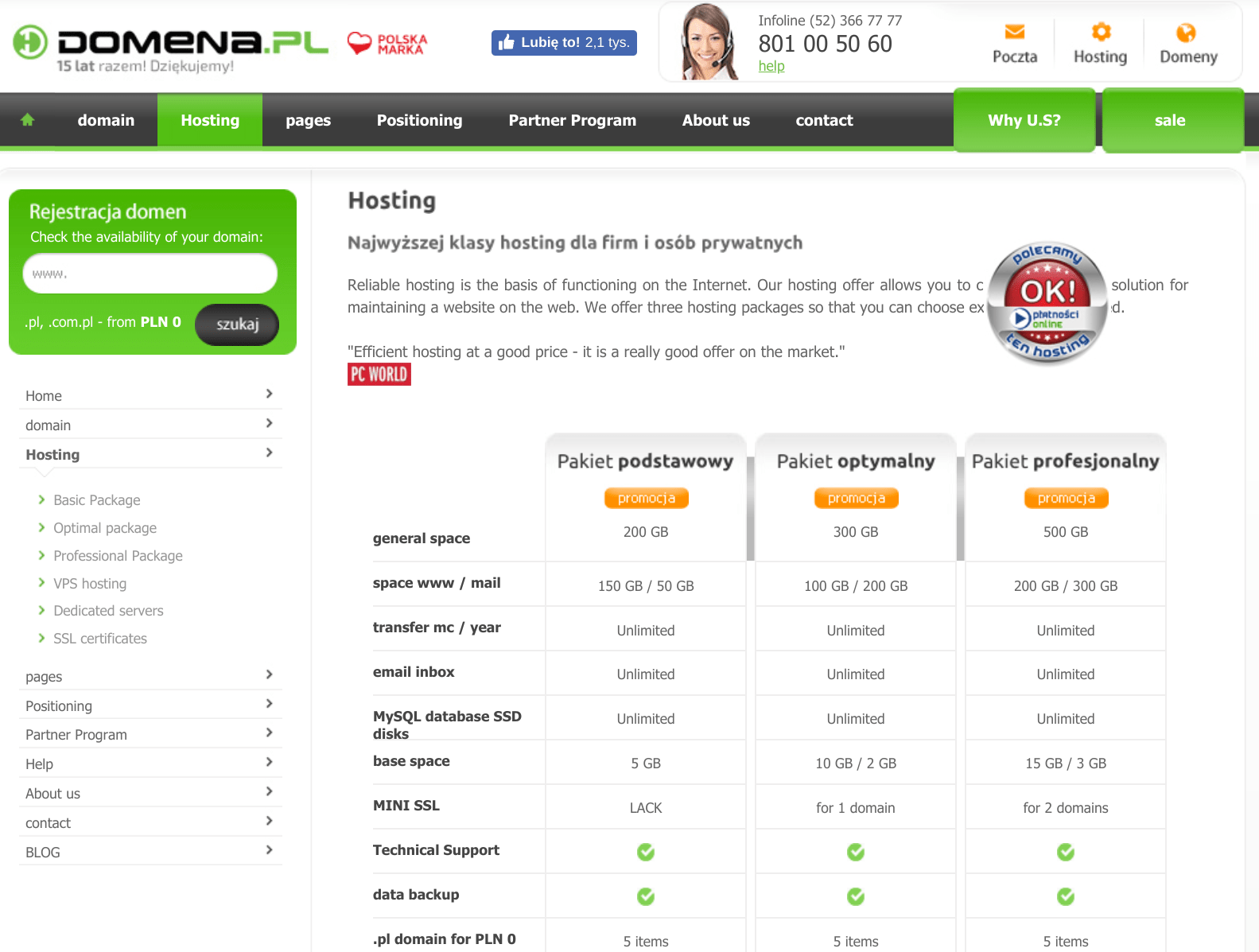 Domena.pl was founded in 2002. Having grown quickly, they now have
more than 50,000 clients
and 50 employees. Their servers are located in a
Tier III data center in Poland
. Their website is available in Polish, but their support is also available in English.
Features and Ease of Use
Domena.pl is a full-service website hosting company that provides shared hosting, virtual private servers, dedicated servers, as well as domain registration and SSL certificates.
As standard, their shared hosting plans include the following features:
99.982% availability
Daily and weekly automatic backups
Up to five free .pl domains
Free SSL certificate
From 200 GB to 500 GB disk space
Unlimited bandwidth
Domena.pl make a really big effort to inform their customers about their infrastructure and security measures. They own their own servers which are collocated in a Tier III data center that ensures 99.982% availability, N+1 fault tolerance, and at least 72 hours power outage protection. They use SSD RAID storage so that data is automatically duplicated and can act as a backup in the event of disk failure. Servers are managed by Domena.pl engineers, who are available 24/7.
They offer unlimited bandwidth, which to my mind is a little gimmicky because nothing can be truly unlimited. Maybe "not arbitrarily restricted" would be a better term, except that many providers do say that their unlimited offerings are subject to a "fair use" policy.
I could not find any information in Domena.pl's terms and conditions to say what they really mean by unlimited. I also could not find a service level agreement (SLA) on their website, although they do commit to 99.982% availability in line with Tier III specifications.
Pricing and Support
Prices for new customers are extremely affordable. You pay less for a whole year than many other companies charge for one month, but beware that the prices do increase when it comes time to renew. You get up to five free .pl domains with all packages, plus SSL certificates on all packages except the cheapest. Note, however, that there are additional costs if you want a .com or other top-tier domain. You can purchase in 12- or 24-month terms, which you need to commit to with no money-back guarantee or free trial.
You can reach the sales support team on weekdays from 8 am to 4 pm, and the technical support team on Mondays to Fridays from 7 am to 7 pm, and on Saturdays from 10 am to noon, through telephone or email. Ideally, I'd like to contact them 24/7 via live chat, but I realize that this is a budget provider whose technical support is complemented by useful help documentation.