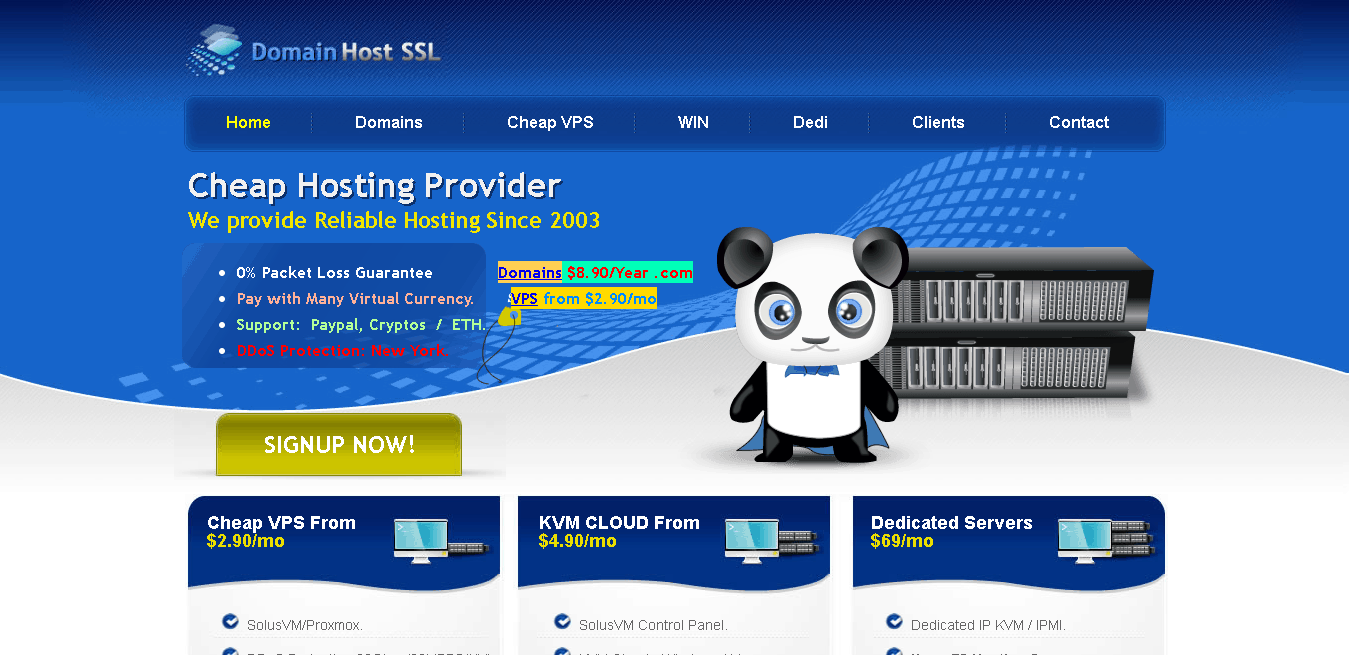 Domain Host SSL has been providing hosting services throughout the U.S. since 2003. As their name implies, they offer everything from domain registration to SSL certificates to hosting. Their hosting selection has a range of shared web hosting, Linux VPS, cloud KVM, and dedicated server products.
They also operate from seven data center facilities across the U.S. in Los Angeles, Atlanta, Dallas, Miami, New York, Chicago, and San Jose
.
Features and Ease of Use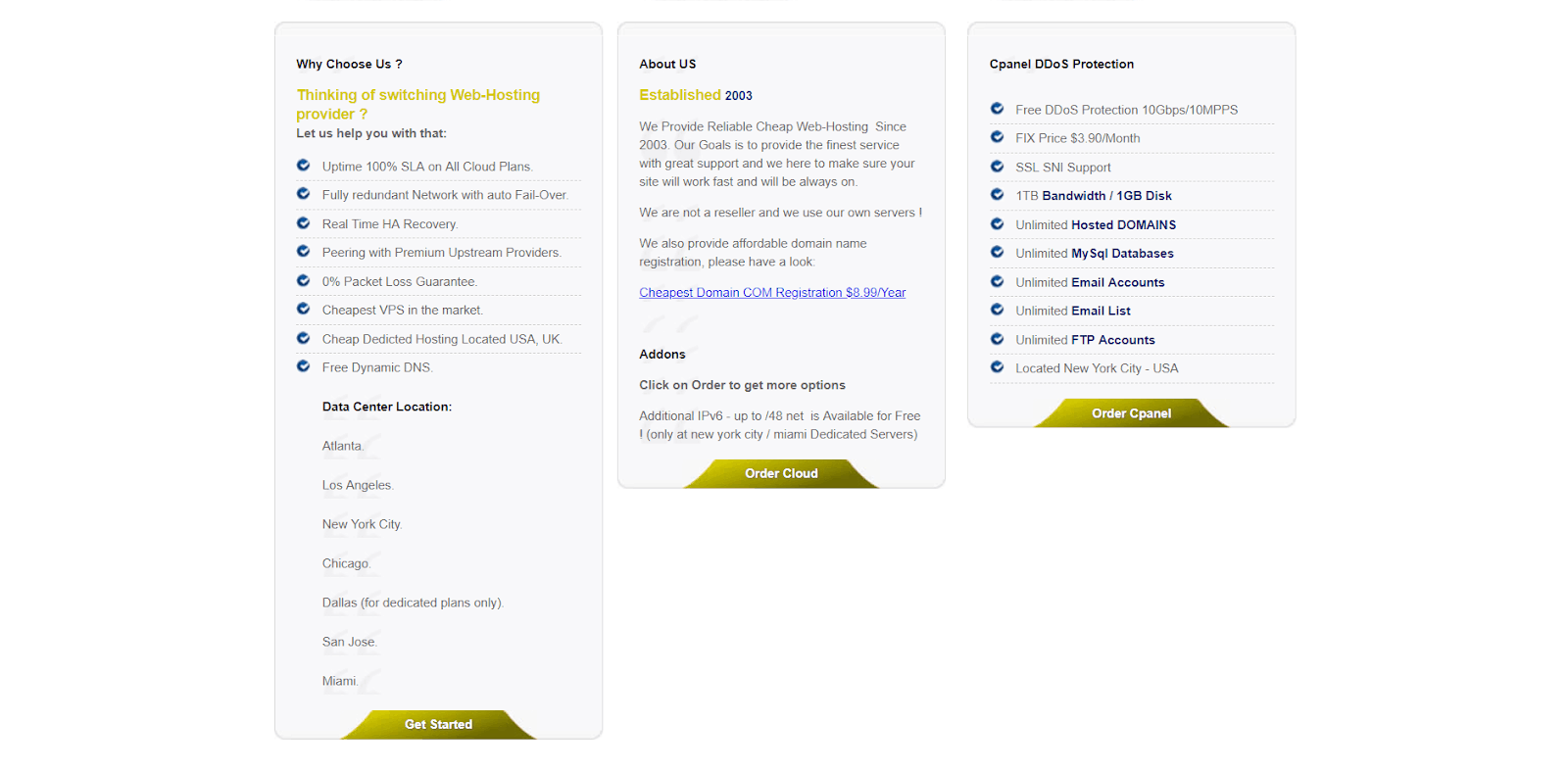 Domain Host SSL offers hosting products built on fantastic infrastructure but lacking some of the features that add a bit of polish.
100% Uptime guarantee SLA on all cloud plans
Multisite hosting with 20 to unlimited domains
SSL / SNI support with the cPanel hosting plans
SSD storage provided with most hosting products with some RAID 10 options
Bandwidth in the range of 250GB to 2TB with unlimited dedicated server bandwidth
Most of Domain Host SSL's hosting products are all about the world-class infrastructure and less about the software provided. However, their cPanel plans are adequate for individual and resellers alike with the cPanel control panel, Softaculous script installer, and Trendy Site Builder. You also get high storage (up to 30 GB) and bandwidth (up to 2TB) as well as unlimited email accounts and databases for some scalability. SolusVM is provided for managing your products but there are also other virtualization software programs like OpenVZ, Proxmox, etc.
With the VPS, cloud, and dedicated server plans you also get to choose your hosting location. Two are available for cloud Windows KVM, three for Linux VPS, and all seven for dedicated servers. These plans usually come with a fantastic infrastructure consisting of up to 20 Gbps DDoS protection, 1 Gbps dedicated ports, multiple RAM with burstable/swappable options, and SSD storage with some RAID 10 options. Dedicated servers also use Intel Xeon E3/5 processors as well as DDR3 RAM. The only complaint here is that RAM limits start a bit low.
Pricing and Support
Domain Host SSL presents a range of hosting plans catering to Linux VPS, Windows KVM, and dedicated server solutions. They offer eight affordable Linux VPS configurations, four Windows KVM configurations, and nine dedicated server configurations. Additionally, they provide four cPanel plans specifically designed for shared hosting requirements.
You can choose from three data center locations for your plans but it remains the same price for exactly the same setup. If the prices are different, it's most likely a slight difference in your RAM. Unfortunately, they don't provide or sell Windows licenses.
They don't offer any no-questions-asked money-back guarantees but you can apply for a refund on the high availability cloud plans if you experience downtime. Except for dedicated servers, all plans come with either monthly or annual billing. The annual billing discounts two months worth of installments. All-in-all, their prices are incredibly affordable considering the resources you get and that these are VPS/dedicated server solutions. However, it also means you have to go without a lot of freebies like domains, SSL certificates, etc.
Domain Host SSL provides 24/7 technical support with all of their hosting plans with dedicated server customers being entitled to premium support. However, all of their support is only provided via a ticketing system with no other contact methods listed.The support staff is excellent, but you don't have that immediacy sometimes needed. Luckily, they do provide a decent knowledge base with all essential topics.