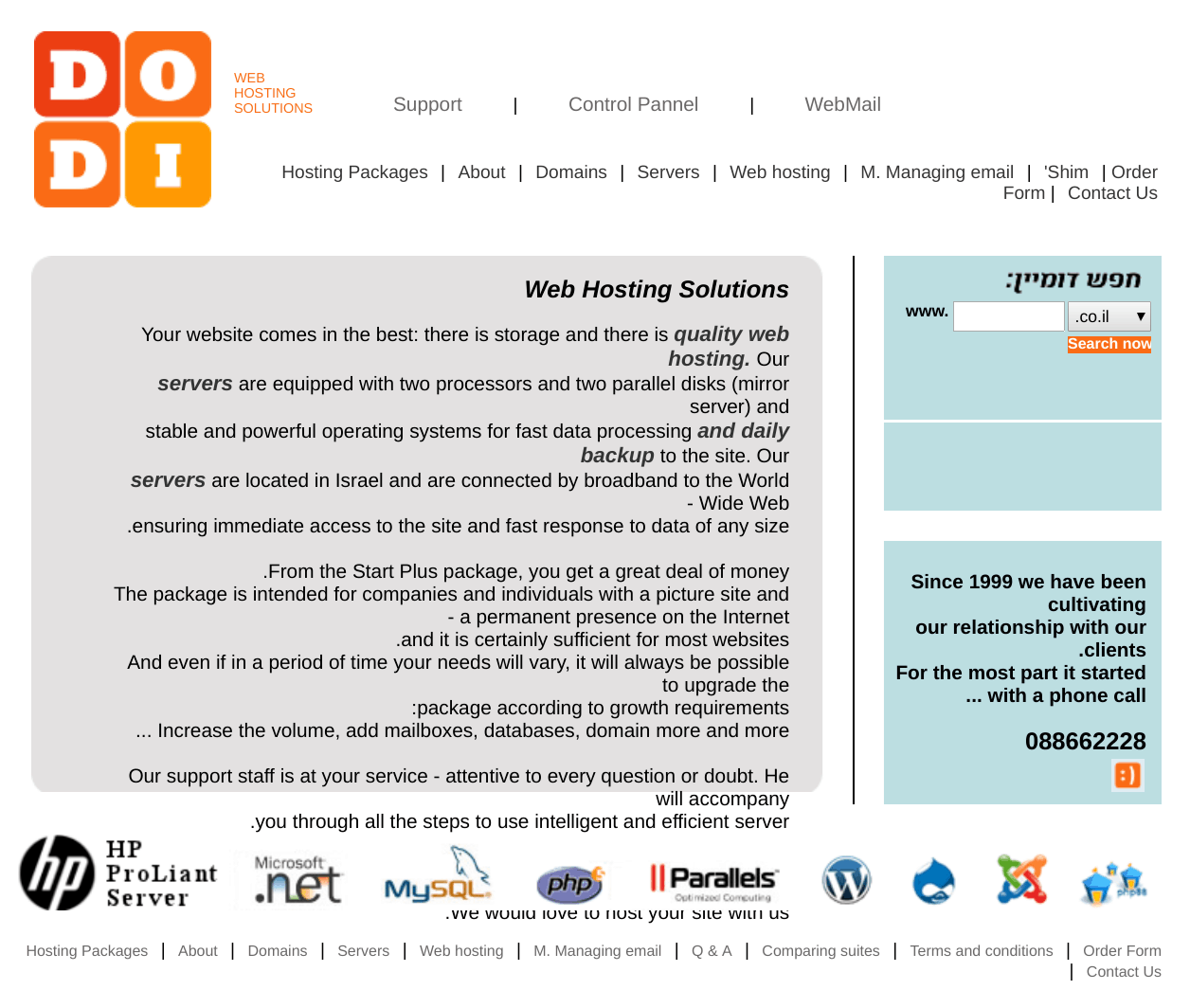 D.O.D.I. Hosting started life in Israel in 1999. Today, it offers web hosting, dedicated servers, email management, and domain services to commercial and private customers. This company's servers are located in Israel and are connected to the internet via the Israeli Internet Exchange (IIX).
D.O.D.I. Hosting's old-style website is in Hebrew.
Features and Ease of Use
D.O.D.I. Hosting offers three Windows shared hosting plans (Start Plus, P.100, and P.200) and two dedicated server plans (Compaq Proliant DL360 G2 with Windows Standard, and IBM xSeries X3550 M3 with Windows Web Server 2008 R2 OS).
The shared hosting plans vary in terms of storage space (300 MB to 500 MB), the number of domains and subdomains (1 to 5), and the number of mailboxes (5 to 20), but they all come with:
Free installation and unlimited traffic
Support for PHP, FrontPage Extensions, ASP, and ASP.NET
Support for real audio/video streaming, and Macromedia Flash
Autoresponders
Webmail
Anti-spam
Daily backups
Optional SSL certificate
These plans come with both MySQL and MSSQL databases, except for the Start Plus plan that only has a MySQL database. With all plans, you also get a Microsoft Access database, and you can install several free plugins and applications.
Since the disk space on these plans is extremely limited, you may have to switch over to a dedicated server plan as your website grows. Dedicated servers use RAID 1 for extra data security, and you get full RDP access to your server.
Pricing and Support
D.O.D.I. Hosting's shared hosting plans are pricey, with the entry-level plan costing almost double the industry average. You can pay for plans via wire transfer, check, or credit/debit card on monthly or annual billing cycles (with two months free on the annual option).
Personally, if the company offered a trial period or money-back guarantee, I would be more inclined to commit annually. Additionally, it's inconvenient that you have to fill out an order form before being able to purchase plans entirely online.
D.O.D.I. Hosting offers 24/7 support via email, an online contact form, and telephone (during the Israeli working week). Unfortunately, my contact form submission went unanswered. For self-support, there is only an unfriendly set of FAQs: