For over 19 years, DigitalServer has been providing outstanding hosting services to individuals and organizations across Mexico. Today, DigitalServer hosts over 20,000 websites on its powerful servers and guarantees an uptime of 99.9% all year round. It has also extended to several other countries including Colombia, Peru, Spain, and Argentina.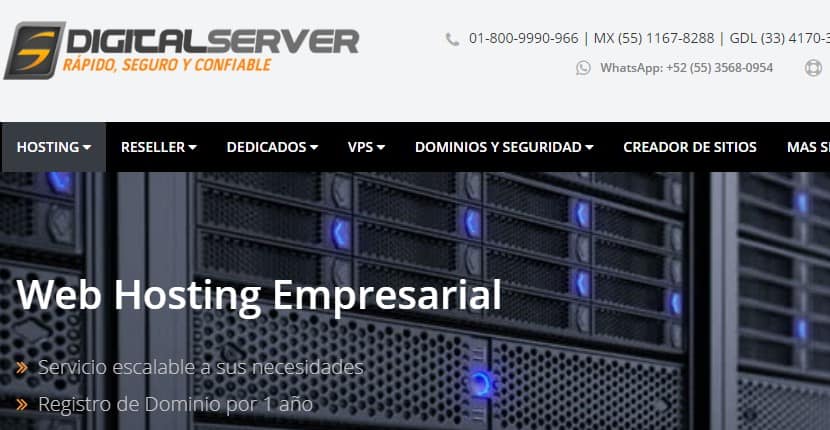 Features and Ease of Use
DigitalServer provides three different plans for different enterprise sizes: Web Hosting for the basic user, Reseller Hosting, and Servers VPS and Cloud. Web Hosting. The most basic plan comes with the following features:
Unlimited Databases
Unlimited Transfer
Unlimited Mail and FTP Accounts
Fast and Secure Servers
Free one-year Domain Registration
The Reseller package includes the following features:
Reseller hosting with WHM and cPanel
Unlimited domains
Unlimited post, FTP and databases
Auto Installer and over 400 preinstalled scripts
One year free domain registration
The Servers, VPS and Cloud package is all about independence, power, and total control over your dedicated server. It includes the following features:
10 TB monthly transfer
SSD storage
WHM and cPanel
One year free SSL Comodo
24/7/265 bilingual technical support
In addition to these package-specific features, DigitalServer offers:
Website migrations – DigitalServer helps you migrate your website from your old website hosting provider and configure it in its servers.
A lifetime of free SSL – You only need to pay a one-time small fee to obtain SSL security for the entire duration of your website's existence.
State-of-the-art tech solutions – All DigitalServer service offerings use modern technologies to keep your website performing perfectly. The company uses enterprise level servers that have ultra-high performance SSD and SATA III disks installed.
Fast loading websites – DigitalServer assures all its customers of fast loading websites with as much as 1Gbps connections available. What's more, the package plans are easily scalable in just a few easy clicks.
Pricing and Support
DigitalServer website hosting solutions can fit any website whatever the size. You can also contact the vendor for custom solutions. Small business can choose to work with the Mini Plan, the Supermicro Plan or the Micro Plan while medium-sized and large businesses can choose to any of these three: Commercial, Corporate or Business Plan. What's more, this Mexico-based hosting provider offers a 30-day money back guarantee to any organization that is dissatisfied with its services. The company promises to refund 100% of the payment you make if within 30 days you realize that their hosting solutions are not quite the perfect fit for your website. However, this DigitalServer guarantee only applies to payments that are not made in cash.

One noteworthy downside of DigitalServer solutions in web hosting is the fact that the company has not added live chat capability on its website. Today, live chats are quite popular, and increasingly, customers do expect to be able to talk to a hosting provider's support team via chat. All the same, with an active social media presence, customers who need to talk to DigitalServer support team via chat can do so on social media platforms like Twitter and Facebook. DigitalServer has a WhatsApp number through which customers can reach out to its support team.
In addition, DigitalServer ticketing system works perfectly, delivering fast and helpful support to individuals and businesses that have subscribed to its hosting plans. In my experience, my issue was resolved in a matter of minutes. Keep in mind that DigitalServer support team is available 24/7. For hosting emergencies, you can use the phone numbers the company has provided on its website to get in touch with its support staff. The website is only available in Spanish but the technical support team offers support in both English and Spanish.