Dialhost started their hosting operations in 2002, initially only offering shared hosting. They soon spread into the cloud hosting fields where they now offer a range of products and services, such as cloud hosting, cloud computing, etc.
They place a lot of emphasis on being transparent with their customers, especially regarding usage limits, with their no "Bla Bla Bla" policy.
They are situated and have data centers located in, Brazil.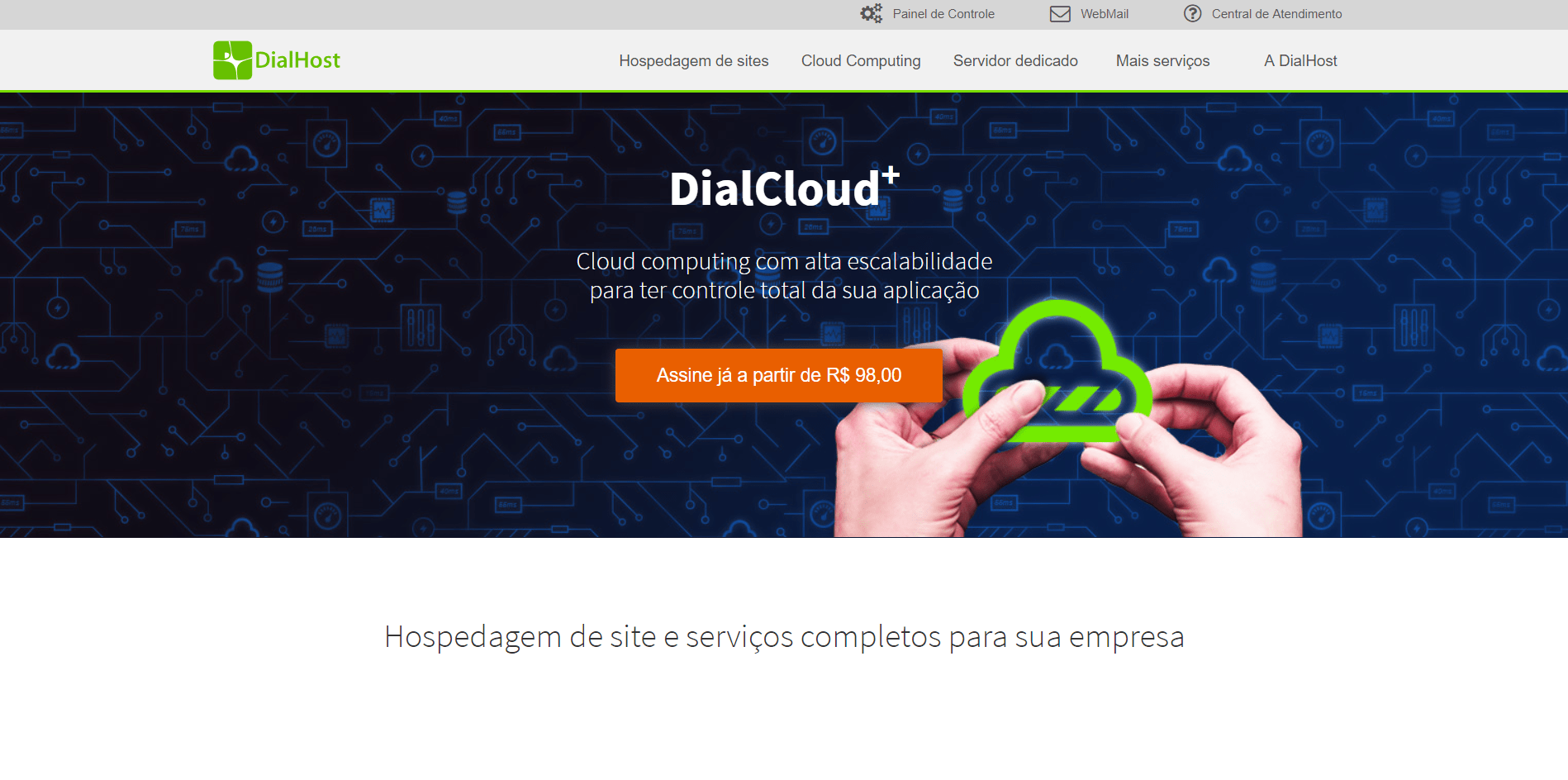 Features and Ease of Use
Dialhost has a complete business model that can offer potential clients anything they need to successfully set up and run a website:
Domain registration
Free SSL certificates
Email management console
Their own in-house hosting management console, etc.
The next few features could also be game-changing reasons to throw your lot in with Dialhost:
Site Builder: They provide free access to Site Builder, one of the most popular such platforms used in the hosting industry to build and design complete websites.
NET hosting: Not many hosting providers offer this which is great for business who already run on these environments.
Management and monitoring: Dialhost provides server management and hosting so that you can opt for a more hands-off and worry-free hosting experience.
Usually, I'm concerned when a host offers their own management console instead of something established like Plesk or cPanel. However, Dialhost's console is a very decent product that's modern and easy to use. The rest of the experience is similar with a great website and easy signup process and limited upsells.
Pricing and Support
Hosting plans and pricing on Dialhost are very simple and should be recognizable to anyone who has done some hosting shopping before. You can add on extra resources to your product for a monthly fee, such as storage, emails, additional domains, and dedicated IPs. You will need to purchase your first domain separately. All plans come with 24/7 support. You can choose from monthly to Triannual billing with tiered discounts.
Web hosting: This is their standard shared web hosting that comes with an SSL certificate and daily backups:

Plan I: 500 MB storage, 10 email accounts, and an additional domain
Plan II: 10 GB storage, 20 email accounts, and 3 additional domains
Plan III: 15 GB storage, 40 email accounts, and 4 additional domains
Plan IV: 25 GB storage, 80 email accounts, and 5 additional domains

Cloud hosting: This is resource-heavy cloud-based hosting that's significantly pricier:

Cloud I: 15 MB storage, 2 GB RAM, 80 email accounts, and 5 additional domains
Cloud II: 15 GB storage, 4 GB RAM, 80 email accounts, and 5 additional domains
Cloud III: 15 GB storage, 6 GB RAM, 80 email accounts, and 5 additional domains
Cloud IV: 15 GB storage, 8 GB RAM, 80 email accounts, and 5 additional domains

Net: Companies that prefer working in the ASP.NET environment have three plans available, which are identical to the top three web hosting plans.
Lastly, you can contact them to set up a custom dedicated server solution.
Dailhost offers support via 24/7 live chat, email, and a number of international phone lines. They also have an impressive knowledge base that's easy to navigate and has relevant and up-to-date information. You do get a sense that the support staff really cares about your problem and they are usually quick to respond and eager to help. I never had to wait for more than three minutes to get a response although I did sometimes have to wait to speak with an English staff member.