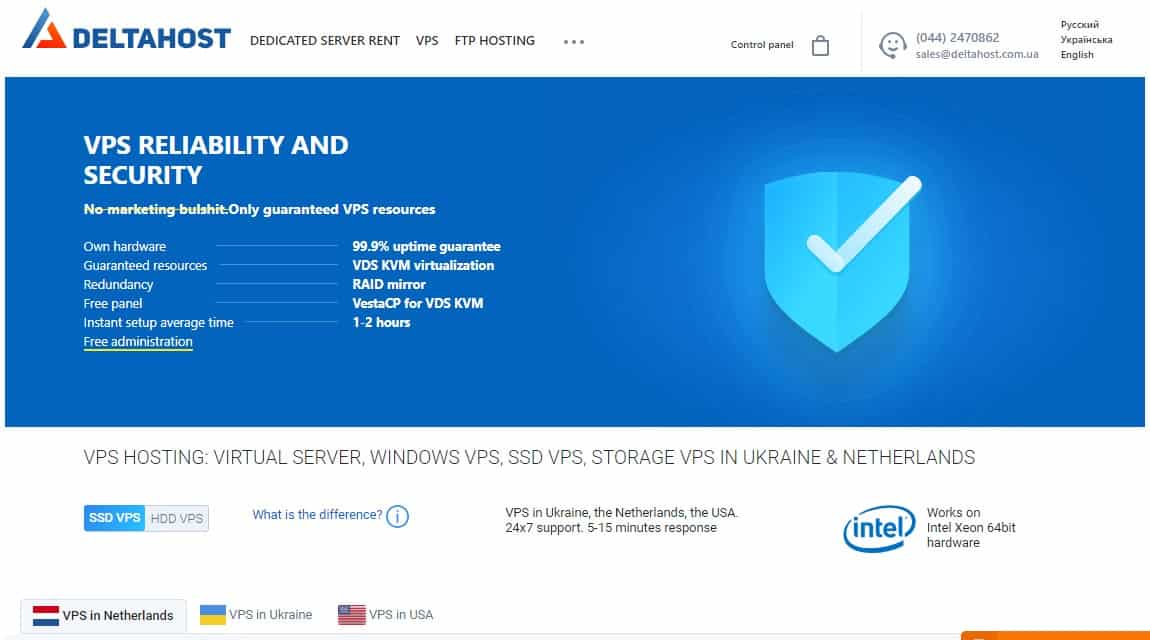 Ukraine-based Deltahost is a web hosting company founded in January 2008. The hosting firm is popular for offering server rental services to businesses in Ukraine and several other countries in Europe. It also offers an array of services such as VPS hosting services, FTP hosting services, and domain registration. The Deltahost website is available in Ukrainian, Russian, and English.
Features and Ease of Use
The following are the standard features included in this vendor's server rental services:
Windows and Linux OS
cPanel and Vesta control panels
IPv4 and IPv6 addresses
99.9% uptime guarantee
Instant installation
Deltahost servers are placed in highly secured data centers located in Ukraine, the Netherlands, and the U.S. The servers use hardware and software from industry leading companies such as Intel, HP, and Cisco.
A closer look at its hosting solutions reveals that Deltahost caters to clients with high resource demands. The vendor does not offer shared web hosting solutions. Instead, it offers top-notch VPS and dedicated servers. Its VPS solution includes an unlimited number of websites, FTP accounts, and MySQL databases, among other features.
 What's more, the vendor offers additional IPv4 addresses to the server upon clients' requests. However, the hosting firm has blocked the ability to send emails from its IPv4 addresses in efforts to protect its system and its customers against the spread of spam.
Deltahost does not store or make backup copies of its VPS and dedicated servers. The hosting provider maintains that clients are solely responsible for the creation of data backups. To keep your website safe, therefore, you would have to outsource these services.
Pricing and Support
Deltahost's different hosting packages offer high quality features at a somewhat affordable price. To reduce your charges, it might be a good idea to subscribe to the yearly payment plan, which comes with significantly discounted prices.
One significant downside of this vendor's offering is that it expects you to explore its solutions within 48 hours to determine if it's a good fit. Take longer than this and you won't get any refund for your money. The vendor offers a 99.9% availability guarantee.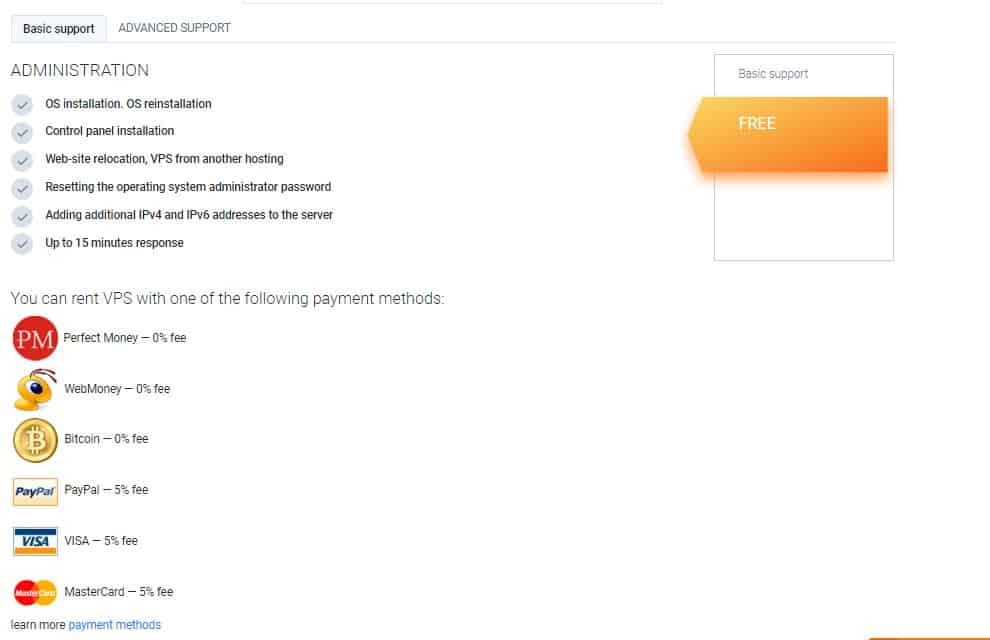 You can contact Deltahost support via telephone, email, live chat, or ticketing system. Additionally, it has an active presence on social media platforms that also serves as communication channels between the company and its customers.
Deltahost's support team is only available to its existing customers via the control panel. Others who wish to get in touch can only send sales-related inquiries to the vendor's sales team.
The hosting provider claims that its support team is available round the clock and typically responds within approximately 15 minutes. I reached out to the sales department via email, the only available contact method for non-customers, but unfortunately didn't receive a response. It's worth noting that Deltahost lacks a knowledge base and its blog section contains just a single article.
How much does Deltahost cost?
Deltahost offers multiple plans priced highest to lowest. The price depends on which type of hosting plan you choose. You can see the updated pricing table (updated weekly) below.

Which Deltahost plan should I get?
My recommendation is to start with a cheaper plan. You can always upgrade later on. Deltahost can help you with the migration to a more expensive plan. The increase in visitors many times takes longer than expected and you shouldn't pay a lot of money until the need arises. Of course, your needs may vary, and you can consult with a hosting expert from Deltahost here.

How good is Deltahost's customer support?
Deltahost is not ranked as one of our top web hosts. But that can also be a result of Deltahost being a small, under the radar, hosting provider. There are advantages to a small hosting company – as a customer, you are more important to them. You can also check out our comparison of the most popular web hosting services here.