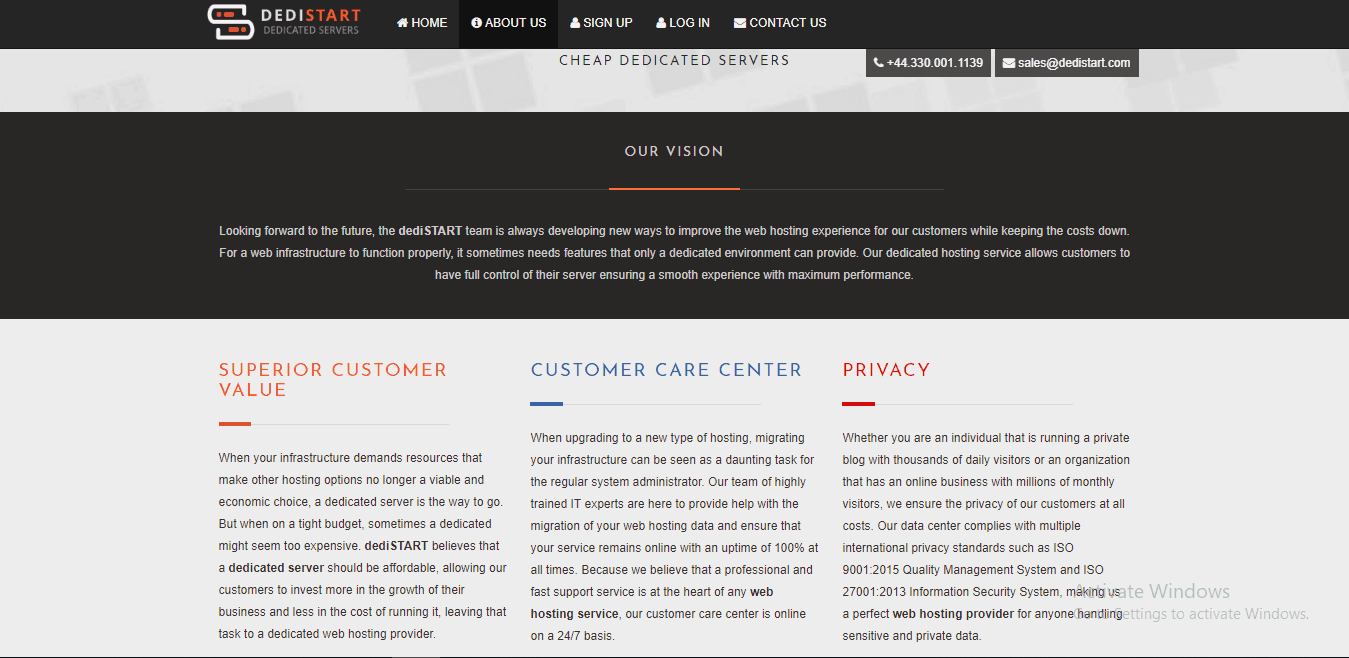 Dedicated server rental company dediSTART is registered in the Seychelles. Their surprisingly simple and sparse English language website does not say too much about when this company was founded, how many customers they have, or where their data centers are located, but they do allude to  "cheap European servers".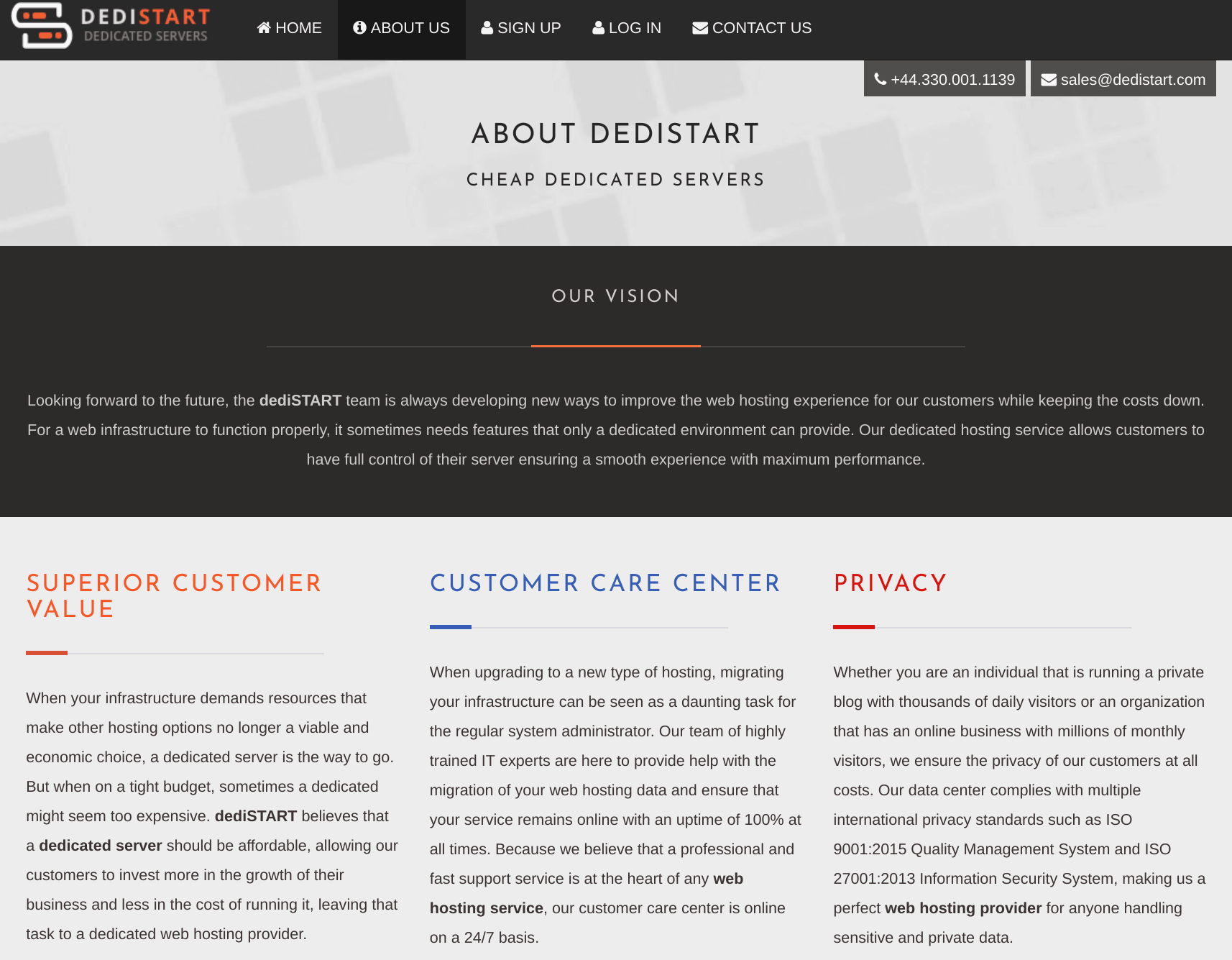 Features and Ease of Use
dediSTART's dedicated servers are fitted with Intel Atom and Xeon CPUs from producers like Dell, HP, and Supermicro, and they offer the following core features:
100% uptime advertised
Fully dedicated servers
1 Gbps unmetered bandwidth
Free DDoS Protection
RAID replication
One of dediSTART's notable features is its emphasis on privacy. Their data center complies with multiple international privacy standards such as ISO 9001:2015 Quality Management System and ISO 27001:2013 Information Security System. Whilst they do not explicitly market themselves as an offshore host, their Seychelles headquarters implies additional privacy protection. In fact, they imply that they are "…a perfect web hosting provider for anyone handling sensitive and private data."
What I really like about this company is its flexibility. Although they have base configurations that I could certainly stick with, it is also perfectly possible to customize a plan during the checkout process. Customization options include (but are not limited to) extra RAM, RAID controller, database type, control panel type, number of IPs, server location, and backup frequency.
Pricing and Support
dediSTART offers three types of dedicated servers: Cheap Dedicated Servers, Power Dedicated Servers, and Extreme Power Dedicated Servers. The resource quotas are low for the Cheap Dedicated Servers that have no KVM access and only range from 8 GB to 32 GB of RAM. The Power Dedicated Servers range from 32 GB to 64 GB RAM and include KVM access, whilst the Extreme Power Dedicated Servers include from 64 GB RAM all the way up to 192 GB RAM.
Many of dediSTART's services were "out of stock" when I reviewed their website, which may well be the result of their fair pricing compared with comparable international hosts. There is a plan for everyone's budget but beware of the extra cost of customizations during the checkout process.
You can buy plans on one, three, six, and twelve-month terms, and the longer the term, the more discounts you get. This company accepts Mastercard, Visa, PayPal, Bitcoin, and two other lesser-known payment methods. They provide a three-day money back guarantee, which is a pretty short time to test them out.
For customer service, they publicly advertise a telephone number and a sales email address. They also boast about professional and fast support service from a team of highly trained experts, and they have a 24/5 customer care center, but they don't say exactly what lies behind the client login screen.
How much does dediSTART cost?
dediSTART offers multiple plans priced highest to lowest. The price depends on which type of hosting plan you choose. You can see the updated pricing table (updated weekly) below.

Which dediSTART plan should I get?
My recommendation is to start with a cheaper plan. You can always upgrade later on. dediSTART can help you with the migration to a more expensive plan. The increase in visitors many times takes longer than expected and you shouldn't pay a lot of money until the need arises. Of course, your needs may vary, and you can consult with a hosting expert from dediSTART here.

How good is dediSTART's customer support?
dediSTART is not ranked as one of our top web hosts. But that can also be a result of dediSTART being a small, under the radar, hosting provider. There are advantages to a small hosting company – as a customer, you are more important to them. You can also check out our comparison of the most popular web hosting services here.