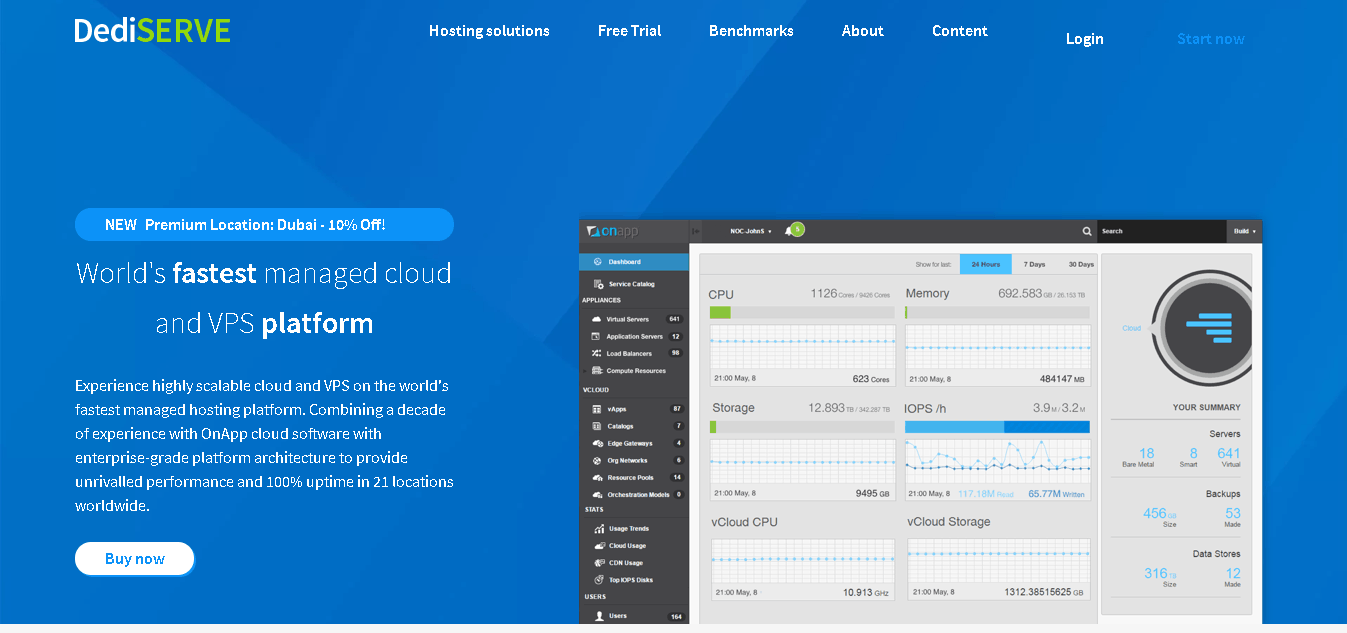 Founded in 2009, and headquartered in Dublin, DediServe's self-stated purpose is to offer cloud-based resources that are cost-effective, flexible, and scalable. This relatively small privately-owned company provides big solutions that empower users to build and manage mission-specific solutions. It is the world's largest OnApp hosting service provider, with 21 globally located data centers, more than 8000 users, and over 5000 hosted virtual machines.
DediServe's website is in English.
Features and Ease of Use
DediServe's two main offerings are its Cloud Resources and FastVPS products. The former offers bare computing resources to set up as many VPS or other infrastructure as you want; the latter are more like conventional VPS packages. Some of the features you can expect to get with DediServe's solutions are:
SLA-backed 100% uptime guarantee
Purchasable SSL certificates or DNS management
Configurable automatic backups
Up to 1500 GB of SSD storage
Unlimited incoming traffic and 1.5 TB of outbound traffic per GB of RAM
Cloud resources can be finely tuned according to your needs. In addition to the high storage and virtually unlimited bandwidth, you can get up to 65,536 MB of RAM, 40 CPU cores, and terabytes of extra NAS-based storage. It's not just the sheer numbers that are impressive, because DediServe uses some of the best server infrastructure technologies. With hardware based on HPE/Dell Blade and Cisco networking, it claims you can get up to 20 Gbps transfer speeds.
You don't have to set up your server entirely from scratch since you can choose from a large selection of software to be preinstalled.  This includes a variety of operating systems, hosting control panels, and CMS applications.
DediServe has such confidence in the quality of its servers that it offers a 100% uptime guarantee backed by credits for any downtime exceeding 0.1%. It also claims to be the world's fastest cloud and VPS platform, beating other big names like Vultr.
The impressive add-ons you can buy to enhance your server solution include a CDN, load balancers, SSL certificates, and up to 256 IP addresses.
Pricing and Support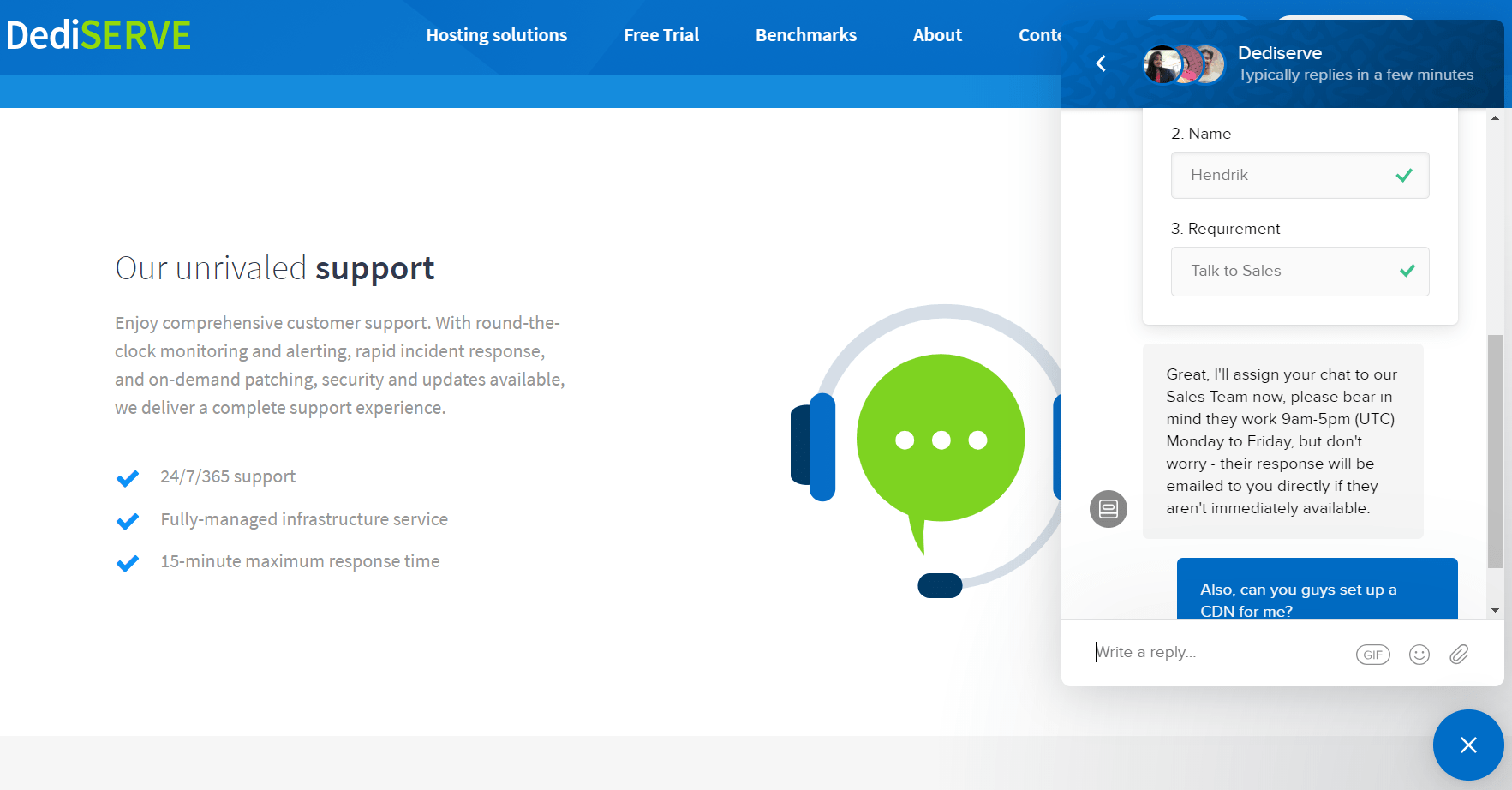 If you're not 100% sure about signing up with DediServe, you can take advantage of a free trial of its cloud hosting platform which gives you 72 hours of unrestricted cloud resources (with a bandwidth limit of 2 GB) to test the servers. But beware that you have to book the free trial in advance, which could be important because there is no such thing as a money-back guarantee once you've signed up.
For these kinds of cloud hosting, DediServe's servers are priced in the mid to high range. And although the pricing starts at a low enough level, you can go all out and configure a server that costs thousands of dollars per month. You have a lot of flexibility to configure resources exactly according to your needs. However, for a VPS server, you have to choose from the preconfigured packages, but you can easily upgrade or downgrade at any time simply by paying the pro rata difference.
Payments can be made monthly or annually in a range of currencies.
DediServe certainly talks the talk when it comes to support, by promising that its expert agents will respond to any questions within 15 minutes. They can also offer you managed server packages (or even direct engineer time) as an alternative to the default self-managed servers, to take server management tasks entirely off your hands. These server management services actually aren't that expensive.
There is a knowledge base available for self-support, and a live chat chatbot that can assist you before transferring you to a real support agent.
How much does DediServe cost?
DediServe offers multiple plans priced highest to lowest. The price depends on which type of hosting plan you choose. You can see the updated pricing table (updated weekly) below.

Which DediServe plan should I get?
My recommendation is to start with a cheaper plan. You can always upgrade later on. DediServe can help you with the migration to a more expensive plan. The increase in visitors many times takes longer than expected and you shouldn't pay a lot of money until the need arises. Of course, your needs may vary, and you can consult with a hosting expert from DediServe here.

How good is DediServe's customer support?
DediServe is not ranked as one of our top web hosts. But that can also be a result of DediServe being a small, under the radar, hosting provider. There are advantages to a small hosting company – as a customer, you are more important to them. You can also check out our comparison of the most popular web hosting services here.