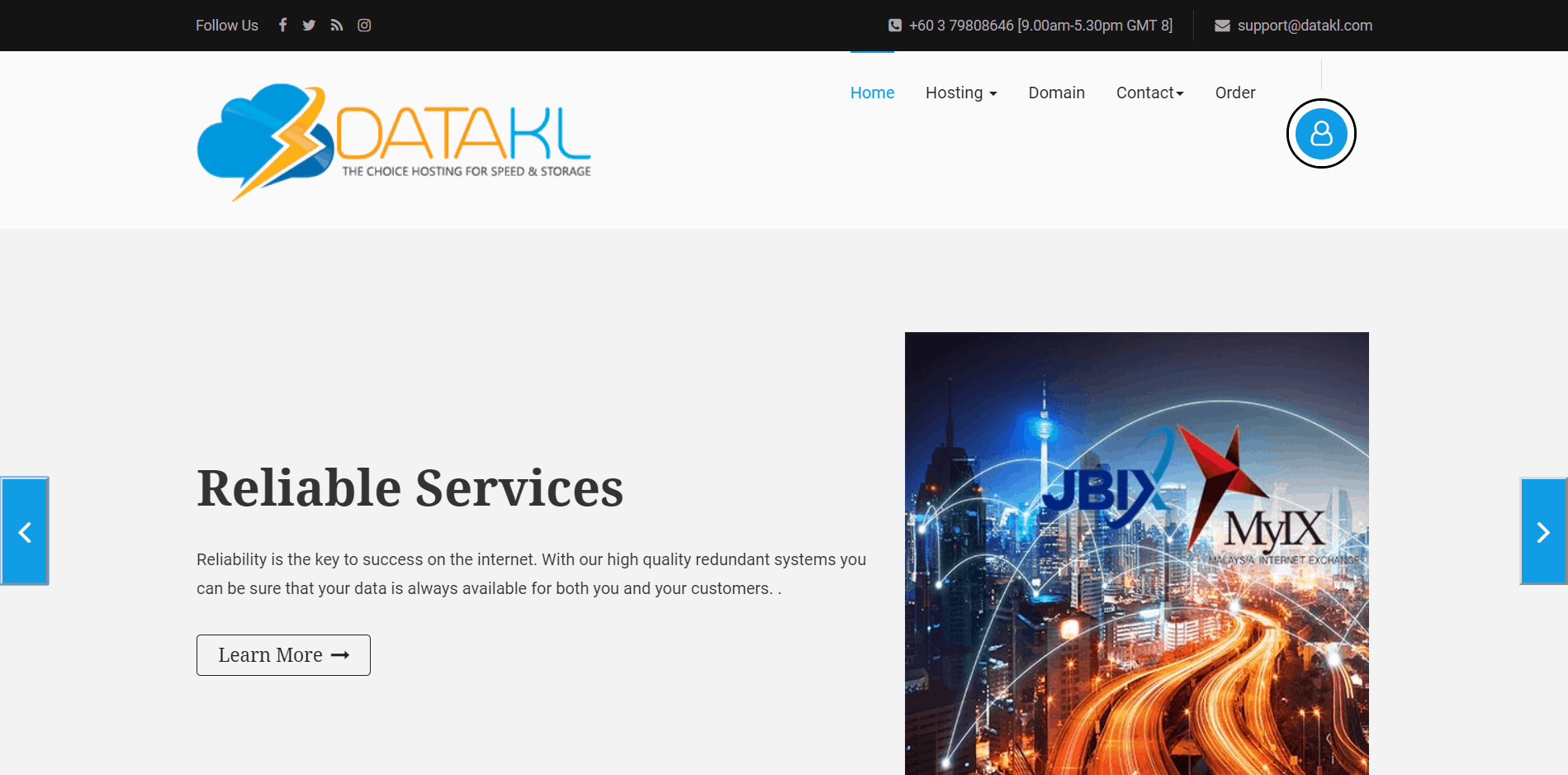 DataKL is a Malaysia based web hosting provider that has been in business since 2006. It prides itself on its affordable packages and abundance of features. Their office is in Kuala Lumpur where they can be reached during working hours. To date, they have registered over twelve-thousand domains, received over two-thousand clients, completed over a hundred projects and won three awards on the way. All this is a result of the commitment they have shown in providing the best services to their customers.
Features and Ease of Use
DataKL combines the power of CloudLinux with Hardware Raid to give you an ideal shared hosting environment. There is an easy to use cPanel control panel that gives you easy access to all your data, files and websites. They also offer cPanel account migration in case you are moving to them from another host. Just get in touch with them through the support and they'll guide you on the procedure to follow.

With the help of the Softaculous application installer, you can install over 300 scripts on your website by following basic steps. This eliminates the need to know any programming knowledge and most applications work with a one-click installation system.
You can use as many free SSL certificates as you like on all hosting packages, which is an important feature in terms of your website's security. They have personalized Email accounts to help you personalize your business with the unique Email addresses both for you and your team.
Even though they are offering shared hosting, they still do their best to isolate websites that are taking the major share of resources. This means you do not have to pay for someone else's resource usage. And it keeps the risk of your website going down stay low.
Pricing and Support
DataKL offers three different hosting packages named Starter, Business, and Premium. All offer limited storage and bandwidth while Business and Premium allow multiple domains. The remaining features are the same in all packages which makes the decision to select the right package much easier. They are pretty helpful in terms of scalability and if you start from a small package and want to upgrade later, just get in touch with them and they'll be happy to help.
Each of the above packages is subdivided into more packages but since none of them offer unlimited bandwidth or storage, it doesn't make a big difference which package you choose. The differences are only minor.

To contact them, you can fill out the contact form on their website or give them a call during working hours from 9 am to 6 pm. They also have a Support Ticket System that operates 24/7, allowing your queries to be addressed even on weekends. However, please note that they do not offer live chat support, so you won't be able to reach someone directly and immediately online.
How much does DataKL cost?
DataKL offers plans from $0 to $2. The price depends on which type of hosting plan you choose. You can see the updated pricing table (updated weekly) below.

Which DataKL plan should I get?
My recommendation is to start with a cheaper plan. You can always upgrade later on. DataKL can help you with the migration to a more expensive plan. The increase in visitors many times takes longer than expected and you shouldn't pay a lot of money until the need arises. Of course, your needs may vary, and you can consult with a hosting expert from DataKL here.

How good is DataKL's customer support?
DataKL is not ranked as one of our top web hosts. But that can also be a result of DataKL being a small, under the radar, hosting provider. There are advantages to a small hosting company – as a customer, you are more important to them. You can also check out our comparison of the most popular web hosting services here.