D9 Hosting is a web services provider registered in the U.K. It was founded in 2007 with the aim of providing quality web services with friendly support. To this day, they continue to provide high-quality web hosting and other services and maintain a 24/7 support team. Even though they are based in the U.K., they offer services to over 55 different countries around the world. If your country isn't on their list, do not hesitate to ask them anyways as they pride themselves on expanding and are looking to add more countries to their list. It goes without saying that irrespective of where you live, the quality of support you will receive stays the same.
Features & Ease of Use
D9 Hosting offers all the standard features that you can expect from a good hosting provider. They claim to offer 99.9% uptime, just like most other hosting providers. I am inclined to believe them on this as others have confirmed this in their feedback as well. Since they take daily backups which can be easily restored through the cPanel, you do not have to fear any loss of data. They have ultra fast servers thanks to a combination of OPCache, CloudLinux, and LiteSpeed API. The most popular blogging platform WordPress gets preferential treatment from D9 Hosting as they offer a dedicated support for anyone using this platform. If you are a casual blogger or even an online store owner using WordPress, you will love their WordPress support.
Since they run daily malware scans on all the hosting accounts, you are safe from any malicious software creeping into your website. This ensures safety and security both for you and your visitor. Free SSL certificates are included in your hosting package as well.
Those who don't like to play around too much with website programming will find the website builder really useful. It eliminates the need to develop any boring code and you can use the built-in templates to get your website up and running in no time.
In addition to all of the above, you can expect free customer support and free website transfers, in case you are moving your websites from another host.
Pricing & Support
D9 Hosting offers three different hosting packages named ONE, MULTISITE and MAX. The D9 One package is the cheapest and allows you to host a single domain with 5 databases and 5 Email accounts. Importantly, it offers you unlimited bandwidth and unlimited disk space together with a cPanel control panel. I like the fact that there isn't a big price jump to the MAX package where you get similar features but with unlimited domains, unlimited databases, and unlimited Email accounts. You also move on to the WHM control panel with this upgrade. A single site user will be more than happy with the ONE package but the MAX package is the one that people with more than one small site should opt for.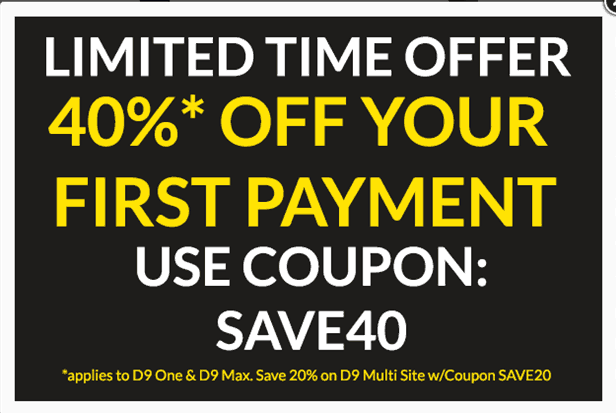 If however, you have multiple websites that demand considerable resources, D9 Hosting has a lot more to offer. As I further explored the MULTISITE package, I realized there were 4 more packages hidden inside it. The basic package among them offered only 50GB Disk Space and 600GB bandwidth so that was disappointing. I realized if I decided to utilize unlimited disk space and unlimited bandwidth, I would have to pay a lot more than I initially thought. The packages for multiple sites disappointed me and I'd recommend the users to carefully see if their demands are already being met by the MAX package, which also offers unlimited domains at a fraction of the price.
Do not forget to avail any discount available. If you can't see any offer, don't hesitate to contact their support and ask about it. Usually, they offer twenty to forty percent discount on their packages. You also have a Thirty-day money back guarantee in case you are not satisfied with their services.
When it comes to their support, they highlight having an exceptional support team throughout their website. However, in order to contact them, you need to purchase one of their packages. Unfortunately, if you're not a customer, their availability is limited to Monday through Friday, from 9 am to 10 pm.