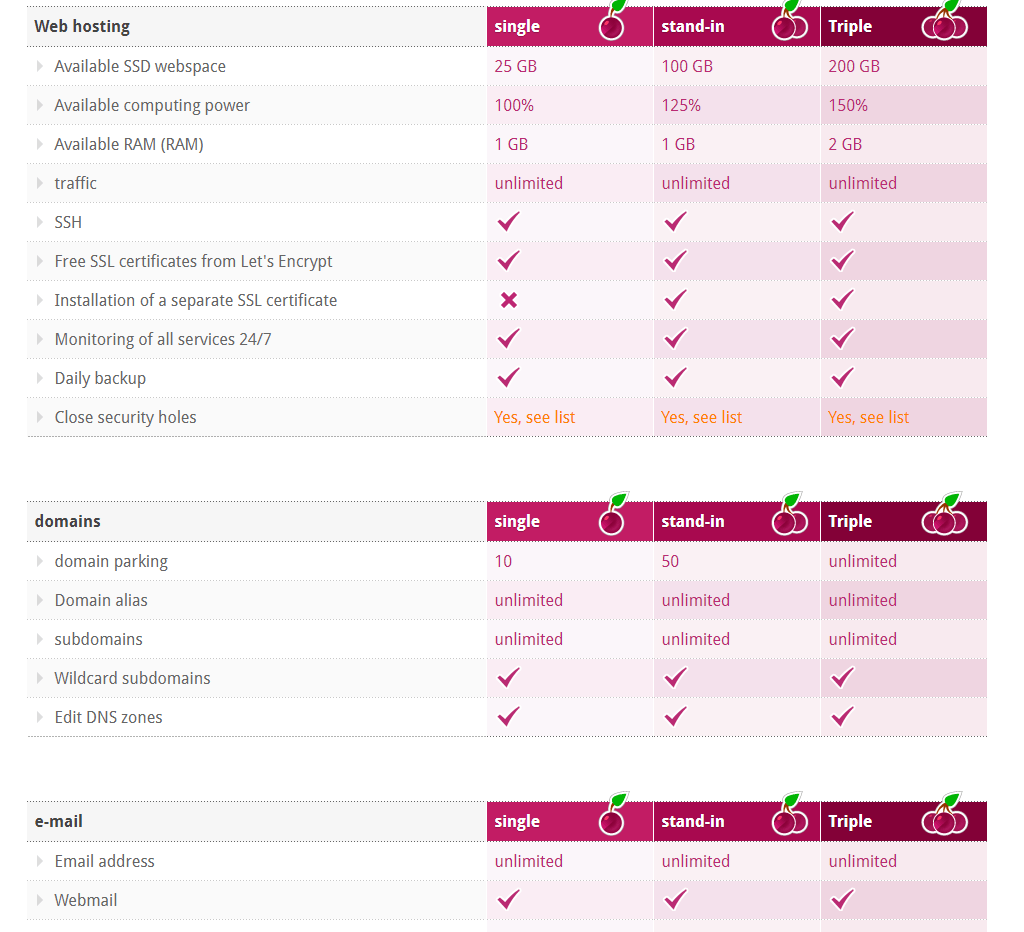 Cyon has been providing web hosting services out of Switzerland since 2003. During that time, it's built a customer portfolio of 72,800 websites and hosted everything from small blogging websites to thriving online stores. All servers are located in Basel, Switzerland and are powered by 100% green electricity. If you're looking for robust hosting while seeking to reduce your carbon footprint, you should consider Cyon.
Features and Ease of Use
Cyon offers robust shared hosting solutions with tons of storage and fantastic features. The following features are standard on all plans:
Generous SSD storage of 25GB or more
Unlimited bandwidth
Free SSL certificates
Unlimited subdomains
Daily backups
In addition to these features, you can host multiple domains with all plans. Notably, its Triple plan supports unlimited domains. Also, all plans support a variety of scripting languages and programs, including PHP, OPCache, APCU, Black Fire, and Perl.
For those who are environmentally conscious, Cyon may be a good fit. The company uses 100% green electricity with 5% of its power coming from solar panels and the rest coming from local hydroelectric plants.
That said, one thing I don't like about its plans is that database storage is limited to 500 MB. If you need large database sizes, such as for business inventory files or detailed customer information, then this service may not be for you.
Most webmasters should find Cyon easy to use. It offers an auto-installer with integrations including WordPress, TYPO3, Joomla, and more. It only features 30+ applications as opposed to the 300+ you'll find with many other hosting providers, however. Advanced users should note that Cyon uses its proprietary my.cyon control panel. While not the same as cPanel or Plesk, it is very intuitive and easy to figure out.
Cyon also offers a website builder with a drag-and-drop editor, but you'll pay about 50% more than standard plans. Unless you're a complete novice and need a drag-and-drop editor, I'd pass on the Sitebuilder.
Pricing and Support
Cyon offers three plans for its shared web hosting service, and pricing is a bit higher than that of the average provider. On the upside, you do get a good array of features, including multi-domain support and no less than 25GB of space. You also get free SSL certificates, so that will save you some money compared to a few other hosts.
The good news is that you don't have to buy a domain to use this service. It will give you a subdomain of cyon.site as part of your web hosting. If you want a personalized top-level domain, you can buy one here as well, but it's going to cost you. Average domain pricing is about double of what you'd pay elsewhere. You'd be better off buying your domain elsewhere and then transferring it.
Your only option for billing is annual. However, it does offer a 30-day non-obligatory free trial, meaning you can sign up and test drive the service for a month before having to pay. You won't even have to enter payment information at signup. If you need to change plans, no problem as you can change plans with a single click.
Overall, I was impressed with Cyon's support. They have a sizable knowledge base with a search function and an "E-mail Wizard" tutorial that will help you set up your mail on your computer or phone. Otherwise, you can contact support through email or their telephone hotline. However, phone support is only available for limited hours. You can reach them Monday through Friday from 9 am to noon and 1:30 pm to 5 pm (Switzerland time). Email support has a promised turnaround time of 24 hours on Monday through Friday.
I contacted customer support via email, and it took them about six hours to respond. The agent answered my question very thoroughly and professionally. It was clear she knew the product well. Overall, I think Cyon's support is solid, but it would be improved with live chat support.