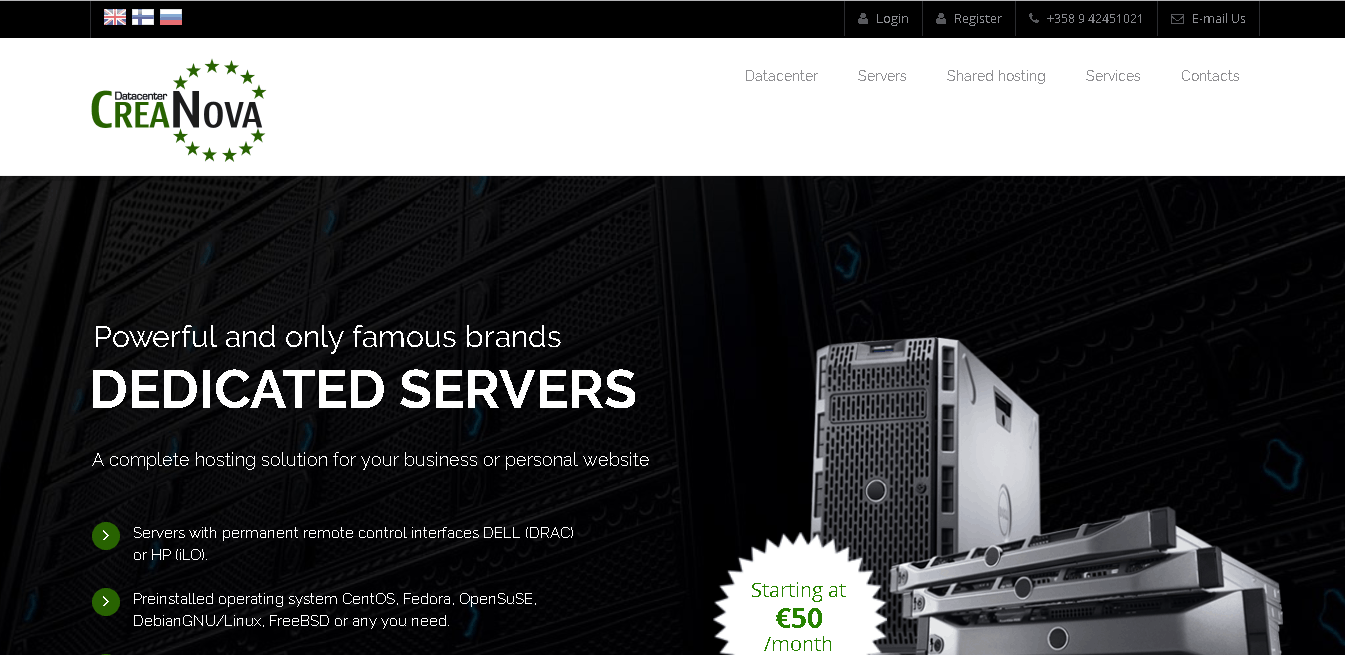 Creanova Hosting Solutions Ltd is a web hosting company founded in 1996. It offers shared hosting, VPS, cloud-based VPS, and dedicated hosting plans from servers in Finland. The website is available in English, Finnish, and Russian.
Features and Ease of Use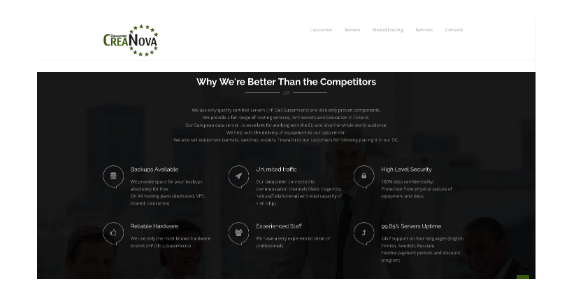 Shared hosting plans at Creanova Hosting Solutions Ltd are Linux-based. They come with SSD storage and a below-average 99.85% uptime guarantee — although the SLA does guarantee an average of 99% network availability over the course of the year.
Shared hosting plans come with FTP access, PHP, MySQL databases, and cPanel. But at the same time, novice webmasters will find there are no one-click integrations or website builders available. This means that beginners have the functionality they need — but not the support or ease of use available elsewhere to help them build their websites quickly or well.
Interestingly, Creanova Hosting Solutions Ltd also features SSH access, cron jobs, daily backups, and compatibility with programming languages like Perl. Sadly, the low uptime guarantee and lack of SSL certificates undercuts the value here as well.
Compared to the competition, the overall feature list here is really only advantageous for webmasters who know how to create and manage a website but just happen to be running a small one.
Linux and Windows managed and unmanaged VPS plans are also available. The feature list includes:
Root access

KVM and OpenVZ virtualization

RAM and memory upgrades
VPS plans also come with a free domain.
Pricing and Support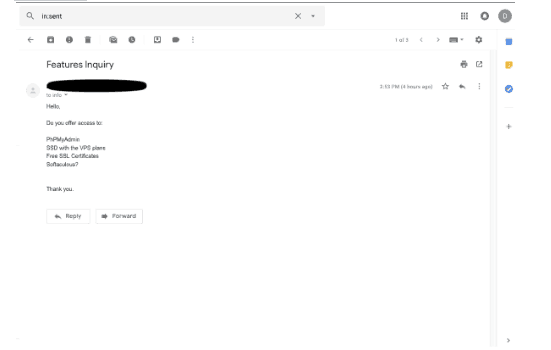 The biggest strength of Creanova's shared hosting plans is the ratio of databases to websites hosted. The higher-tier plans offer webmasters running a large network of small to medium sized websites the benefits of unlimited MySQL databases and 100 websites. Although the absolute price of these plans is higher than what you will find elsewhere, the relative value to set up this kind of network is excellent.
Beginning webmasters will find average value here. The lower-tier plans offer excellent entry-level prices for more than enough disk space and databases to host a small website. However, that is tempered by low memory capacities and the below-average uptime guarantee. Text-based blogs should be fine, but more media-intensive websites will probably struggle.
Unfortunately, Creanova really falls short with medium to large websites. No shared plan offers more than 25GB of disk space — far too small for large websites. And even medium-sized websites that can get by with that amount of storage will almost certainly find the 512MB of available memory far too small to do anything with it.
The VPS plans perform slightly better. They provide discounts on yearly plans, but there is an issue with the balance between the number of CPU cores and the amount of disk space. Additionally, the backup space is significantly lower than the available storage, which greatly reduces their value.
Support options are below average. Despite advertising 24/7 support, there is no live chat, phone support hours are listed as only during business hours, and, as you can see from the screenshot below, my email to support — during normal business hours — went unanswered after several hours. Only a very small knowledge base is provided that leaves many questions unanswered.
How much does Creanova Hosting Solutions Ltd cost?
Creanova Hosting Solutions Ltd offers plans from $6 to $28. The price depends on which type of hosting plan you choose. You can see the updated pricing table (updated weekly) below.

Which Creanova Hosting Solutions Ltd plan should I get?
My recommendation is to start with a cheaper plan. You can always upgrade later on. Creanova Hosting Solutions Ltd can help you with the migration to a more expensive plan. The increase in visitors many times takes longer than expected and you shouldn't pay a lot of money until the need arises. Of course, your needs may vary, and you can consult with a hosting expert from Creanova Hosting Solutions Ltd here.

How good is Creanova Hosting Solutions Ltd's customer support?
Creanova Hosting Solutions Ltd is not ranked as one of our top web hosts. But that can also be a result of Creanova Hosting Solutions Ltd being a small, under the radar, hosting provider. There are advantages to a small hosting company – as a customer, you are more important to them. You can also check out our comparison of the most popular web hosting services here.