Introduction
Founded in 2006, ColombiaHosting is the country's largest web hosting service provider. They have more than 20,000 clients in Colombia, as well as strong ties to Japan. Geared especially towards large companies, Japanese car manufacturer Honda is one of their biggest clients.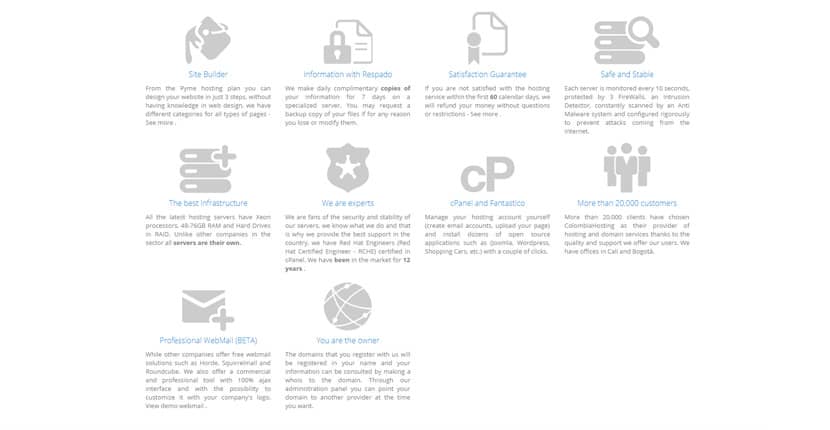 Features and Ease of Use
ColombiaHosting offers comprehensive packages. Unlike many other hosting companies, there is no need to purchase additional services beyond those offered in the plan. These features include:
Enterprise-class TurboSSD storage
cPanel and Fantastico
Daily backups retained for up to seven days
CloudOS
SSL certificates
Free website migration
E-commerce readiness
Website builder
ColombiaHosting also includes value-added email marketing features with their hosting plans, though this is only available in the Entrepreneur plan or better.
One downside of ColombiaHosting is that although you can install popular CMSes such as WordPress and Joomla!, there are only a few dozen pre-installed applications available. Not offering the hundreds of applications available with other web hosts is an unacceptable omission considering that large companies will want to benefit from the most cutting-edge features on the market.
Also note that even with their highest level plan, you can only host up to five domains. Other web hosts will offer ten or more. ColombiaHosting specifically targets not only large companies, but large companies focused on a few digital properties.
Network monitoring is 24/7, and servers are protected by three firewalls and checked every ten seconds. There's also a proprietary anti-malware system, although ColombiaHosting doesn't seem to have any anti-DDoS attack protection services available.
Pricing and Support
The value of ColombiaHosting's packages depends on the type of business you are. Medium-sized companies with ambition will find this provider to be expensive versus other options. Although the functionality is good, it's hampered by the fact that the number of email accounts on the lowest-tier and middle-tier plans are likely to be inadequate. That forces an upgrade to a higher-tier plan that is much more expensive than comparable plans elsewhere.
However, for large companies comparing plans based on top-tier pricing, ColombiaHosting is excellent. The functionality they'll get here is comparable to much more expensive options in the market. That said, considering that the pricing of their top-tier plan is comparable to that of a mid-range VPS, it's worthwhile considering the latter option as well.
Customer support is excellent. Self-service options are comprehensive and can answer many questions. If you need a representative, live chat is available during business hours. Phone support is also available from a Colombian number, or from a toll-free number if you're abroad. Email support is helpful and answers within 24-48 hours.
Summary
ColombiaHosting is an excellent option for large companies looking for a top-tier pricing plan that offers value for a reasonable cost. Webmasters starting out with a single website will find everything they need, but must be willing to pay for it.
Pros:
Three-step website builder
Top-tier price point lower than competitors
Security features included in all plans
Excellent support
Cons:
Expensive for beginning webmasters
Only the most popular extensions available