Codero is an American privately owned company that dedicates their operations to managed and Cloud hosting, as well as other IT services that allow thousands of their customers to scale their online footprint. Established in 2009, Codero owns three data centers located in Dallas, Phoenix, and Ashburn, which allow smooth service with 99.95 percent of uptime guaranteed.
Features and ease of use
Codero hosting service provides the latest server technology with dedicated support teams, which means that since the moment you start, you get your own support team that keeps your website up and running. Their initial offer includes:
Managed dedicated servers where you get to choose every aspect of your hosting service. This kind of service gives you a complete freedom to find your own balance in order to have the most efficient hosting package. The setup is free, with loads of interesting features like unlimited inbound bandwidth and free multiple IP addresses with option to add even more IPs for a fee.
The choice of OS is entirely up to you, with various versions of Windows and Linux OS depending on your preferences. Additionally, there is a chance to ask for an alternative OS installation if you don't approve of the previous two. Finally, there is a long list of third-party apps and tools that you can install for free as well as for a certain fee.
Additional features include:
Dell PowerEdge Servers
Intel multi-core processors up to 3.7 GHz
Up to 384GB RAM
Up to 30TB of FREE outgoing bandwidth
Managed Azure and AWS Cloud hosting allows users to leave behind the troubles with updates and maintenance, which could lead to severe cost reduction in a long run. Codero experts will take care your server is online, secure, and available. You create your own hosting plan by deciding which level of management you need from backup to full-time server management.
Hybrid Multi-Cloud hosting is a great solution for large business clients where different compartments have their individual IT requirements. This hosting service is also fully customizable, allowing users to choose any cloud and configure their optimal set of features such as storage, bandwidth, OS, control panel, and third-party apps.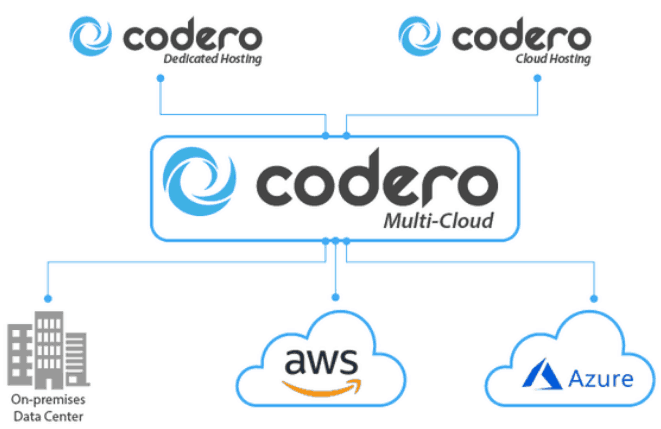 Pricing and support
The pricing of Codero's hosting service varies depending on the configuration and services you choose. Nonetheless, the general impression is that they offer competitive prices for the service type and features provided by Codero.
Support is top of the line, one of the best on the market with dedicated team of experts keeping an eye on your server and making sure every question you have is answered. There are so many support options it's almost impossible to get stuck without help:
Live chat support with real people answering in real time
Phone service operating 24/7
Ticket service working non-stop with an average response time of 20 minutes
Knowledge base