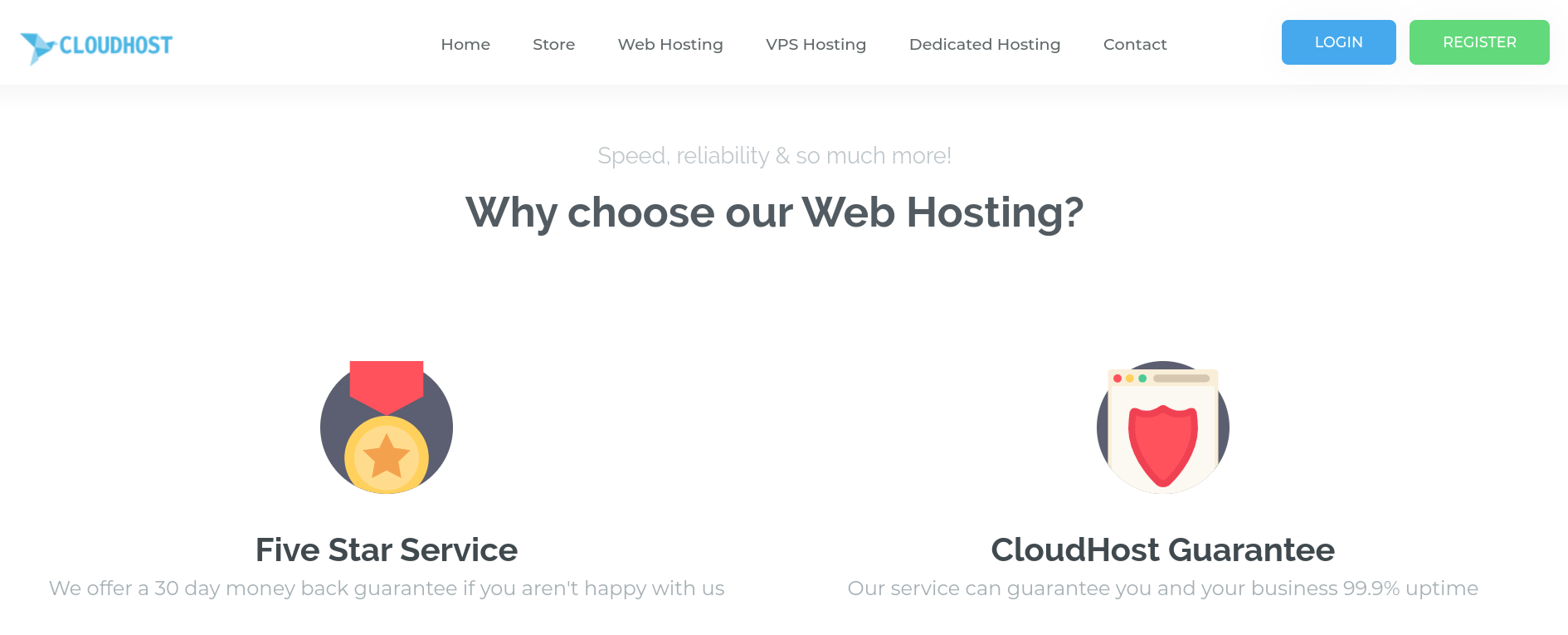 According to its Facebook page, South African hosting firm CloudHost was founded in 2018. As its name and tagline ("It's a cloud thing!") suggest, this host is very cloud-centric, and it aims to make top-quality hosting easy and affordable.
CloudHost's website is in English but can be switched in many other languages, presumably via automatic translation. This website sells Web Hosting, VPS Hosting, and Dedicated Hosting.
Features and Ease of Use
Setup is pretty fast with CloudHost, and your cPanel-based account is activated as soon as your payment has been processed. You get access to the following features:
DNS manager
Subdomains
FTP access
Webmail with antispam
Website statistics tools
phpMyAdmin
Unlimited bandwidth
While website creation can take time, with the free website builder, you could create your website in less than an hour. This website builder comes with hundreds of customizable templates, so you just have to populate your chosen template with text and other media, then publish. Alternatively, the integrated one-click script installer helps you install CMS and other apps such as WordPress, Joomla, and PrestaShop. Specialized hosting is also available for some of these CMS systems.
Tools to improve your website's performance include the Cloudflare CDN (to improve page loading speeds and protect you against some kinds of cyberattacks) and the Attracta SEO Tools (to increase your visibility on Google and Bing).
It's great to have the ability to create daily backups of your websites, files, and emails. The backups are stored on remote servers, and you can easily restore them yourself through the control panel.
In terms of availability, you get a guaranteed a 99.9% network uptime, which is around the industry average, and which ensures your website should be available almost all the time.
Pricing and Support
With CloudHost, you get low-cost hosting plans with some nice features and superior services, and you get a free .co.za domain if you sign up for at least a year. You also get 30 days to request a refund, so (in a sense) you can try before you buy, subject to certain terms and conditions. Any refunds exclude domain fees and third-party charges.
Support can be summoned by email or ticket. The additional live chat channel seems to be tailored to pre-sales inquiries rather than customer technical support, and self-support resources seem to be entirely absent since I couldn't find a knowledge base, FAQ page, or even a blog.

How much does CloudHost cost?
CloudHost offers plans from $4 to $14. The price depends on which type of hosting plan you choose. You can see the updated pricing table (updated weekly) below.

Which CloudHost plan should I get?
My recommendation is to start with a cheaper plan. You can always upgrade later on. CloudHost can help you with the migration to a more expensive plan. The increase in visitors many times takes longer than expected and you shouldn't pay a lot of money until the need arises. Of course, your needs may vary, and you can consult with a hosting expert from CloudHost here.

How good is CloudHost's customer support?
CloudHost is not ranked as one of our top web hosts. But that can also be a result of CloudHost being a small, under the radar, hosting provider. There are advantages to a small hosting company – as a customer, you are more important to them. You can also check out our comparison of the most popular web hosting services here.