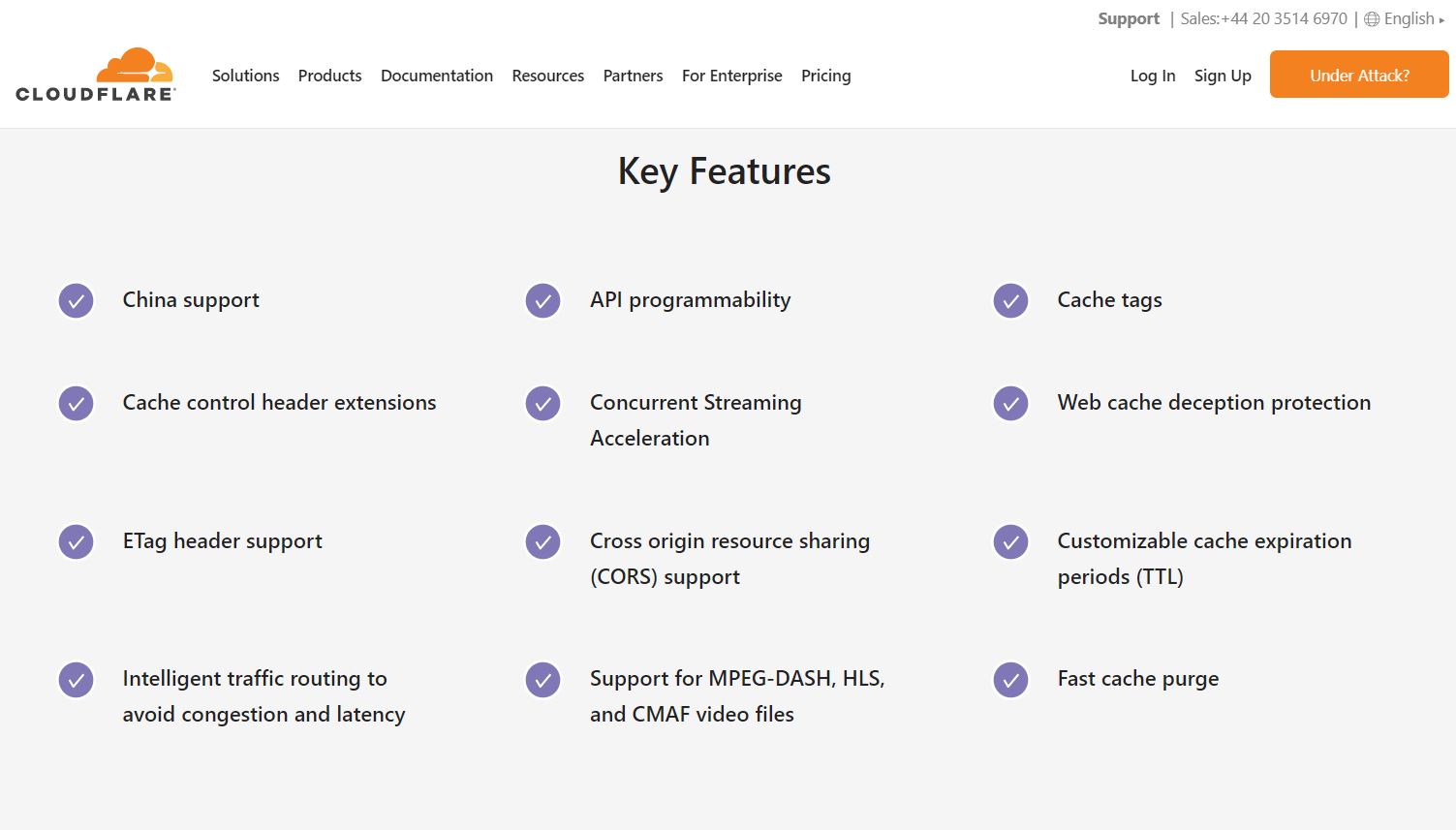 Launched in 2009, U.S.-based Cloudflare is a global cloud platform that offers advanced web security and performance solutions for businesses of all sizes. Its most popular services are CDN, managed DNS, DDoS protection, and load balancing. The Cloudflare network spans 200 cities in more than 100 countries.
The Cloudflare website is highly polished, packed with information, and can be viewed in multiple languages, including English, French, German, Spanish, Portuguese, Italian, Chinese, Japanese, and Korean.
Features and Ease of Use
For the sake of this review, I'll focus on Cloudflare's CDN (Content Delivery Network) since it's the most popular solution for web hosting users.
As a CDN, Cloudflare operates several data centers that distribute an extensive network of servers worldwide to cache content. By caching content, it increases page loading speed and reduces bandwidth and CPU usage.
However, unlike traditional CDNs, Cloudflare CDN is more like a reverse caching proxy as it handles all requests for a website. Plus, it doesn't require caching of specific content, and you won't have to edit your site code, either. All you need to do is update your DNS nameservers to Cloudflare, and the service starts automatically after those changes have taken effect.
Cloudflare works very well with static and dynamic websites, and you can also embed videos. However, it isn't suitable for websites that directly stream audio/video media from the original server.
Cloudflare CDN also improves your website's security by blocking cyber threats, including DDoS attacks, before they reach it. Other key features include:
Inserting applications into web pages
User-friendly Analytics Dashboard (provides detailed analytics on all the requests for your website)
One-click SSL installation
BYIOP support (Bring Your Own IPs feature lets the internet see your IP address instead of Cloudflare's)
HTTP/3 support (for faster and safer connections to applications and websites)
Intelligent traffic routing (to avoid latency)
Pricing and Support
Cloudflare offers one free plan and three paid plans – Pro, Business, and Enterprise. The Free plan is pretty restrictive but does include a few essential features, including DDoS protection, comment spam protection, global CDN, email support, three-page rules, five firewall rules, and global Anycast DNS.
If you want high-end features for your small business, the Business plan is loaded. You'll get all the features that come with the free plan, as well as a 100% uptime SLA, easy PCI compliance, WAF (Web Application Firewall) security, lossless image optimization (with Polish), automatic mobile optimization (with Mirage), cache analytics, custom SSL upload, 50-page loads, and I'm Under Attack mode.
The Enterprise package caters to companies in search of enterprise-grade security for their websites or applications. Feel free to reach out to our customer support team to receive a personalized quote.
Cloudflare's paid packages don't come cheap. While the Pro plan is reasonably priced, the Business plan is quite expensive.
If you want to host a website and get Cloudflare CDN protection, check out this top web hosting comparison to find which of the market's best web hosting services offers Cloudflare CDN for free or at an affordable cost.
When it comes to support, Cloudflare has a comprehensive Help Center and a community hub. If you want to get in touch with the customer support team, you can do so via phone or email.