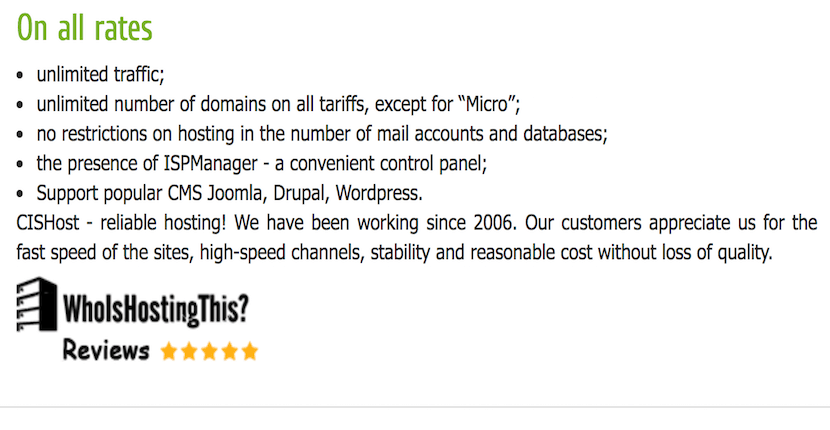 Launched in 2006, Russian web host, CISHost, offers shared web hosting, VDS, dedicated server hosting, domains, and SSL certificates. Hosting plans come with an advertised 100% uptime guarantee as well as a free third-level domain.
The website is in Russian with a Google Translate tab for many more language options. Data centers are in Moscow, Germany, France, and the United States.
Features and Ease of Use
Shared web hosting plans come in several levels, with the Micro plan being the smallest and most affordable. This plan includes 50MB of disk space, unlimited monthly traffic, and hosting for one website. However, there are limits on this plan preventing a dedicated IP address, the use by business entities, or SSL support.
Stepping up to the Elementary plan, users will get 1024MB of disk space, unlimited databases, and unlimited email accounts.
Except for some features not included in the Micro plan, web hosting includes these features:
Unlimited monthly bandwidth
Unlimited domains
100% server uptime rating
Dedicated IPv6 IP address
Free website transfer
10-day free trial
CMS support
Daily website backups
Customers seeking a virtual dedicated server level plan can choose between one of CISHost's VDS packages. The Minimum plan provides one CPU, 20GB of HDD storage, and 1024MB of RAM. CISHost personnel can install an Apache web server, MySQL database, and other software as desired. The hosting for VDS plans is handled in Moscow and Sofia, Bulgaria data centers.
SSL certificates from major providers may be purchased through CISHost. These include: Comodo PositiveSSL, Comodo EV SSL, RapidSSL, and RapidSSL Wildcard. Each of these SSL certificates include a free dedicated IP address. SSL certificates may be purchased on a yearly basis.
Hosting customers may have interest in CISHost's website builder. This is a drag-and-drop editor that comes with 100 responsive template designs to start with. It is also multilingual; it is possible to change the language within the website builder settings. The builder is not a free feature included with hosting, but needs to be added on for an additional cost. There is a demo of the software and a user guide, as well as a free trial.
Pricing and support
Pricing for CISHost website hosting plans is very affordable and is less than the majority of international providers' rates. The first four levels of hosting all cost less than a cappuccino per month at a typical coffee shop. That means that the Advanced hosting plan (4th tier) with 2048MB of storage and unlimited monthly bandwidth can be purchased for that rate. Compared to other Russian providers, CISHost is closer to average, with many web hosts also offering rock-bottom pricing.
You have multiple payment options available to pay for hosting plans. These options include bank transfer, WebMoney, Yandex.Money, 2CheckOut, Qiwi, Interkassa, and PayPal.
Email, Skype, and phone support are available from 10:00 AM to 7:00 PM local Moscow time. I received a reply to my support email the following business day.