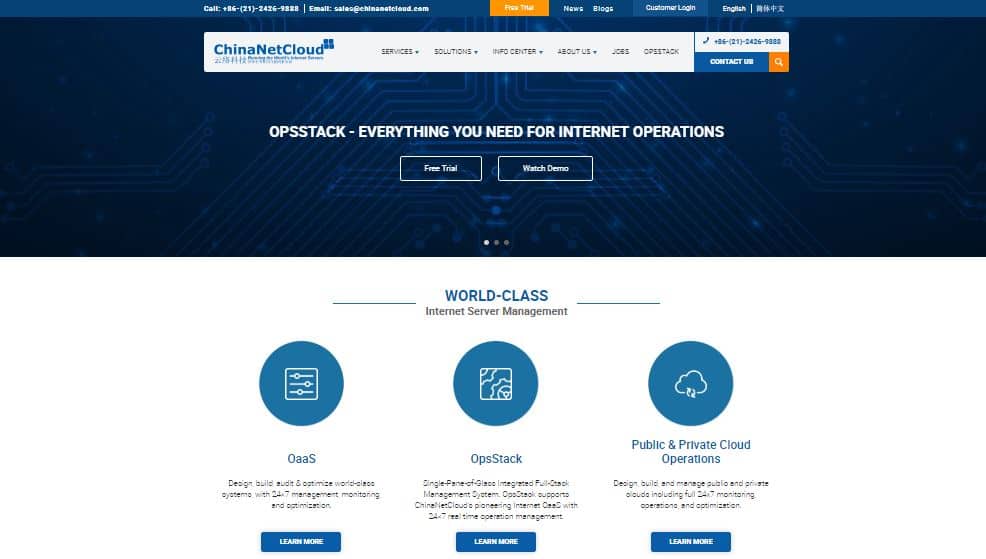 ChinaNetCloud was founded in 2008 as a
cloud computing, server management, and advanced systems architecture company
for big businesses, especially fast-growing entertainment and media firms in China. The company helps businesses scale up quickly while avoiding some common pitfalls that befall many fast-growing businesses. Today, ChinaNetCloud manages servers for more than 300 clients in China and around the globe. The CNC website is available in Chinese and English.
Features and Ease of Use
ChinaNetCloud offers hosting solutions to fast-growing, enterprise-level companies. All of the vendor's hosting solutions are custom-made for each organization they work with. Some of the services they offer include:
Full system management
Architecture and operations consulting
Cloud-computing for high-growth customers
System audits for security & performance
ChinaNetCloud relies on AWS's technology, platform, and best practices to provide end-to-end system architecture, setup, design, and 24/7 operations and maintenance for large corporations. All of their solutions feature fully redundant cross-border systems, in-depth active monitoring, and automatic standby unit and concurrent expansion.
ChinaNetCloud sets up their clients' infrastructure with full monitoring, support, scaling, performance, security, backups, and reliability thereby helping to improve their business availability. The company's backup solutions ensure that clients' databases are correctly backed up in a coherent state and with all objects and data perfectly synchronized using a multi-layered backup approach that keeps recent copies locally for faster restoration.
ChinaNetCloud offers high-performance infrastructure to assist e-commerce websites in optimizing their performance. They create customized environments that enhance page loading speeds, facilitate scalability, and ensure website security.
Pricing and Support
There are no prices indicated on the ChinaNetCloud website for any of their managed internet services. Usually, this means that the vendor's solutions are quite expensive. This is compounded by the fact that this vendor was the first company of its kind to set up shop in China's mainland and still dominates this space. But the other reason why the company has not been under pressure to openly discuss their pricing is the fact that they mostly deal with large, and fast-growing corporations that need custom-made solutions. ChinaNetCloud offers no money-back guarantee for any of its solutions. I could also not find any information on their website regarding their network uptime policy or downtime compensation plan.
Clients can contact the ChinaNetCloud support team directly via their telephone number, email, and ticketing system. The vendor doesn't have live chat, but is available 24/7 via the other support channels. CNC's support team has an impressive response record, often responding to tickets in less than one hour, and in a manner that satisfies their clients. They have a comprehensive knowledge base with a lot of informative tutorials and articles, as well. Their FAQ section covers many topics and their video tutorials would be extremely helpful to any company's in-house tech team.