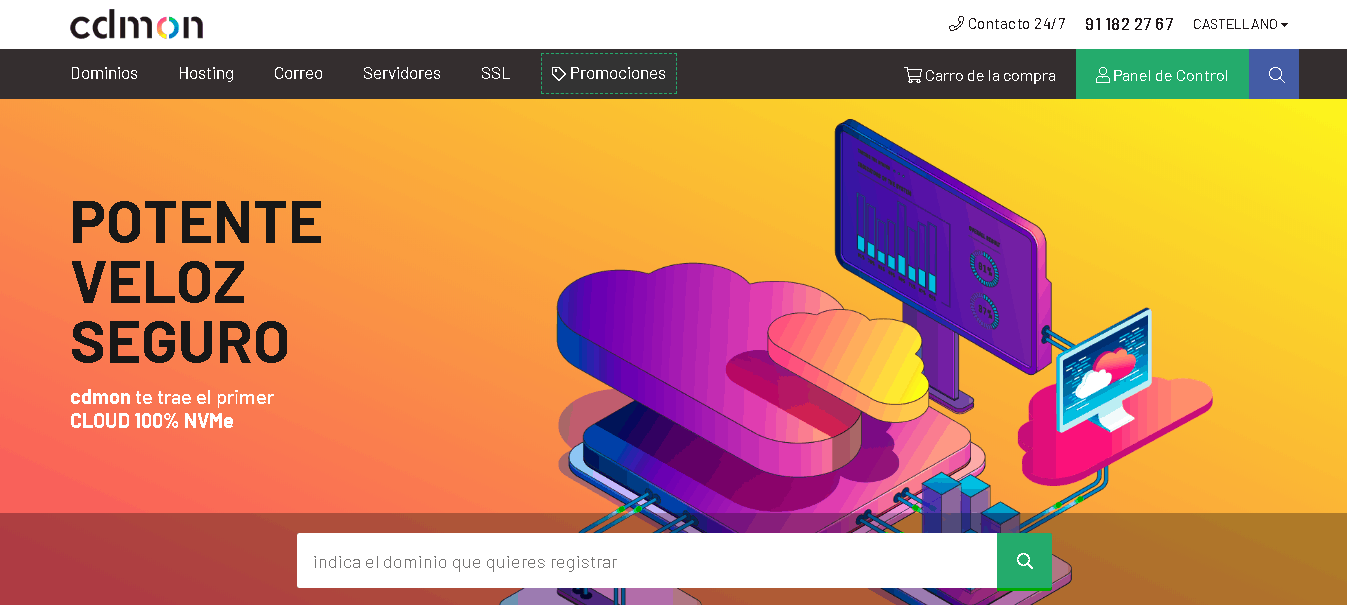 Formed in 2002, cdmon is a Spanish web hosting provider offering shared SSD cloud, VPS, and dedicated server hosting along with SSL and domain services. It has helped customers with over 10,000 web projects and has 70 employees. The company is based in Barcelona, Spain and its website is in Spanish and English.
Features and Ease of Use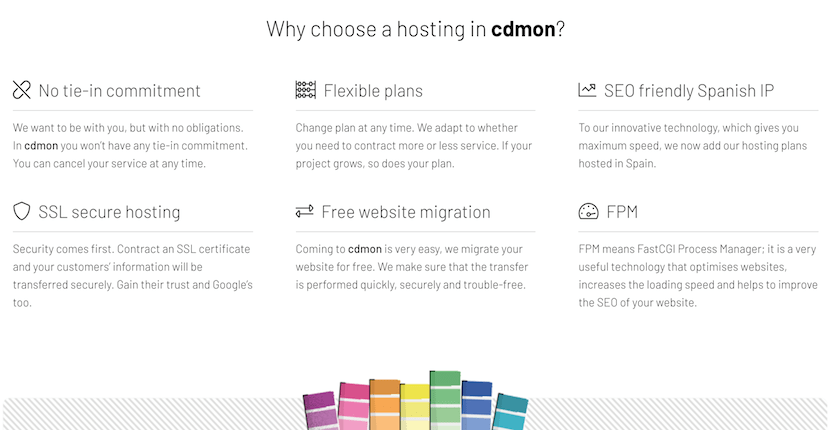 The majority of the shared hosting plans offered by cdmon include:
SSD NVMe storage
Free SSL certificate
PHP
One-click CMS installation
24/7 customer support
Free website migration
Hosting with cdmon features Intel NVMe SSD storage and is customizable in terms of storage space, monthly data transfer, and email accounts. However, several plans are available including the Junior, Senior, and Master plans. The Junior plan includes 5GB storage, 100GB monthly data transfer, 10 email accounts, and 512MB MariaDB storage.
Two hosting plans exist below the Junior plan that may be worth noting. The Start plan features 2GB storage, 50GB monthly data transfer, one email account, and no database or CMS support (no WordPress, for example).
Additionally, cdmon offers a free Micro hosting plan to anyone registering a domain. This Micro plan features 50MB storage, 1GB monthly data transfer, and one email address with 100MB storage. This plan also does not include any databases, or CMS support.
As stated, all cdmon hosting uses Intel NMVe SSD drives. These flash memory-based hard drives offer much faster performance than HDD or typical SSD storage; up to 4x typical writing speeds and 10x reading speeds. The drives also utilize PCI Express connectors for increased performance.
Hosting plans with cdmon include a free Let's Encrypt SSL certificate, but customers are also able to purchase upgraded SSL certificates. These paid options include: RapidSSL, RapidSSL Wildcard, True Business ID, and True Business ID + EV. The True Business ID evaluates your entire business and the True Business ID + EV will display a green address bar as a visible display of your website security.
All cdmon hosting plans includes free use of its custom control panel. This is a secure system with access via SSL security protocol. The control panel includes search with multiple filters and instant modifications of any changes made.
Pricing and Support
Pricing for cdmon hosting plans is competitive and comparable to other European and international providers offering premium SSD cloud technology. The Micro plan is free with any domain purchase and includes a minimal amount of data and features for a small static website. The entry-level paid Start plan is priced in line with competitors' entry-level offerings, however doesn't offer any database support. To get a full-featured plan appropriate for WordPress, for example, you'll need to step up to the Junior plan.
You can buy most of cdmon's hosting plans on a quarterly, semi-annual, or yearly basis, with the Senior plans or above also available on a month-to-month basis. Opting for semi-annual plans will get you a 10% discount compared to monthly subscriptions, while yearly subscriptions come with a 20% discount.
A number of free services are offered by cdmon, some of which do not require any purchase. These include:
Free hosting micro plan with domain registration
Free email and website forwarding
Free domain privacy
Free DNS hosting
Free website test platform
Customer service is listed as available round-the-clock via telephone and email ticketing. I reached out to customer service with a sales request but didn't hear back within the few days leading up to this review.
How much does cdmon cost?
cdmon offers plans from $6 to $56. The price depends on which type of hosting plan you choose. You can see the updated pricing table (updated weekly) below.

Which cdmon plan should I get?
My recommendation is to start with a cheaper plan. You can always upgrade later on. cdmon can help you with the migration to a more expensive plan. The increase in visitors many times takes longer than expected and you shouldn't pay a lot of money until the need arises. Of course, your needs may vary, and you can consult with a hosting expert from cdmon here.

How good is cdmon's customer support?
cdmon is not ranked as one of our top web hosts. But that can also be a result of cdmon being a small, under the radar, hosting provider. There are advantages to a small hosting company – as a customer, you are more important to them. You can also check out our comparison of the most popular web hosting services here.